LONNIE DONEGAN
Biographie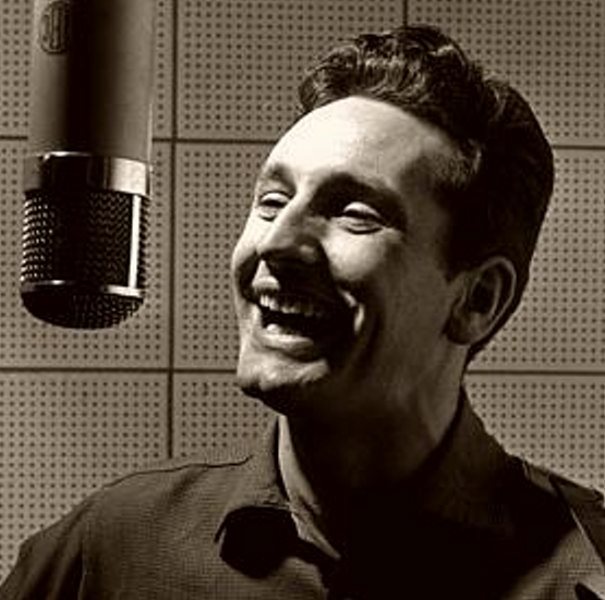 Lonnie Donegan. Anthony James "Lonnie" Donegan  (29 April 1931 – 3 November 2002) was a Scottish-born skiffle musician, with more than 20 UK Top 30 hits to his name. He is known as the "King of Skiffle" and is often cited as a large influence on the generation of British musicians who became famous in the 1960s. The Guinness Book of British Hit Singles & Albums states Donegan was "Britain's most successful and influential recording artist before The Beatles. He chalked up 24 successive Top 30 hits, and was the first UK male to score two U.S. Top 10s".
Born as Anthony James Donegan in Bridgeton, Glasgow, Scotland, the son of a professional violinist who had played with the Scottish National Orchestra, he moved with his family in 1933 to East Ham, Essex (now in Greater London).
Donegan was evacuated to Cheshire to escape the Blitz in World War II, and he attended St Ambrose College, initially at the school's original site in Dunham Road, Altrincham.
In the early 1940s he mostly listened to swing jazz and vocal acts, and became interested in the guitar. Country & western and blues records, particularly by Frank Crumit and Josh White, attracted his interest and he bought his first guitar at the age of fourteen in 1945. From listening to BBC radio broadcasts in the following years he began learning songs such as "Frankie and Johnny", "Puttin' On the Style", and "The House of the Rising Sun". By the end of the 1940s he was playing guitar around London and visiting small jazz clubs.
The first band he played in was the trad jazz band led by Chris Barber, who approached him on a train asking him if he wanted to audition for his band. Barber had heard that Donegan was a good banjo player; in fact, Donegan had never played the banjo at this point, but he bought one and tried to bluff his way through the audition. More on personality than playing, he was brought into Barber's band. His stint with the band was interrupted when he was called up for National Service in 1949, but his military service in Vienna gave him contact with American troops, and access to records as well as the opportunity to listen to the American Forces Network radio station.
In 1952 he formed his first group, the Tony Donegan Jazzband, which found some work around London. On one occasion they opened for the blues musician Lonnie Johnson at the Royal Festival Hall. Donegan was a fan of Johnson, and took his first name as a tribute to him. The story goes that the host at the concert got the musicians' names confused, calling them "Tony Johnson" and "Lonnie Donegan", and Donegan was happy to keep the name.
In 1953 cornetist Ken Colyer, enjoying hero status for having spent time in a New Orleans jail (due to a visa problem), returned to England and, when invited to play with Chris Barber's band, became a moving figure within it. With the new name, Ken Colyer's Jazzmen, the group, with Donegan, made its initial public appearance on 11 April 1953 in Copenhagen. The following day, Chris Albertson recorded the group (as well as a Monty Sunshine Trio, with Donegan and Barber) for Storyville Records. These were Donegan's first commercially released recordings.
While playing in Ken Colyer's Jazzmen with Chris Barber, Donegan sang and played both guitar and banjo as part of their Dixieland jazz set. He also began playing with two other band members during the intervals, to provide what was called on their posters a "skiffle" break, a name suggested by Ken Colyer's brother, Bill, after recalling the Dan Burley Skiffle Group of the 1930s. In 1954 Colyer left, and the band became Chris Barber's Jazz Band.
With a washboard, a tea-chest bass and a cheap Spanish guitar, Donegan entertained audiences with folk and blues songs by artists such as Leadbelly and Woody Guthrie. This proved so popular that in July 1954 he recorded a fast-tempoed version of Leadbelly's "Rock Island Line", featuring a washboard but not a tea-chest bass, with "John Henry" on the B-side. It was an enormous hit in 1956 (which also later inspired the creation of a full album, An Englishman Sings American Folk Songs, released in America on the Mercury label in the early 1960s) but ironically, because it was a band recording, Donegan made no money from this recording beyond his original session fee. (Nevertheless, Donegan received considerable music publishing royalties from "Rock Island" simply by claiming the British copyright on an unregistered song which was considered to be in the Public Domain.
This led to the peculiar situation that any "cover" version of "Rock Island Line" which was released on record in Britain from 1956 showed the song composition credited to Lonnie Donegan.) It was the first debut record to go gold in the UK, and reached the Top Ten in the United States. His next single for Decca, "Diggin' My Potatoes", was recorded at a concert at the Royal Festival Hall on 30 October 1954. Decca dropped Donegan thereafter, but within a month he was at the Abbey Road Studios in London recording for EMI's Columbia label. He had left the Barber band by then, and by the spring of 1955, Donegan signed a recording contract with Pye. His next single "Lost John" reached #2 in the UK Singles Chart.
He travelled to the United States, where he appeared on television on both the Perry Como Show and the Paul Winchell Show. Returning to the UK, Donegan recorded his debut album, Lonnie Donegan Showcase, in the summer of 1956, which featured songs by Lead Belly and Leroy Carr, plus "I'm a Ramblin' Man" and "Wabash Cannonball". The LP was a hit, securing sales in the hundreds of thousands. The popular skiffle style encouraged amateurs to get started, and one of the many skiffle groups that followed was The Quarrymen formed in March 1957 by John Lennon. Donegan's "Gamblin' Man" / "Puttin' On the Style" single was number one on the UK chart in July 1957, when Lennon first met Paul McCartney.
Lonnie Donegan went on to make a series of popular records with successes including "Cumberland Gap" and particularly "Does Your Chewing Gum Lose Its Flavour (On The Bedpost Over Night)", his biggest hit song in the U.S., released on Dot. He turned to a music hall style with "My Old Man's a Dustman" which was not well received by skiffle fans, or in an attempted but ultimately unsuccessful American release by Atlantic in 1960, but it reached number one in the UK Singles Chart. Donegan's group had a flexible line-up, but was generally formed by Denny Wright or Les Bennetts (of Les Hobeaux and Chas McDevitt's skiffle groups) playing lead guitar and singing harmony vocals, Micky Ashman or Pete Huggett – later Steve Jones – on upright bass, Nick Nichols – later Pete Appleby and Mark Goodwin – on drums or percussion and Donegan playing acoustic guitar or banjo and singing the lead.
He continued to appear regularly in the UK charts until 1962, before succumbing to the arrival of The Beatles and beat music.
Lonnie Donegan recorded sporadically during the 1960s, including some sessions at Hickory Records in Nashville, Tennessee with Charlie McCoy, Floyd Cramer and The Jordanaires. After 1964, he was primarily occupied as a record producer for most of the decade at Pye Records. Among those he worked with during this period was Justin Hayward.
Donegan was unfashionable and generally ignored through the late 1960s and 1970s (although he wrote "I'll Never Fall in Love Again" for Tom Jones in 1967), and he began to play on the American cabaret circuit. A notable departure from his normal style was an a cappella recording of "The Party's Over". There was a reunion concert with the original Chris Barber band in Croydon in June 1975 – notable for a bomb scare, meaning that the recording had to be finished in the studio, though patrons were treated to an impromptu concert in the car park. The resultant release was entitled The Great Re-Union Album.
He suffered his first heart attack in 1976 while in the United States and underwent quadruple bypass surgery. He returned to the public's attention in 1978, when he made a record of his early songs with such figures as Rory Gallagher, Ringo Starr, Elton John and Brian May called Putting on the Style. A follow-up album featuring Albert Lee saw Donegan working in a less familiar country and western vein. By 1980, he was making regular concert appearances again, and another album with Barber followed. In 1983 Donegan toured with Billie Jo Spears, and in 1984, he made his theatrical debut in a revival of the 1920 musical Mr. Cinders. More concert tours followed, along with a move from Florida to Spain. In 1992 Donegan underwent further bypass surgery following another heart attack.
In 1994, the Chris Barber band celebrated 40 years, with a tour with both bands. Pat Halcox was still on trumpet (a position he retained until July 2008).
Donegan experienced another late renaissance when in 2000 he appeared on Van Morrison's album The Skiffle Sessions – Live In Belfast 1998, a critically acclaimed album featuring Donegan sharing vocals with Van Morrison and also featuring Chris Barber, with a guest appearance by Dr. John. Donegan also played at the Glastonbury Festival, and was awarded the MBE in 2000.
Donegan married three times. He had two daughters by his first wife, Maureen Tyler (divorced 1962), a son and a daughter by his second wife, Jill Westlake (divorced 1971), and three sons by his third wife, Sharon, whom he married in 1977. He was the second cousin three times removed of the Scottish Gaelic Footballer Chris Pendergast.
Lonnie Donegan died in 2002, aged 71, after suffering a heart attack in Market Deeping mid-way through a UK tour and shortly before he was due to perform at a memorial concert for George Harrison with The Rolling Stones. He had suffered from cardiac problems since the 1970s and had several heart attacks in his last years.