LITTLE RICHARD
Biographie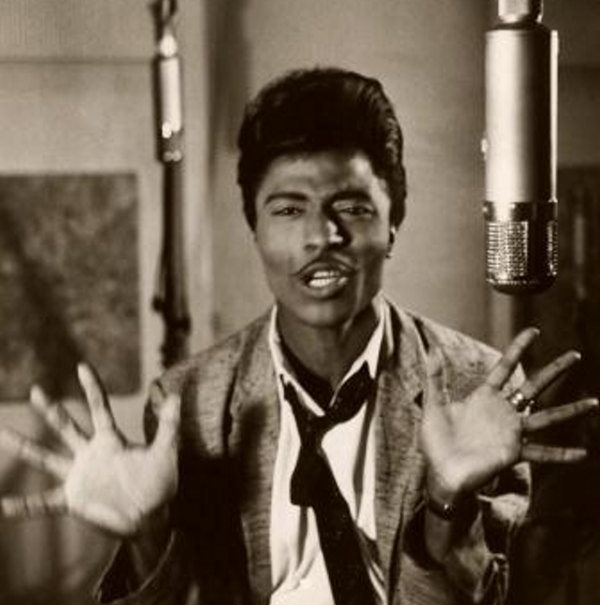 Little Richard.
Richard Wayne Penniman was born in Macon, Georgia, in 1932 (some sources say 1935). He was the third of twelve children, and the only child in his family with a physical defect – his right leg is shorter than his left. From earliest childhood he was marked as "different by his effeminacy, " as he explained in a Rolling Stone interview: "The boys would want to fight me because I didn't like to be with them. I wanted to play with the girls. See I felt like a girl." In the hope of curing his physical ailment and curbing his behavior, Richard's mother enrolled him in a charismatic Baptist church in Macon. There, at the age of ten, he started a gospel group called the Tiny Tots Quartet. This experience filled him with the desire to be a professional gospel singer like his hero, Brother Joe May, the "Thunderbolt of the Midwest. "
Richard's religious fervor was not lasting, however. He dropped out of school in the ninth grade and joined a travelling medicine show. Then he hired on with Sugarloaf Sam, a minstrel show, where he occasionally donned a dress and danced with the chorus girls. It was during this period that he met Billy Wright, a popular postwar black performer. "Billy was an entertainer who wore very loud-colored clothing, and he wore his hair curled, " Richard told Rolling Stone, "I thought he was the most fantastic entertainer I had ever seen."
As early as 1951 Little Richard cut his first recordings, having won a rhythm and blues talent contest at Atlanta's Eighty One Theatre. The songs, "Get Rich Quick, " "Why Did You Leave Me, " "Every Hour, " and "Thinkin' 'bout My Mother, " did not sell. Optimistically, Richard recorded four more sides of the same blues/boogie-type material, and it likewise failed. He returned to Macon with his band, the Upsetters, and half-heartedly sent a demo tape to Art Rupe of Specialty Records in Los Angeles. That tape languished at Specialty for almost a year, during which time Richard garnished his live act with various outrageous spectacles.
Rupe, it turned out, was looking for another black singer with a Ray Charles sound, and eventually Richard's tape came to him for review. He invited the young rocker to cut some songs in New Orleans. At first Richard began taping the same kind of blues-oriented songs he had been recording, but during a break he launched into a raucous song of his own invention, "Tutti Frutti, " that contained the memorable line "Wop-Bop-A-Loo-Bop, A-Lop-Bam-Boom." Rupe was captivated. He ordered new lyrics (to replace Richard's frankly sexual ones), and released the song just before Christmas in 1955. It was resting at number 21 on the charts by the end of December.
"Many white kids had never heard a black man singing with the 'brakes off', " writes Stuart Colman in They Kept On Rockin'. "But when Tutti Frutti was released … several white stations thought the time was right and showed no hesitation in programming the disc … From that point on there began a hit trail of some of the classiest black rock 'n' roll records that America and the world would ever see." Even though Richard sometimes had to watch other performers (like Pat Boone) score with his material, he did not lack for top hits himself.
Backed by the best studio musicians and his own inimitably vigorous piano playing, Richard soon had chart-toppers with "Long Tall Sally, " "Rip It Up, " "Slippin' and Slidin', " "Lucille, " "The Girl Can't Help It, " "Jenny, Jenny, " and "Good Golly, Miss Molly." Rolling Stone correspondent Gerri Hirshey noted that onstage and in the movies, Richard "was compelled to invent his particular brand of majesty. This was Little Richard, 'Handsomest Man in Rock & Roll.' His image was an immaculate conception, a fantasy born of years in travelling medicine shows, drag-queen revues, churches and clubs. … But in Fifties America, this made for a terrible mess. He was black and gay, talented and loud, and worse – much worse – absolutely sure of himself."
Teens of both races loved the audacious Richard. No one was prepared, therefore, for his sudden abandonment of fame and fortune to study the Bible at a Seventh-day Adventist seminary. In 1957 Richard vowed never to sing rock 'n' roll again – some say an airplane malfunction frightened him into a conversion; another story has it that he interpreted the Soviet launching of Sputnik as a sign that rock and roll was evil and that he should quit performing. The Bible studies did not occupy Richard too long, though. By the early 1960s he was back on tour, this time in England with an unknown group called the Beatles. By his account in Rolling Stone, Richard not only taught his musical British admirers some of his falsetto voice stunts and riffs, he also had an opportunity to buy a 50 percent share of the group. He was a musician, not a businessman, so he passed on the Beatles' offer and returned to America to launch his own comeback.
For roughly twelve years Richard performed his old hits and – less successfully – new material to audiences hungry for classic rock. Then, in the mid-1970s, the lifestyle again began taking its toil. Richard told Rolling Stone: "I was getting deeper and deeper into drugs. All I wanted to do was to have sex with beautiful women and get high. I spent thousands of dollars getting high." He missed engagements, or performed poorly, and eventually was overcome by the conflicts of his bisexual personality. Once again he turned to the church, becoming an evangelist preacher and Bible salesman.
Little Richard renounced his strict religion early in 1988 and began to perform again, in a more subdued manner. He has had no trouble lining up engagements, even though he no longer decks himself in mirror-studded jackets, eyeliner, and tie-dyed headbands. Had he never taken the stage again, he would still have enjoyed a prominent place in the pantheon of rock 'n' roll legends. Hirshey sums up his career: "Little Richard bent gender, upset segregationist fault lines and founded a tradition of rock dadaists devoted to the art of self creation. But unlike the studied incarnations, … Richard never seemed to think about it. He went, with the inspiration of the moment, be it divine or hormonal, and caromed like a shiny, cracked pinball between God, sex and rock & roll."
Little Richard's acceptance in 1993 of the Grammy Lifetime Achievement Award was tainted slightly by his voiced displeasure at his award being presented before the actual telecast. The standing ovation he received upon his introduction to the crowd testified to his continued popularity.