LAWRENCE WELK
Biographie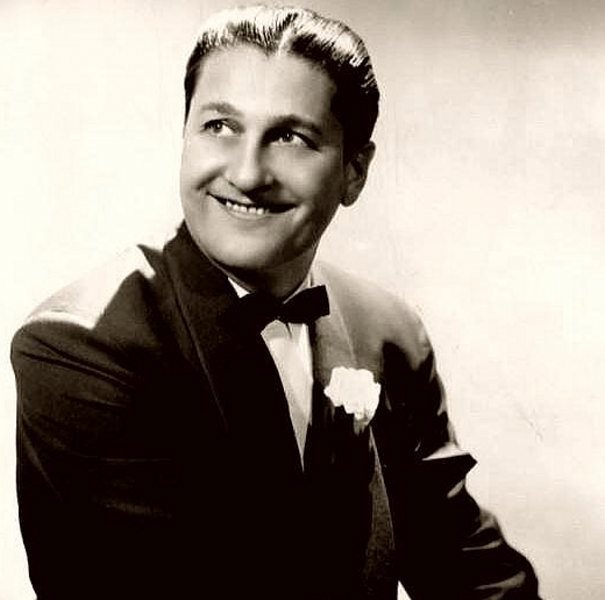 Lawrence Welk was born on March 11, 1903, to Russian immigrants in Strasburg, North Dakota. The family was originally from Alsace-Lorraine, when it was part of Germany. His parents were farmers, and he was the sixth of eight children. He was pulled out of elementary school to help work the farm. The family spoke only German at home, so Lawrence did not learn English until he was in is early twenties.
Lawrence Welk was taught to play the accordian by his father. He played at weddings and church dances to earn extra money for his family. When Lawrence was 17, he formed a band that consisted of himself and a drummer. They played on the radio for free, to advertise where they were scheduled to perform.
Lawrence Welk left home when he was 21 and founded the Hotsy Totsy Boys in 1927. It was followed by the Lawrence Welk Fruit Gum Orchestra. Welk used a gimmick: He gave away a free stick of gum to each person attending. The orchestra gained in popularity and started performing thoughout the Dakotas and Minnesota. Radio jobs gave the band more exposure.
In 1938, while they were performing in Pittsburgh, Pennsylvania, a radio announcer read a letter from a fan that said, "Listening to Welk's music is like sipping on champagne." From that letter, the "Champagne Music of Lawrence Welk" was born. The band continued to tour America until Welk decided to settle in Los Angeles in the late '40s.
In 1952, Lawrence Welk began to produce "The Lawrence Welk Show" on KTLA TV in Los Angeles, and in 1955, the show aired nationally. Welk's policy was that show be "clean and wholesome," and for the performers to hold the same moral values he had. In addition, the program's policy was to play only well-known music from previous years, so that the audience would only hear familiar numbers. The strategy proved to be commercially successful. Welk continually added new performers, and the results were more records on the Billboard top 100 weekly than any other big band during the era.
Between 1960 and 1965, Welk's orchestra posted 12 charted albums. In 1971, ABC decided to pull the plug on the Lawrence Welk Show, owing to the fact that it was not aimed at the changing younger generation. Welk managed to quickly strike a deal to have his show run in syndication, from 1971 to 1982.
Lawrence Welk was married to Fern Renner for more than sixty years. They had three children. One of his sons, Lawrence Welk Jr., married one of the fellow "Lawrence Welk Show" performers, Tanya Falan.
Welk died of pneumonia in 1992, in Santa Monica, California, at the age of 89. His remains rest in Holy Cross Cemetery in Culver City, California.
Entertainment mecca Branson, Missouri, dedicated a theater to Lawrence Welk, where his band continues to appear. There also is a resort community near Escondido, California, named after Lawrence Welk .
Lawrence Welk was the recipient of North Dakota's Roughrider Award.