LALO GUERRERO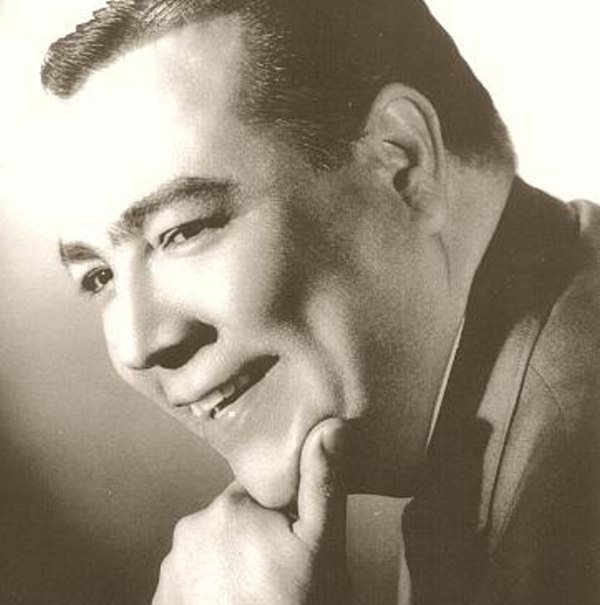 Biography
Lalo Guerrero, Eduardo "Lalo" Guerrero (December 24, 1916 – March 17, 2005) was a Mexican-American guitarist, singer and farm labor activist best known for his strong influence on today's Latin musical artists.
Lalo Guerrero was born in Tucson, Arizona, one of 21 siblings (although only nine survived). His father worked for the Southern Pacific Railroad. Guerrero left his hometown to pursue his dream in music. He says that he gives his mother all the credit for his musical talent, and Guerrero said she taught him to "embrace the spirit of being Chicano".Lalo Guerrero, in time exceeded even his wildest dreams as a musician, writer and performer for more than six decades, gaining worldwide recognition as the father of "Chicano Music". His first group, Los Carlistas (the trio included Chole Salaz and Joe Salaz), represented Arizona at the 1939 New York World's Fair, and performed on the Major Bowes Amateur Hour on radio.
He moved to Los Angeles in the 1940s, and had a few uncredited roles in movies, including Boots and Saddles and His Kind of Woman. He recorded for Imperial Records and fronted the Trio Imperial. He also formed his own orchestra and toured throughout the Southwest. He performed at the La Bamba club in Hollywood, a place frequented by the biggest stars in the movie business. In the 1960s, he bought a night club in Los Angeles and renamed it "Lalo's".
Lalo Guerrero is known as the Father of the Chicano Music. He recorded and wrote many songs in all sorts of genre. He also wrote children songs and songs about Cesar Chavez, other farm workers and braceros. Lalo Guerrero wrote songs for El Trio los Panchos, Lola Beltran and many other famous artists. His Pachuco music of the 1940s and 1950s provided the sound track to loui Valdez' late 70s play and movie "Zoot Suit." He recorded over 700 songs since his first record in 1939 with Los Carlistas on Vocalion Record.
Lalo Guerrero in 1992 at a tribute in Palm Desert, California: "Lalo has chronicled the events of the Hispanic in this country a lot better than anyone."[citation needed] He worked closely with Chavez for farm workers' rights and lent voice to the movement with the song, "No Chicanos On TV."
In the 1940s he became a friend of the Ronstadt family of Arizona, in particular Gilbert Ronstadt, father of popular vocalist Linda Ronstadt. Linda recalls childhood memories of Guerrero serenading her. At his funeral, Linda sang a traditional Mexican song in tribute.
Guerrero's earliest Pachuco compositions were the basis of the Luis Valdez stage musical, Zoot Suit. He even wrote children's songs presented via his "Las Ardillitas," or "Three Little Squirrels", a Latin-American version of Ross Bagdasarian's "Alvin and the Chipmunks".
His first American hit was "Pancho López", a parody of the popular 1950s hit "The Ballad Of Davy Crockett". Lalo Guerrero used the Davy Crockett melody and wrote his own lyrics, telling the story of a legendary Mexican character. The song was popular in both Spanish and English[citation needed]. However, due to criticism Guerrero received over this song, he never performed it publicly, not wanting to contribute to an inappropriate stereotype. Guerrero went on to record several more parody songs, including "Pancho Claus," "Elvis Perez," "Tacos For Two" (to the tune of "Cocktails For Two"), and "There's No Tortillas" (to the tune of "O Sole Mio").
In 2005, Lalo Guerrero was one of several Chicano musicians who collaborated with Ry Cooder on Cooder's "Chavez Ravine" album, for which he provided vocals on three songs ("Corrido de Boxeo", "Los Chucos Suaves", and "Barrio Viejo") which helped bring him, at the twilight of his life, to the attention of a wider Anglo audience. Guerrero recorded his last full CD on Break Records, a Los Angeles based record label, this at age 83. This would become his last music CD. The recording are a collection of Guerrero's best "Zoot Suit" compositions of Latin swing "Pachuco" music. The music CD was produced by music producer Benjamin Esparza who would became Guerrero's trusted friend during his last years.
Lalo Guerrero was married for over 34 years to his wife Lidia Guerrero. They both lived in Cathedral City, California for over 28 years. The Musical CD contained new recordings of his 1940's "Pachuco" swing music which was used in the Broadway play and Universal Pictures movie "Zoot Suit". The play was written and directed by Luis Valdez. The CD "Vamos A Bailar-Otra Vez" was produced by Esparza and Justo Almario of Break Records.
Lalo Guerrero was officially declared a national folk treasure by the Smithsonian Institution in 1980 and was presented with the National Medal of Arts in 1996 by then United States President Bill Clinton. In 1992 Guerrero received the National Heritage Award from the [National Endowment of the Arts]. In late 2005 Guerrero was posthumously inducted into the Arizona Music and Entertainment Hall of Fame. Along with that he was also inducted into the Tejano Hall of Fame and the Mariachi Hall of Fame.
Lalo Guerrero died on March 17, 2005, in Rancho Mirage, California.
Guerrero's contributions have resulted in Las Glorias, a restaurant in central Phoenix, displaying a poster of him with his signature on it on the wall for everyone to see in loving memory of him. He also has a blown-up,candid photograph of him as a young man on the wall of a major underpass in Tucson.
In 1994 a Golden Palm Star on the Palm Springs Walk of Stars dedicated to him