LA PAQUERA DE JEREZ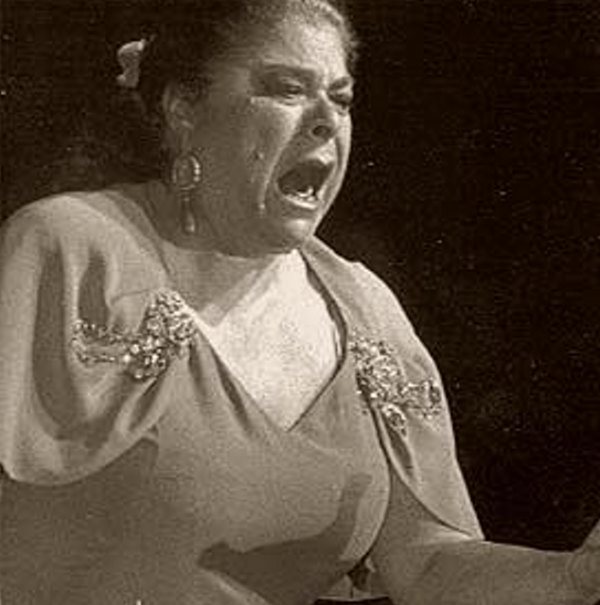 Biography
La Paquera de Jerez was born in Jerez de la Frontera in 1934, the daughter of a Gypsy father and a paya (non-Gypsy) mother. She started out in the small gatherings in her home town, then gained great popularity in the early 1950s with her first recording. In 1957, she debuted at Corral de la Morer?a, toured Spain in 1959 with her show Espa?a por buler?as in 1960, and then headed Arte Espa?ol together with El Farruco, Juanito Maravilla and El Chocolate. That same year, she achieved great success at Madrid?s festival hall, York Club. Since then, she toured all of Spain and Europe with different shows.
In 1965, La Paquera de Jerez and Rafael Farina shared the lead in the shows Bronce y solera and Embrujo y Tronío. In the years following, she debuted in several tablaos, participated in festivals and gave recitals in flamenco peñas. La Paquera's participation in the Seville Biennial in 1984 and in the Third Madrid Summit in 1986, together with members of her family, was outstanding.
In 1971, La Paquera de Jerez received the Niña de los Peines Award at the National Flamenco Art Contest in Córdoba and the Chair of Flamencology presented her with the Jerez Cup.
She has a long list of recordings and her repertoire is equally extensive. Nevertheless, La Paquera emphasizes bulerías, the style that reveals her great qualities as a cantaora and her great originality: she has been called "the Queen of the bulería". La Paquera is also a great interpreter of fandango, of cantes from Jerez and of the purest flamenco cantes. She has a very powerful voice and an exceptional sense of rhythm.
In August, 2002, La Paquera de Jerez received the tribute of the XLII International Festival of Mining Cantes. A ceremony acknowledging La Paquera's artistic path was celebrated in her honor, and a book will be published with previously unpublished graphic and literary contributions.
In December of 2003, La Paquera de Jerez was given the golden medal of the Fine Arts. And in February of 2004, she received the Comp?s del Cante award given by the Cruzcampo Foundation. The Jerez-born singer was part of a group of candidates from the arts nominated for the prestigious 2004 Prince of Asturias Award for her contribution to Flamenco.
La Paquera de Jerez died Monday, April 26, 2004, in the afternoon, at the Asisa Clinic in Jerez de la Frontera (C?diz, Spain). The flamenco legend had been hospitalized in the intensive care unit for more than fifteen days. She had been suffering from high glucose, which later caused a thrombosis. La Paquera was 70 years old.