KITTY WELLS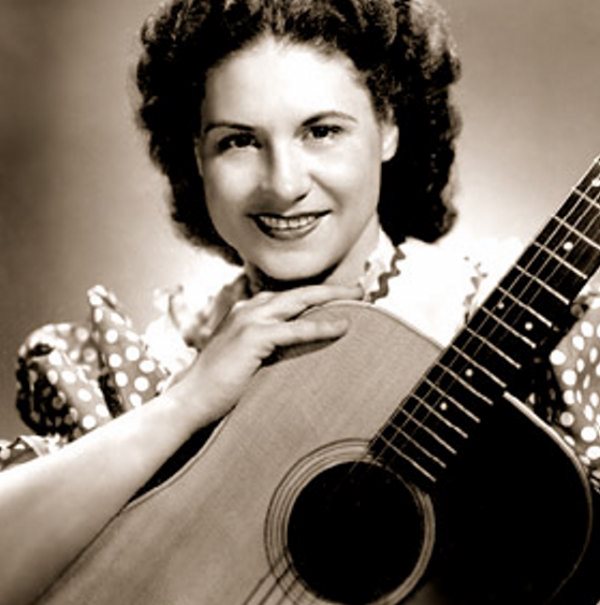 Biography
Kitty Wells
 is born in Nashville on August 30, 1919, Kitty Wells started singing as a teenager. She didn't achieve stardom, however, until she was 33. Wells became the first female solo artist to hit the top of the country charts, with 1952's "It Wasn't God Who Made Honky Tonk Angels." She scored several more country hits over the next two decades, and kept touring until her retirement in 2000. Wells died on July 16, 2012.
The daughter of a railroad brakeman, Muriel Ellen Deason, better known as Kitty Wells, grew up listening to her father play guitar and banjo. She took up the guitar at age 14, and soon began singing professionally on a local radio station. Wells, her sisters and a cousin performed together as the Deacon Sisters.
In 1937, at the age of 18, Kitty Wells married fellow singer Johnnie (later Johnny) Wright. For a short time, she performed with her husband and his sister as the trio Johnnie Wright and the Harmony Girls. In the 1940s, Wells served as a back-up vocalist for her husband's duo with Jack Anglin, known as Johnny and Jack. Her husband helped her pick her stage name at that time, borrowing it from the folk tune "Sweet Kitty Wells."
At the age of 33, Kitty Wells scored her first hit: "It Wasn't God Who Made Honky Tonk Angels" (1952). She had been hired to sing a response song to Hank Thompson's hit song, "The Wild Side of Life," about a reckless woman who more interested in having a good time than settling down. Thompson's song included the lyrics, "I didn't know God made honky tonk angels," amd in her reply, Wells sang that it wasn't right to blame women for all of men's problems. "Too many times married men think they're still single" led "many a good girl to go wrong," sang Wells. Banned by the Grand Ole Opry, Wells's candid song shocked many in the country music world. It soon became a huge hit, eventually selling more than a million copies.
Kitty Wells became the first female solo act reach the No. 1 spot on the country charts. More hits soon followed, including "One by One," a duet with Red Foley. With a twang in her strong, clear voice, Wells often explored different forms of heartbreak in her songs. She had a traditional and somewhat staid stage appearance, choosing to wear conservative-looking gingham dresses rather than fancy or flashy clothes.
Kitty Wells may have convincingly conveyed pain and loneliness on stage, but she and her husband had a loving and stable relationship. Wells and Wright often toured together, becoming more of a family act. The couple even had their own syndicated television show in the late 1960s, which also featured their son, Bobby, and daughters Carol Sue and Ruby.
By the 1970s, Kitty Wells rarely made the country music charts, but she remained a fixture on the concert circuit for decades. She and her husband started their own label, Ruboca Records, in 1979. They also opened up the Family Country Junction Museum in Madison, Tennessee, in the early 1980s. While the museum has since closed, their recording studio remains open and is run by one of their grandchildren.
Kitty Wells received recognition for her work as a trailblazer for women in country music in 1976, when she was inducted into the Country Museum Hall of Fame. Several years later, she got a chance to perform with female country stars k.d. lang (Kathryn Dawn Lang) and Loretta Lynn, singing the Grammy Award-nominated song "Honky-Tonk Angels' Medley" (on k.d. lang's Shadowland album, 1988). In 1991, Wells took home a special Grammy honor—the Lifetime Achievement Award.
Kitty Wells may have retired from performing in 2000, but she is remembered today for helping to create opportunities for other female performers in country music. The success of "It Wasn't God Who Made Honky Tonk Angels" (1952) showed that there was a market for country music from songs from a woman's point-of-view, and paved the way for future generations of female country singers.
Kitty Wells died on July 16, 2012, at the age of 92, after suffering a stroke. According to The New York Times, Wells was survived by her son, Bobby; daughter, Sue Wright Sturdivant; eight grandchildren; 12 great-grandchildren; and five great-great-grandchildren. Wells's daughter Ruby died in 2009.