KATHRYN GRAYSON
Biographie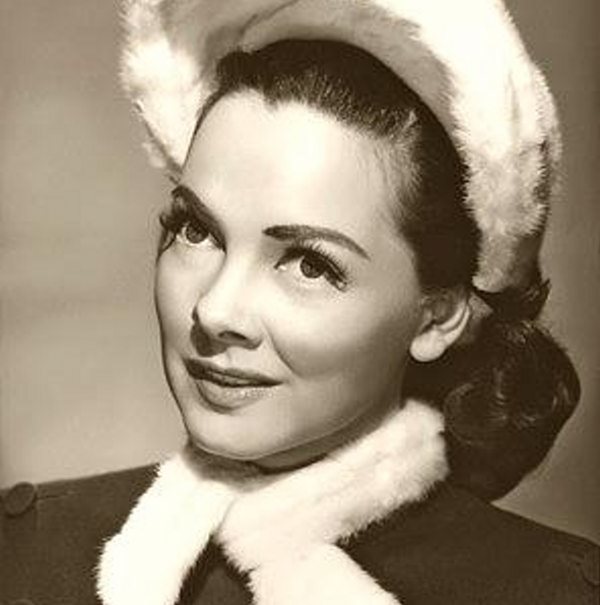 Kathryn Grayson (born February 9, 1922 – died February 17, 2010) was an American actress and singer who was born Zelma Kathryn Elisabeth Hedrick in Winston-Salem, North Carolina. The Hedrick family later moved to Franlin, St Louis, where she was discovered singing on the empty stage of the St Louis Municipal Opera House by a janitor, who introduced her to Frances Marshall of the Chicago Civic Opera, who gave the twelve-year-old-girl voice lessons.
In Hollywood she would marry twice: first to actor John Shelton; secondly to actor/singer Johnnie Johnston. She had one daughter. Throughout the 1950s, she carried on an affair with mogul Howard Hughes, and was briefly engaged to him (although this was not included in the film The Aviator, as the film only profiled Hughes through the late 1940s).
Though she started out as MGM's answer to Deanna Durbin (with films such as Seven Sweethearts and Anchors Aweigh), she proved herself a top star in Thousands Cheer, Anchors Aweigh and Two Sisters From Boston, and in the film versions of the Broadway hits Show Boat (1951) and Kiss Me, Kate (1953). Grayson also appeared in a duo of films with tenor Mario Lanza, and Howard Keel, whom she teamed successfully with in a highly lauded cabaret act in the 1960s.
With the end of MGM's great era of musicals, so ended Miss Grayson's film career. Kathryn Grayson was on stage in numerous stage musicals such as Show Boat, Rosalinda, Kiss Me, Kate, Naughty Marietta, and The Merry Widow, for which she was nominated for Chicago's Sarah Siddons Award. This lead to her as a replacement for Julie Andrews on Broadway in 1962 in Camelot, scoring a great success, before going on to star in the National tour for over sixteen months, before leaving the show due to health problems.
During her period with the Camelot tour, all box-office records were broken and she gained uniformly excellent notices. She would later play the role of Guenevere during that decade. Grayson had a lifelong dream of being an opera star, and she appeared number of operas in the '60s, such as La Boheme, Madame Butterfly, Orpheus in the Underworld and La Traviata. Her dramatic and comedy stage roles included Night Watch, Noises Off, Love Letters and Something's Afoot as Dottie Otterling.
She also appeared on television occasionally. Her first TV appearances were in the 1950s, and she received an Emmy nomination in 1956 for her performance in the "General Electric Theater" episode "Shadow on the Heart" with John Ericson. Most recently, she appeared in several episodes of Angela Lansbury's long-running series "Murder, She Wrote" in the late 1980s.
Never to be overshadowed these days by other talented or exciting MGM contemporaries such as Jane Powell, Ann Miller, Cyd Charisse, Esther Williams and Ann Blyth, Miss Grayson has gained cult status among a large, and wildly devoted, crowd of fans. Kathryn supervised the Voice and Choral Studies Program at the Idaho State University.
According to her secretary, Grayson died in her sleep at her home in Los Angeles, California on February 17, 2010, aged 88.