JULIE LONDON
Biographie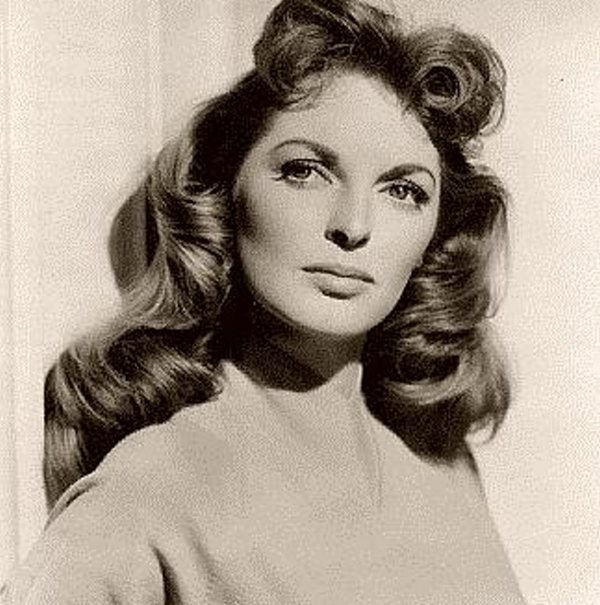 Julie London
(born Gayle Peck; September 26, 1926 – October 18, 2000) was an American singer, actress and game show panelist of the 1960s and 1970s. She was best known for her smoky, sensual voice. Her singing career's peak was in the 1950s as a pop and jazz singer, scoring a hit with her 1955 single "Cry Me a River". In the three and a half decades of her acting career, she co-starred opposite Gary Cooper in Man of the West (1958). Before her retirement, she later achieved renewed success with the female lead role of nurse Dixie McCall in the 1970s medical drama Emergency! (1972–1979), co-starring her best friend Robert Fuller and her real-life husband and best friend Bobby Troup, and produced by her ex-husband Jack Webb.
Julie London was born in Santa Rosa, California in 1926, who was the daughter of Jack and Josephine Peck, who were also a vaudeville song-and-dance team. In 1930, when she was only 3, her family moved to San Bernardino, California, where Julie made her debut singing professionally on their public radio station. In 1941, When she was 14, the family moved to Hollywood, California. Shortly after that, she began appearing in movies. She graduated from the Hollywood Professional School in 1945.
In July 1947, she married actor Jack Webb (of Dragnet fame). This pairing arose from their mutual love for jazz. They had two daughters: Stacy and Lisa Webb. London and Webb divorced in November 1954. Daughter Stacy Webb was killed in a traffic accident in 1996.
In 1954, having become somewhat reclusive after her divorce from Webb, she met jazz composer and musician Bobby Troup at a club on La Brea Avenue in Los Angeles. They married on December 31, 1959, and remained married until his death in February 1999. They had one daughter, Kelly Troup, who died in March 2002, and twin sons, Jody and Reese Troup (b. May 28, 1963). Jody died June 10, 2010, just 13 days after his 47th birthday. His cremated remains are interred with those of his parents in Courts of Remembrance, Columbarium of Providence, at Forest Lawn – Hollywood Hills Cemetery in Los Angeles, California.
Julie London suffered a stroke in 1995 and was in poor health until her death on October 18, 2000 (the day her husband, Bobby Troup, would have been 82), in Encino, California, at age 74. London was interred next to Troup in the Courts of Remembrance, Columbarium of Providence, at Forest Lawn – Hollywood Hills Cemetery in Los Angeles, California. Her star on the Hollywood Walk of Fame is at 7000 Hollywood Boulevard in Los Angeles.