JULIE ANDREWS
Biographie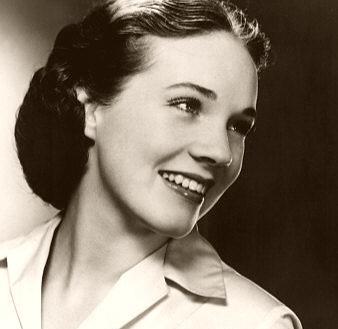 Julie Andrews
is a singer and actress, best known for her family-friendly roles in the 1960s, as Mary Poppins, and as the wayward nun Maria in The Sound of Music. Despite doing raunchy comedies and even a topless scene in S.O.B., her image remains perpetually wholesome.
Julie Andrews was born Julia Wells, but was quickly nicknamed Julie. Her mother, a piano teacher, took part-time work as accompanist for a radio singer, and eventually they became a performing duo. Julie Wells became Julie Andrews when her mother got a divorce and married the singer. She began her professional career as an addition to her mother and stepfather's act when she was just ten years old. At 12, she first appeared on stage without her parents, in a local play.
As an adult, Julie Andrews followed her stepfather as a radio singer, then starred in the original Broadway productions of The Boyfriend in 1954, My Fair Lady in 1956, and Camelot in 1960. All three plays were made into movies, none featuring Andrews. Moviemakers believed she had no "star power" beyond Broadway, and that she was not quite "Hollywood beautiful". But her first film, Mary Poppins, changed that perception, winning Andrews the Oscar for Best Actress. In the 1960s, she also starred in The Sound of Music, in James A. Michener's huge Hawaii, and opposite Paul Newman in Alfred Hitchcock's Torn Curtain.
Julie Andrews has been married to director Blake Edwards since 1969, and he has been involved in several of her big- and small-screen projects, including 10, S.O.B., Victor/Victoria, and a sitcom called Julie that was cancelled after six episodes in 1992.
Her singing voice, famous for its four-octave range, was damaged by a botched vocal chord surgery at New York's Mount Sinai hospital in 1997. "I don't think she'll sing again", Edwards has said. "It's an absolute tragedy." Andrews says she now has "a wonderful, deep, bass voice of about five notes and that's about it." A malpractice claim against the doctors was settled in 2000, under terms required to remain confidential.
Julie Andrews has rebuilt her career with a variety of non-singing roles, and as a stage director. Most recently, she has appeared in The Princess Diaries and its sequel, and provided Queen Lillian's voice for Shrek 2.
Under her legal name, Julie Edwards, she has also written children's books, including The Last of the Really Great Whangdoodles and Mandy