JUDY GARLAND
Biographie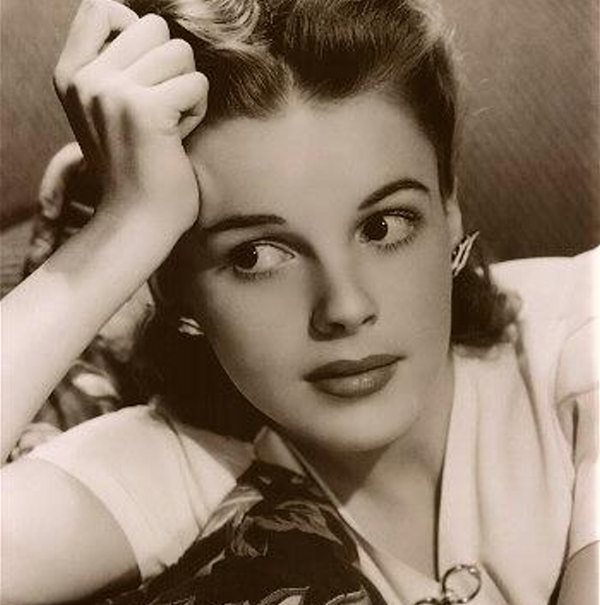 Judy Garland
, born Frances Ethel Gumm on June 10, 1922, in Grand Rapids, Minnesota, began her show business career before she was three years old. By age six she was a veteran performer, appearing with her two older sisters in a vaudeville act. Mistakenly billed as "The Glum Sisters" in 1931, the sisters at the suggestion of a fellow performer changed their stage name to Garland (the name of a then-prominent drama critic). Shortly thereafter, at her own insistence, she changed her first name from Frances to Judy (after a popular song of the day).
In 1935 the head of MGM (Metro-Goldwyn-Mayer) was induced to hear her sing. Enthused, he signed her to a contract. There was some uncertainty at the studio on how to utilize her talents. A year passed before she made her first MGM film, a two reeler. Her first appearance in a feature did not come until 1937, when she was loaned to Twentieth Century-Fox. That same year at an MGM party for its star Clark Gable she was a hit singing a specialty number, "Dear Mr. Gable" adapted from the well-known standard "You Made Me Love You." As a result she and the song were incorporated into the 1937 feature Broadway Melody of 1938. Again she earned accolades.
MGM quickly put Judy Garland into more films, each spotlighting her in song. In her next film – Thoroughbreds Don't Cry (1937) – she was cast with Mickey Rooney, with whom she subsequently appeared in eight films. MGM paired them in some of the Andy Hardy films, a series starring Rooney as an "average" American teenager. The duo was also winning in movies of the "c'mon kids, let's put on a show" type, including Babes in Arms (1939), Strike Up The Band (1940), Babes on Broadway (1941), and Girl Crazy (1943). Her most memorable film role (and the one which catapulted her to stardom) came in 1939 with The Wizard of Oz. She won a special Oscar as "best juvenile performer of the year." The film also provided her with the song ("Over the Rainbow") with which she was identified until her death.
During the 1940s she graced a number of outstanding musicals, including Meet Me in St. Louis (1944), The Harvey Girls (1946), and Easter Parade (1948). She was superb in a non-singing role in The Clock, a sentimental drama about a young girl and a serviceman on leave.
Garland's personal life, however, was less successful. She married music arranger David Rose in 1941, but that marriage ended long before the 1945 divorce. That same year she married director Vincente Minnelli, who guided
Judy Garland 
in some of her most notable films, including The Pirate (1948). Daughter Liza Minnelli (later a star in her own right) was born in 1946. This second marriage also faltered and was over well before the 1951 divorce. All during the 1940s she was plagued by a lack of self-confidence, strained by incessant work, hampered by weight problems. She became heavily dependent on pills and in the the end broke down, her first known suicide attempt coming in 1950.
Once an admirable trouper, she became during the 1940s a problem artist. The filming of In the Good Old Summertime (1949) was repeatedly delayed, as was Summer Stock (1950). A pattern had been set which would increasingly debilitate her. She was replaced in a number of films and finally was fired by MGM in 1950.
Sidney Luft, a dynamic promoter who later became her third husband (1952), started Garland on a career on concert stages. She was a smashing success at the Palladium in London, at the Palace Theatre in New York City, and elsewhere. The magnificent film A Star Is Born (1954) capped her comeback, and she earned an Oscar nomination. But faltering health, increasing drug dependency, and alcohol abuse led to nervous breakdowns, suicide attempts, and recurrent breakups with Luft, by whom she had two children, Lorna (1952) and Joseph (1955). The Lufts finally divorced (1965) after years of legal wrangling.
Notwithstanding her troubles, Judy Garland undertook a highly successful concert tour in 1961, which was capped by an enthusiastically received concert at Carnegie Hall: the live recording of that event sold over two million copies. That same year she won an Oscar nomination for best supporting actress for her dramatic performance in the film Judgment at Nuremberg. She had another non-singing role in the British film A Child Is Waiting (1963). Her last film role was in another British film, I Could Go On Singing (1963). Garland had made an auspicious television debut in 1955 on the Ford Star Jubilee and had done well in other guest appearances. Unfortunately, her long awaited television weekly series did not fare well, and CBS cancelled the variety show after one season (1963-1964).
Garland's personal and professional life continued to be a series of ups and downs, marked by faltering performances, comebacks, lawsuits, hospitalizations, and suicide attempts. After divorcing Luft she married Mark Herron, a younger, inconsequential actor with whom she had travelled for some time; the marriage lasted only months. Mickey Deans, a discotheque manager 12 years her junior, whom she married earlier that year, found her dead in their London flat on June 21, 1969. Death came from an "accidental" overdose of barbituates. She is buried in Hartsdale, New York.