JUAN VICENTE TORREALBA
Biographie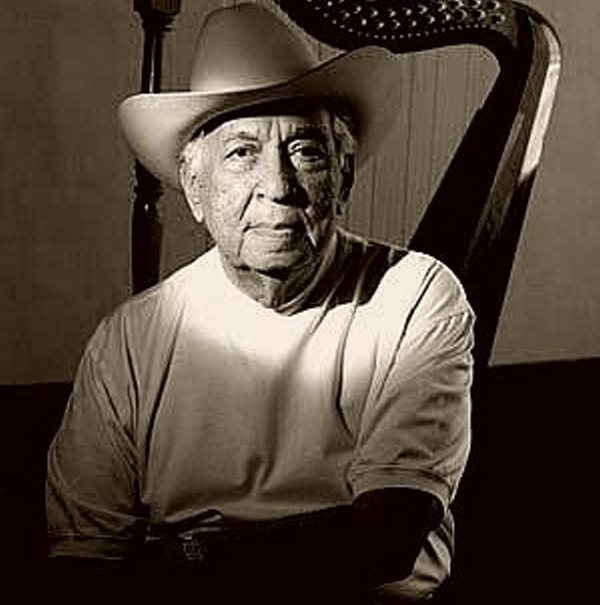 Juan Vicente Torrealba Pérez (born February 20, 1917) in Caracas, Venezuela, is a Venezuelan harpist and composer of popular music.
Although born on the outskirts of Caracas, the family moved while he was very young to a ranch in Camaguán, Guárico. The poverty of the family and the region were such that he worked as a sharecropper, and did not complete his primary education. Restless, he took up the guitar, and by the age of 18 was giving public recitals, his style showing a strong Cuban influence. Feeling that he would never reach the standard to which he aspired, particularly after hearing Rodrigo Riera, he moved to Caracas and took employment as a bookkeeper in a newspaper.
It was in Caracas that he took up the arpa llanera, (i.e. the plains, or Venezuelan, harp), under the tutelage of Ignacio Figueredo. In 1947 he formed his own group, The Torrealberos, along with his brother Arturo, his nephew Santana Torrealba Leon, and vocalist Ángel Custodio Loyola. With this band, he was able to earn a living playing at social functions.
He began writing music the following year, among his earliest compositions being Las Caricias de Cristina (Cristina's Caresses) and Concierto en la Llanura (Concert in the Plain) (1948). With the help of pianist María Luisa Escobar the band started recording, but sometime later (apparently over a dispute as to whether tips were for the singer or the band leader) Loyola left the group, and since then a number of vocalists have been contracted by the Torrealberos.
The reputation of the group, and its traditional repertoire, spread beyond Venezuela, and by the 1960s they were touring in Europe and the U.S., as well as throughout Latin America.
His first collaboration with a full orchestra came with the 1971 album Rapsodia Llanera, and he continued to adapt his music, with the addition of keyboards and electronic amplification, and collaboration with musicians from Italy and Japan, as well as other Latin American countries, his music diversified. He disbanded Los Torrealberos temporarily in 1978 to form a dance orchestra, Juan Vicente Torrealba and his Super Beat 80, but this project only released one eponymous album. Thereafter, his band work took second place behind his solo career and playing alongside symphony orchestras, until he retired, complaining that his record company was not doing enough to promote his work, in 1986.
In retirement, he has pursued interests in painting and photography.