JOSS BASELLI
Biographie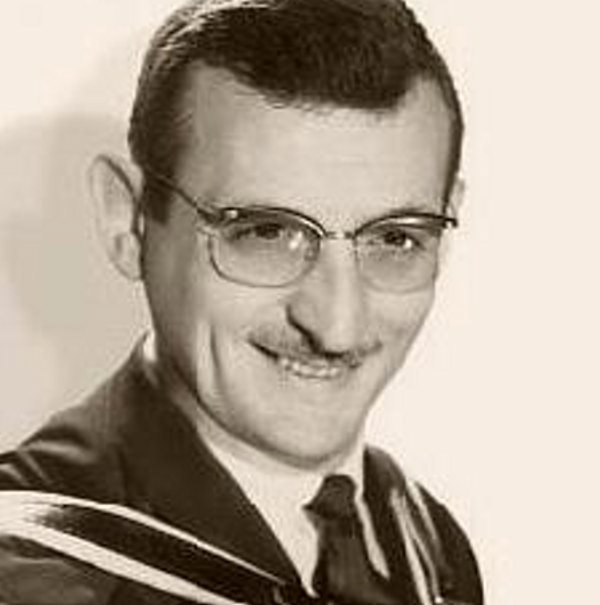 Joss Basile was the pseudonym of Joss Baselli, accordionist and veteran of the French music scene in the 1950s and 1960s.
Basile's parents were Italian emigrants to northern France, part of the large wave of Italians who came to work the coal mines in the Pas de Nord and Belgium. Although his parents ran a cafe, they were also great music enthusiasts, and Baselli began taking music lessons at the age of six. He and his brother Enrico both studied the accordion and, after a few years of serenading patrons in their parents' cafe, began playing on a semi-professional basis by their late teens.
After World War Two, Baselli met an accomplished accordion player and pioneer of the bal musette style, Gus Viseur, who encouraged him to pursue a career in music. Baselli moved to Paris in 1950 and several years later, while working a summer job in Pau, near the Spanish border, met the rising young chanteuse, Patachou. She offered him the job of principal accompanist, and as her career took off, rivalling Edith Piaf's in popularity, he became a recognized soloist in his own right. Patachou opened a cafe in the Montmartre section of Paris, which became the center of the bal musette scene. Around the same time, Joss married Gus Viseur's daughter.
In 1958, Patachou toured the U.S. and Baselli attracted the attention of Sid Frey, owner of the Audio Fidelity record label. Frey was about to release the first series of long-playing stereo records and was signing numerous international artists. Renaming him Jo Basile, Frey first recorded Baselli straight, playing instrumental versions of Patachou's hits and other French cafe tunes.
Then Joss Basile suggested he do some of the Italian songs he grew up playing in his parents' cafe, and the album, Rome with Love was released, with a cover featuring a sexy babe in Capri pants riding on the back of a Lambretta. Whether the cover had anything to do with the success of the record, Frey figured it was a winning combination, and most of the two dozen albums Basselli recorded for Audio Fidelity over the next five years followed a standard formula. Basselli played a dozen or so tunes associated with a particular country or city, and Frey slapped on a cover featuring another sexy babe in national garb riding on the back of the same red Vespa–with an appropriate license plate.
For the quantity of material reflected in this series, the quality of performances is quite high. Baselli was a virtuoso accordion player, whose talents are now comemorated in France by an annual award that bears his name, given for the best accordion performance. For the most part, though, the material doesn't match the musicianship.
A couple of the series, however, deserve a closer listen. Swingin' Latin is actually a set of early bossa nova tunes performed with the excellent Brazilian trio, Bossa Tres, and it's been reissued on CD recently as Jo Basile and Bossa Tres by Ubatuqui Records.
My favorite is Foreign Film Festival album, on which he swings through a set of tunes by Nino Rota and others with a crack group of New York session men that includes Bobby Rosengarden, Dick Hyman, Al Caiola, Milt Hinton, and Phil Kraus. It's a jazzy take on theme music from such early 1960s classics as "La Dolce Vita," "Rififi," and "8½" that shows Basselli could easily hold his own among players with such impeccable jazz chops and studio experience.
In all, Basselli's Audio Fidelity albums sold over 4 million copies in the U.S. He was awarded a prize by the American Accordion Association, and undoubtedly inspired many young men to take up the squeezebox–at least, until they discovered it tended not to attract sexy chick in Capri pants the way an electric guitar did.
Back in France, Basselli parted ways with Patachou and joined the studio team of the singer Barbara, who launched an enormously successful variety series on French television. Basselli not only performed on screen as both accompanist and soloist, he also worked as musical director and arranged hundreds of songs for the show.
He stayed with the show until 1967, when he reunited with Patachou for another tour of the U.S. When he returned to France, he began to turn his attention to composing and arranging. He wrote the score for the movie, "L'astragale," as well as for numerous television shows. One of the most notable of these was "Le Manège Enchanté," a stop-action animated series by Serge Danot. A BBC producer asked actress Emma Thompson's father, Eric, to translate and record an English language narration, but Thompson decided the scripts just didn't work in English, and he wrote his own story, even renaming the characters. As "The Magic Roundabout," the series was an even bigger success in the U.K. Basselli also composed the score for the full-length film Danot produced as a spin-off from the series, "Dougal and the Blue Cat".
Throughout the 1960s, Joss Basile also worked as a songwriter, and his best-known tune, "Free Again," was recorded by numerous Anglophone singers–most notably, Barbra Streisand, on the first track of her 1966 album, My Name is Barbra.
In 1972, Joss Basile hosted a series on French television titled, "Le monde de l'accordeon," which featured masters of the instrument and encouraged young people to take up and learn the instrument. This time, no chick in Capri pants was promised. He also founded his own music publishing company, Opaline, to oversee the rights to his various compositions, and wrote a popular set of music instruction books on playing the accordion. He died suddenly of a heart attack in 1982.