JOSEPHINE BAKER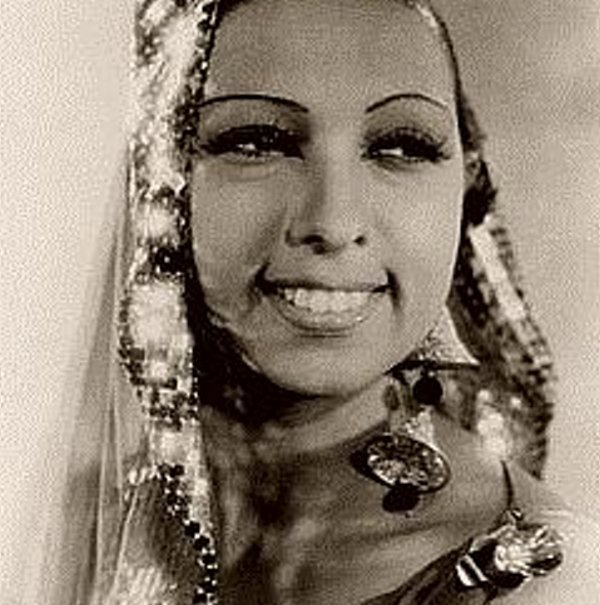 Biography
Josephine Baker was born in a poor, black ghetto of St. Louis, Missouri, on June 3, 1906, to twenty-one-year-old Carrie MacDonald. Her mother hoped to be a music hall dancer but was forced to make a living as a laundress. Olive-skinned Eddie Carson, her father, was a drummer for vaudeville shows (theater that used a wide variety of acts) and was not seen much by his daughter.
At the age of eight
Josephine Baker
was hired out to a white woman as a maid. She was forced to sleep in the coal cellar with a pet dog and was scalded on the hands when she used too much soap in the laundry. At the age of ten she returned to school. Josephine witnessed the cruel East St. Louis race riot of 1917. She left the St. Louis area three years later.
From watching the dancers in a local vaudeville house, at age sixteen Josephine "graduated" to dancing in a touring show based in Philadelphia, Pennsylvania, where her grandmother lived. She had already been married twice: to Willie Wells (for a few weeks in 1919), and to Will Baker (for a short time in 1921). She took her second husband's name as her own—Josephine Baker.
In August 1922 Josephine Baker joined the chorus line of the touring show Shuffle Along in Boston, Massachusetts. Afterwards Baker was in New York City for the Chocolate Dandies (at the Cotton Club) and the floorshow at the Plantation Club in Harlem with Ethel Waters (c. 1900–1977). She drew the attention of the audience by clowning, mugging, and improvising. With her long legs, slim figure, and comic presence, her special style as an entertainer began to take shape.
Baker went to Paris, France, for a top salary of $250 a week (more than twice what she was paid in New York) to dance at the Théâtre des Champs Elysées as a variety dancer in La Revue Nègre. With other African Americans, including jazz star Sidney Bechet, she introduced "le jazz hot" and went on to international fame on the wave of French intoxication for American jazz and exotic nudity. She quickly became the favorite of artists and left-intellectuals such as painter Pablo Picasso (1881–1973), poet E. E. Cummings (1894–1962), playwright Jean Cocteau (1889–1963), and writer Ernest Hemingway (1899–1961).
Josephine Baker survived a lawsuit regarding her abandoning Le Revue Nègre for a star billing at the Folies-Bergère in 1926. (The legal case was one of many in her life.) She was twenty when she was a sensation in the "jungle" banana dance: naked but for a string of rubber bananas around her waist. Soon bananaclad Josephine dolls were selling like hot cakes. Also, in 1926, she recorded her throaty voice for the first time. Magazine covers and posters added to her fame, and by 1936 Baker was one of the highest paid performers in the world.
Josephine Baker married Jean Lion, a French industrialist, but the two were divorced by 1940, during the early months of World War II (1939–45; a war in which German-led forces fought against the United States and European nations). When Germany occupied Belgium, Baker became a Red Cross nurse, watching over refugees, or those forced to flee their own countries. When Germany finally occupied France itself, she worked for the French Resistance (the secret army that fought against the occupying German forces) as an underground courier, transmitting information "pinned inside her underwear" to Captain Jacques Abtey.
After spending years avoiding the United States, Baker returned in August 1963 to attend the civil rights march in Washington, D.C., a march that pushed for equal rights among all races. In October of that year she made a trip to Manhattan to sing, dance, and "fight bias," as The New York Times said. She flaunted her age: she would say she was sixty when she was really fifty-seven, but she seemed ageless to reporters.
Josephine Baker died in her sleep of a stroke on April 12, 1975. The Roman Catholic funeral service was held at the Church of the Madeleine in Paris, which was, after all, her true home. Josephine Baker will forever be remembered as someone who pulled herself out of poverty and the trauma of humiliation and made herself an international star, principally due to her love of dancing.