JOSÉ FAJARDO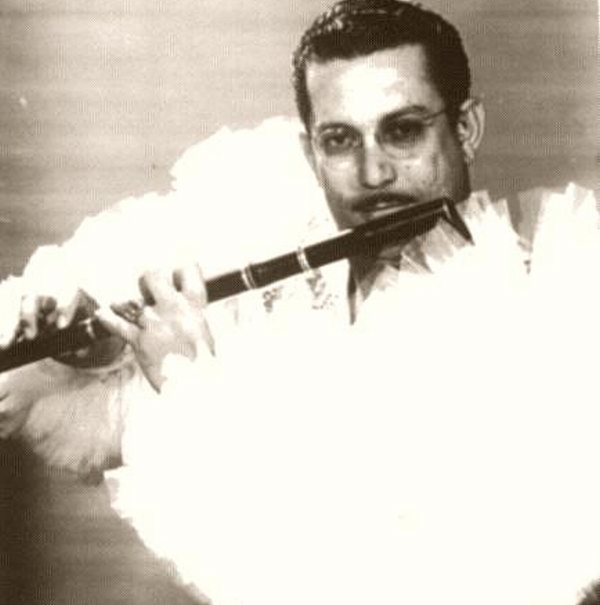 Biography
Jose Fajardo was born in 1919 in Pinar del Rio, Cuba, and played the traditional five-keyed wooden flute in a family band led by his father Alberto Fajardo, a clarinetist, and named Orquesta Hilda after his sister Hilda, its pianist.
He worked as a policeman in Havana before joining a leading charanga group of the early 1940's, Arcaño y Sus Maravillas, when its leader, the flutist Antonio Arcaño, could no longer play flute. A few years later he started his own group, Fajardo y sus Estrellas in 1949. His recordings for the Panart label were hits, and soon, his group grew so popular that Mr. Fajardo led three bands by the same name, sometimes taking a helicopter to play sets in different cities on a single night. He performed in the United States in the mid-1950's, performing at the Waldorf-Astoria and such prestigious ballrooms as the Palladium, where he shared a double bill with Tito Puente.
In 1961, after the Cuban revolution of 1959, he was touring Japan when the Cuban government cabled to request that he continue the tour to communist countries, his wife said. He refused, and instead of returning to Cuba he stayed in the United States along with one of his band members; the rest returned to Cuba. He quickly founded two new bands, one in New York and one in Miami, playing a new, slightly more assertive rhythm called pachanga.
He preferred the New York musicians and settled into the city's busy Latin circuit. In 1965 he took what was supposed to be a four-week job in Puerto Rico and ended up staying nearly five years, playing steadily for the first two years at the El San Juan Hotel, where he set attendance records. Mr. Fajardo returned to New York late in 1969 and continued working steadily at the Palladium, Casino 14, Casa Blanca and other Latin clubs. He recorded for labels including Columbia, Fania and Coco, and became a model for New York-based flutists including Johnny Pacheco and Dave Valentín. By the 1980's Mr. Jose Fajardo had eased his pace slightly, but he continued to lead a band even after his health declined in the late 1990's.
He was in constant demand as a studio musician and a guest performer, playing and recording with the Fania All-Stars, Israel (Cachao) López and many others. In June 2001 he and other leading Cuban musicians of his generation made an album, "Cuban Masters: Los Originales" (Pimienta), that was released in November. Mr. Fajardo greatly expanded the audience for charanga, a Cuban ensemble that backs a singer with flute, violins, piano, bass and percussion. It plays gentle but insinuating rhythms, particularly the danzó and cha-cha, sparked by quick, darting flute interjections. In Cuba in the 1950's, and as an expatriate after 1961, Mr. Jose Fajardo led groups whose popularity helped create a lasting taste for charanga through eras of more heavily percussive Latin music. He made more than 40 albums.