JORGE NEGRETE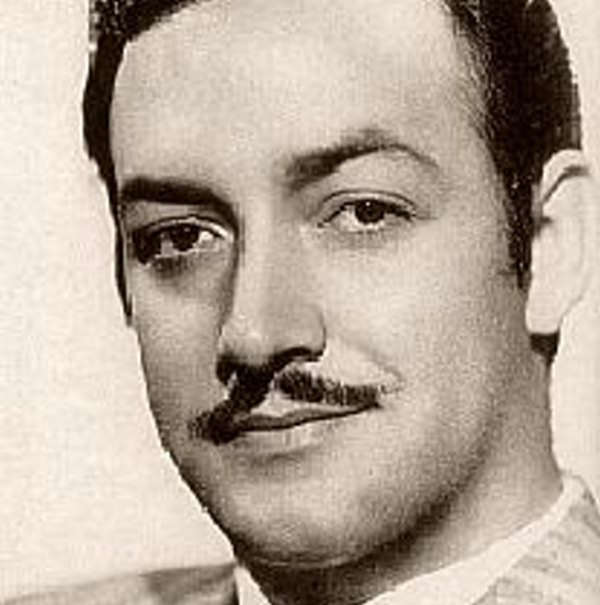 Biography
Jorge Negrete, Jorge Alberto Negrete Moreno (30 November 1911 – 5 December 1953) is considered one of the most popular Mexican singers and actors of all time.
Jorge Negrete was born in Guanajuato where he was raised together with his brother and three sisters, and also lived in San Luis Potosí. He graduated with the rank of sub-lieutenant from El Colegio Militar, Mexico's military academy.
Handsome, with a very strong will and a trained, fascinating voice, he is still a top icon in Mexico, Spain and Latin America, more than 50 years after his death. His recording of "México Lindo y Querido" ("Beautiful and Beloved México"), his country's unofficial anthem, is the best known recording of the song. His career is often compared to that of Pedro Infante, the most popular Mexican actor of the time. The public rivalry didn't carry over to their private lives, as they were close friends until Negrete's death.
He married twice, to famous actresses with whom he shared credits: Elisa Christy and María Félix. He also lived with his frequent co-star, for more than ten years. Gloria Marín co-starred in 10 out of his 44 films.
He started his career singing on the radio in 1931 in Mexico City singing operatic parts. In 1936 he signed with NBC for a television program with Cuban and Mexican musicians. He returned to Mexico in 1937 to act in the film La Madrina Del Diablo ("The Devil's Godmother") and because of the success of the film he was able to sign for several more the next three years. In 1938 he starred in La Valentina with Elisa Christy and then in Juntos Pero No Revueltos.
After working in Havana and Hollywood he was called to act in ¡Ay Jalisco, No Te Rajes! ("Hey Jalisco, Don't Back Down!") which made him an international Latin star and helped formulate the charro film genre. Filming this film he met Gloria Marín, starting their romance and the string of films they filmed together. He complemented his film career by singing rancheras with the trio Los Tres Calaveras and touring Latin America, singing concerts and making personal appearances.
He was offered the main role in El Peñón de las Ánimas ("The Rock of Souls") and wanted Marín to be his co-star. In spite of his protests, newcomer María Félix became his star and eventually his wife, although they at first despised each other while filming the film.
He was one of the founders, and the most important leader, of the Mexican Actors Association, succeeding Cantinflas as its chairman.
Jorge Negrete died in 1953 in Los Angeles at the age of forty-two during a professional visit, of hepatitis, an illness with which he had been infected while working as a musician in New York. According to his wishes, his body was flown back to, and buried in, Mexico City.
He was the first to die of the "Tres Gallos Mexicanos", or "Three Mexican Roosters" (as he, Infante and Javier Solís, a younger star, were called; the three died within a span of 13 years).
Thousands of fans attended his funeral and followed the hearse to the cemetery, El Panteón Jardín, where he was buried in the actors' corner. On December 5, the anniversary of his death, fans still pay tribute to "El Charro Cantor" ("Singing Mexican Cowboy") at his tomb, and television and radio stations stage marathons of his films and songs.
The centennial of his birth was commemorated in 2011. Several tribute concerts and presentations took place throughout Mexico and some European countries with Hispanic culture and heritage.