JOHNNY PULEO
Biographie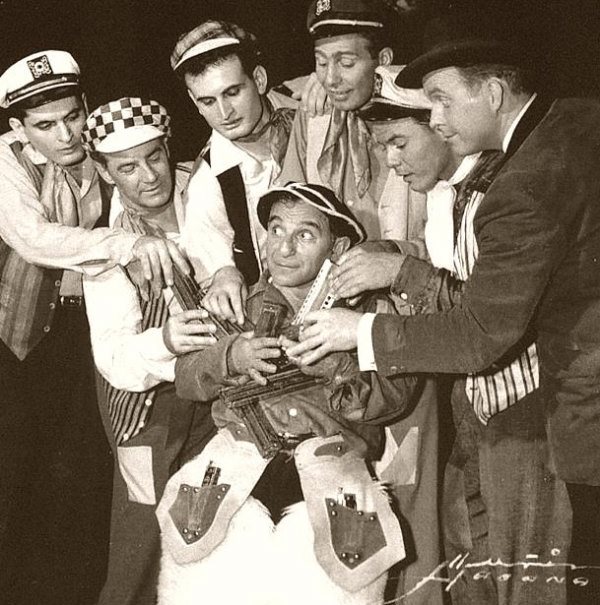 Johnny Puleo (October 7, 1907 – May 3, 1983) was an American musician and actor, who specialized in playing the harmonica.
Born a dwarf in Washington, DC (he stood 4 feet 6 inches or 1.37 meters as an adult), he worked as a newspaper seller until being discovered at a contest in Boston held by bandleader Borrah Minnevitch, of The Harmonica Rascals. Soon he joined a comedy variety act, during which time he learned the art of pantomime that has contributed so much to his success. He then joined the Rascals, with whom he toured the world.
In 1941 Johnny Puleo tried to leave the Rascals and start his own group. The entire new group moved in with Johnny's parents, living and rehearsing in the basement. It did not last long, though, because Borrah Minevitch found them and got them working for him again.
After Minevitch's death in 1955, Johnny Puleo formed his own band, The Harmonica Gang. He recorded various albums with the Gang and solo on the Audio Fidelity label, as well as acting in several films, most notably Trapeze (film). The Harmonica Gang appeared at top supper clubs throughout USA, including the famous Latin Quarter (nightclub) in New York and Miami Beach; The "Riviera" in Las Vegas; "Palmer House" in Chicago; "The Roosevelt" in New Orleans and "Twin Coaches" in Pittsburgh and venues like the Moulin Rouge and London Palladium overseas.
Johnny Puleo also appeared in Milwaukee Wisconsin where he met local band leader Conrad Johns and upon meeting Puleo, Connie's 5-year-old son Steven said "Hey, I'm as tall as you." Johnny just smiled and said, "And that's as tall as you're ever going to get if you keep crackin' jokes like this."
He died of a heart attack at Holy Cross Hospital in his native Washington D.C. in 1983.