JOAN BAEZ
Biographie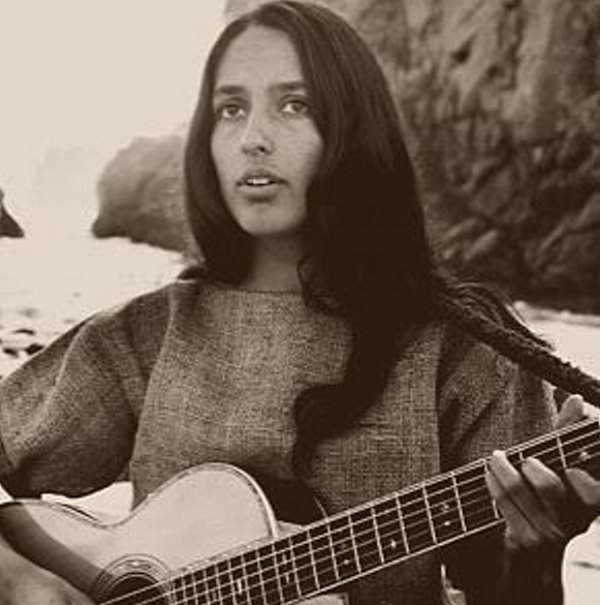 Joan Baez
was born on January 9, 1941 in Staten Island, New York, the second of three daughters to Dr. Albert Baez, a physicist, and Joan Bridge Baez. Her mother was English-Scotish, the daughter of an Episcopalian Minister and a professor of drama who had migrated to the United States, and her father was of Mexican parentage, the son of a minister.
Her father's activities as a physicist, researcher and UNESCO consultant took him to many parts of the country, and Joan's childhood was spent first in the small town of Clarence Center, New York, and then in Redlands, California. She developed both her social consciousness and her love for music at a relatively tender age.
Picking up the ukulele, Joan Baez made her performing debut at a high school talent show when she was 14, performing "Honey Love." There she began singing both for the high school choir and for herself, and learned to accompany herself on the guitar. When her father took a job at M.I.T. a few years later,the family moved to Boston, where for a short time she studied drama at Boston University. She enrolled at the university and soon began singing at the Boston coffee houses, colleges and later concert halls along the East Coast to increasingly large crowds.
Then came her 1959 Newport Folk Festival debut.Joan Baez signed with the then relatively small folk label, Vanguard, which first released her performances at the Newport Folk Festival, and then released her first album, Joan Baez, in 1960 and the rest, as they say, is history…
Her admirers transcend musical strata and national boundaries. Her growth as a musician and as a human being have proceeded hand in hand. Enrolling herself in the Civil Rights cause and the peace movement, a spokesman for non-violent resistance to and protest against immoral authority, she has refused to pay taxes that go to escalate the war in Vietnam, and has sung at almost every historic demonstration, and fosters a school for non-violent protest in California.