JIMMY DORSEY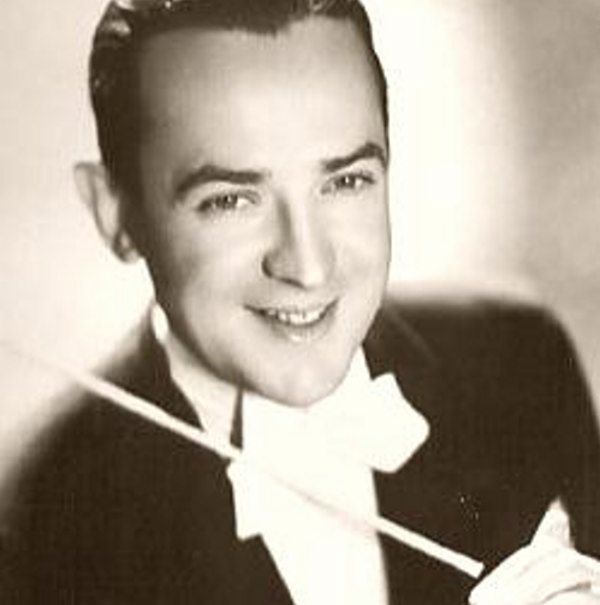 Biography
Jimmy Dorsey was born in Shenandoah, Pennsylvania, the son of a coal miner turned music educator, and older brother to Tommy Dorsey who also became a prominent musician. He played trumpet in his youth, appearing on stage with J. Carson McGee's King Trumpeters in 1913. He switched to alto saxophone in 1915, and then learned to double on clarinet. Jimmy Dorsey played on a clarinet outfitted with the Albert system of fingering, as opposed to the more common Boehm system used by most of his contemporaries including Benny Goodman and Artie Shaw.
With his brother Tommy playing trombone, he formed Dorsey's Novelty Six, one of the first jazz bands to broadcast. In 1924 he joined the California Ramblers (who were based in New York City). He did much free lance radio and recording work throughout the 1920s. The brothers also appeared as session musicians on many jazz recordings. He joined Ted Lewis's band in 1930, with whom he toured Europe.
After returning to the United States, he worked briefly with Rudy Vallee and several other bandleaders, in addition to the Dorsey Brothers Orchestra with Tommy. He appeared on at least seventy-five radio broadcasts (many with his brother), as a member of Nathaniel Shilkret's orchestra on programs such as the 1932 program, "The Music That Satisfies," also known as the Chesterfield Quarter Hour. Tommy broke off to form his own band in 1935 after a musical dispute with Jimmy. The Dorsey Brothers Orchestra became the Jimmy Dorsey Orchestra, and included musicians such as Bobby Byrne, Ray McKinley, and Skeets Herfurt along with vocalists Bob Eberly and Kay Weber.
In 1939 Jimmy Dorsey hired Helen O'Connell as his female singer. She and Eberly possessed a "boy and girl next door" charm and their pairing produced several of the band's biggest hits. Many of the Eberly-O'Connell recordings were arranged in an unusual 3-section "a-b-c" format. The three-part format was reportedly developed at the insistence of a record producer who wanted to feature both singers and the full band in a single 3-minute 78 rpm recording. Eberly sang the first minute, usually as a slow romantic ballad, the next minute featured the full band backing Jimmy's saxophone, and the last minute was sung by O'Connell in a more up-tempo style, sometimes with lyrics in Spanish. Kitty Kallen sang with the Jimmy Dorsey orchestra following Helen O'Connell's departure in 1942. Jerry Lewis' first wife Patti Palmer (birth name Esther Calonico) was a singer with his orchestra for less than a year, starting about 1944.
Jimmy Dorsey continued leading his own band until the early 1950s. In 1953 he joined Tommy's Orchestra, renamed "Tommy Dorsey and his Orch. featuring Jimmy Dorsey". On December 26, 1953, the brothers and their orchestra appeared on Jackie Gleason's CBS television program. The success of that television appearance led Gleason to produce a weekly variety program, Stage Show, hosted by the brothers on CBS from 1954 to 1956. Elvis Presley appeared on several of the telecasts. These were Presley's first appearances on national TV.
Jimmy Dorsey took over leadership of the orchestra after Tommy's death. Jimmy survived his brother by only a few months and died of throat cancer, aged 53, in New York City. Broadcasts of Jimmy Dorsey and The Fabulous Dorsey Orchestra on NBC Bandstand survive from December 25, and December 31, 1956. At least two other extant broadcasts from the month of December 1956 are available as well. Recordings of the band from their winter 1957 tour have not surfaced. These recordings would provide the last aural evidence of Jimmy Dorsey's work. It is thought that Dorsey's last appearance was in Joplin, Missouri, on March 12, 1957.
Shortly before his death, he was awarded a gold record for "So Rare" which was recorded on November 11, 1956. There is a controversy over who played the alto solo on the recording of "So Rare", Dick Stabile or Jimmy Dorsey. It reached the number-two spot on the Billboard charts, becoming the highest charting song by a big band during the first decade of the rock-and-roll era.
Jimmy Dorsey is considered one of the most important and influential alto saxophone players of the Big Band and Swing era, and also after that era. Jazz saxophonist Charlie Parker mentioned him as a personal favorite.
During his early days as a musician, Jimmy Dorsey performed with various other ensembles and artists including the Scranton Sirens, The California Ramblers, Red Nichols, Jean Goldkette, Ben Pollack, and Paul Whiteman. He and his younger brother Tommy formed several bands known as "The Dorsey Brothers Orchestra" during the late 1920s and early 1930s which suddenly ended in May, 1935, when Tommy stormed off the bandstand after an onstage argument. For several months, Jimmy continued leading the band, keeping the Dorsey Brothers name, hoping that his younger brother would return, but he did not. In September, 1935, the Dorsey Brothers band legally became the "Jim Dorsey Orchestra", after Jimmy found out that Tommy Dorsey now had his own band, and had signed a recording contract with RCA Victor. Jimmy Dorsey remained with Decca Records as the two brothers were now competing with each other musically.
Jimmy Dorsey's first hit record was "You Let Me Down" in 1935. His early band was considered to be more jazz-oriented than his brother's, and recordings of some instrumental swing classics soon followed: Dorsey Stomp, Tap Dancer's Nightmare, Parade of the Milk Bottle Caps, John Silver, and Dusk in Upper Sandusky. The band was featured on Bing Crosby's Kraft Music Hall radio show, and did quite well commercially, although being overshadowed by Benny Goodman, (also a clarinetist), whose big band had grabbed center stage in the mid thirties. Dorsey's main vocalist was Bob Eberly, considered to be the best in the music business, and in 1939, Helen O'Connell joined the band, and the idea to have them do duets together proved to be highly successful. Almost every record released during 1939-1943 were hits, but especially records made with a Latin American flavor like "Amapola", "Maria Elena", and "Green Eyes", which topped the charts in 1941. Certainly vocalists Helen O'Connell and Bob Eberly, were two very important factors in Jimmy Dorsey's rise in popularity. They continued singing with his band for future records and motion picture appearances. Despite personnel changes, Jimmy remained one of the top big band leaders after World War II and into the 1950s, always updating the sound of his band, but the big band business was beginning to decline.
Jimmy and Tommy Dorsey reunited on March 15, 1945 to record a V-Disc at Liederkranz Hall in New York City. Released in June, 1945, V-Disc 451 featured "More Than You Know" backed with "Brotherly Jump". The songs featured the combined orchestras of Jimmy and Tommy Dorsey.
In 1953, he and his brother reunited to form a (new) "Dorsey Brothers Orchestra." Tommy was the leader of the group, making Jimmy the co-leader and featured soloist. In 1954, Jackie Gleason chose their band to star in a weekly television show that centered on their band. The show, called "Stage Show," was a huge hit, and gave other big band leaders hope in a business that was steadily declining.
Tommy's death in 1956 and Jimmy's own health problems resulted in the end of his television and musical career in 1957.