JIM REEVES
Biographie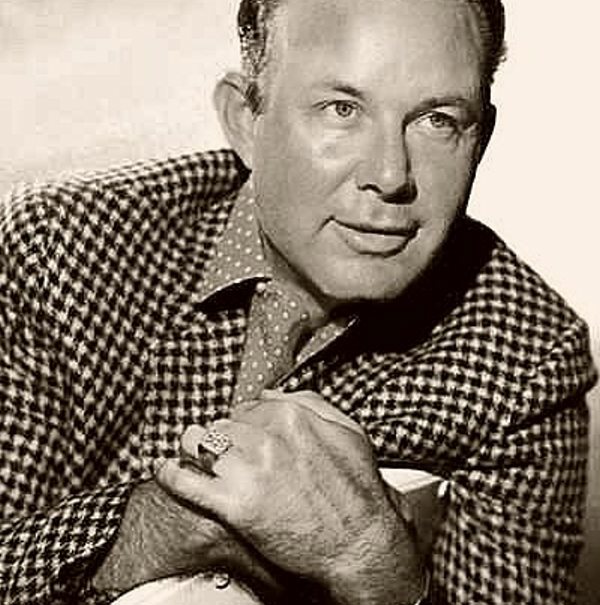 Jim Reeves was born in Galloway, Texas, a small rural community near Carthage. Winning an athletic scholarship to the University of Texas, he enrolled to study speech and drama, but dropped out after six weeks to work at the shipyards in Houston. Soon he returned to baseball, playing in the semi-professional leagues before signing with the St. Louis Cardinals farm team in 1944 as a right-handed pitcher. He stayed with the team for three years before severing his sciatic nerve on the pitching mound and ending his athletic career.
Jim Reeves began to work as a DJ, and sang live between songs. In the late 1940s, he was signed to a couple of small Texas-based record labels, but with no success. Influenced by such Western swing artists as Jimmie Rodgers and Moon Mullican, as well as popular crooners Bing Crosby, Eddy Arnold and Frank Sinatra, it was not long before he got a foothold in the music industry. He was a member of Moon Mullican's band and made some early Mullican-style recordings like "Each Beat of my Heart" and "My Heart's Like a Welcome Mat" from the late 1940s to the early 1950s.
He eventually landed a job as an announcer on KWKH-AM in Shreveport, Louisiana, home to the popular Louisiana Hayride. His musical break came when singer Sleepy LaBeef was late for a performance on the Hayride, according to former Hayride emcee Frank Page, and Reeves was asked to fill in. (Other accounts?including Reeves himself, in an interview on the RCA album Yours Sincerely?name Hank Williams as the absentee.)
Reeves' first country hits included "I Love You" (a duet with Ginny Wright), "Mexican Joe", "Bimbo" and other songs on both Fabor Records and Abbott Records. He recorded only one album for Abbott, 1955's Jim Reeves Sings (Abbott 5001). Eventually he tired of the novelty bracket he had been forced into, and left for RCA Victor. In 1955, Reeves was signed to a 10-year recording contract by Stephen Sholes, who produced some of Reeves' first recordings at RCA and signed Elvis Presley for the label that same year.
In his earliest RCA recordings, Jim Reeves was still singing in the loud style of his first recordings, considered standard for country and Western performers at that time. He softened his volume, using a lower pitch and singing with lips nearly touching the microphone, but ran into some resistance at RCA; until in 1957, with the support of his producer Chet Atkins, he used this style on his version of a demo song of lost love, written from a woman's perspective (and intended for a female singer). "Four Walls" not only took top position on the country charts, but went to number eleven on the popular charts. Reeves had not only opened the door to wider acceptance for other country singers, but also helped usher in a new style of country music, using violins and lusher background arrangements soon called the Nashville sound.
Jim Reeves became known as a crooner because of his warm, velvety voice. His songs were remarkable for their simple elegance highlighted by his rich light baritone voice. Songs such as "Adios Amigo," "Welcome To My World", and "Am I Losing You?" demonstrated this approach. His Christmas songs have been perennial favorites, including "Silver Bells," "Blue Christmas" and "An Old Christmas Card."
Jim Reeves scored his greatest hit with the Joe Allison composition "He'll Have to Go," a huge hit on both the pop and country music charts, which earned him a platinum record. Released in late 1959, it reached number one on Billboard's Hot C&W Sides chart on February 8, 1960, where it stayed for 14 consecutive weeks. Country music historian Bill Malone noted that while it was in many ways a conventional country song, its arrangement and the vocal chorus "put this recording in the country pop vein." In addition, Malone lauded Reeves' vocal styling – lowered to "its natural resonant level" to project the "caressing style that became famous" – as why "many people refer to him as the singer with the velvet touch."
In the early 1960s, Reeves was more popular than Elvis Presley in South Africa and recorded several albums in Afrikaans. In 1963, he toured and starred in a South African film, Kimberley Jim. The film was released with a special prologue and epilogue in South African cinemas after Reeves' passing, praising him as a true friend of the country. The film was produced, directed and written by Emil Nofal. Reeves was particularly popular among the Zulu population in South Africa, and was known by the monikers King Jim and (because of his 6'1″ frame) Big Jim.
Jim Reeves toured Britain and Ireland in 1963 between his tours of South Africa and Europe. Reeves and The Blue Boys were in Ireland from May 30 to June 19, 1963; with a tour of US military bases from June 10 to June 15, when they returned to Ireland. They performed in most counties in Ireland, though Reeves occasionally cut performances short because he was unhappy with the piano. In a June 6, 1963 interview with Spotlight magazine, Reeves expressed his concerns about the tour schedule and the condition of the pianos, but said he was pleased with the audiences.
He planned to record an album of popular Irish songs, and had three number one songs in Ireland in 1963 and 1964: "Welcome to My World," "I Love You Because," and "I Won't Forget You." Reeves had 11 songs in the Irish charts from 1962 to 1967. He recorded two Irish ballads, "Danny Boy" and "Maureen."
He was permitted to perform in Ireland by the Irish Federation of Musicians on the condition that he share the bill with Irish show bands, becoming popular by 1963. The British Federation of Musicians would not permit him to perform there because no agreement existed for British show bands to travel to America in exchange for the Blue Boys playing in Great Britain. Reeves, however, appeared on British radio and TV programs.
Jim Reeves visited Nj?rdhallen, Oslo on April 16, 1964 with Bobby Bare, Chet Atkins, the Blue Boys and The Anita Kerr Singers. They held two concerts; the second was televised and recorded by the Norwegian network (NRK – Norsk Rikskringkasting). The complete concert, however, was not recorded, including some of Reeve's last songs. There are reports he performed "You're the Only Good Thing (That's Happened To Me)" in this section. The program was re-run many times over the years.
His first hit in Norway, "He'll Have to Go," reached number one in the Top Ten and stayed on the chart for 29 weeks. "I Love You Because" was his biggest hit in Norway, reaching number one in 1964 and staying on the list for 39 weeks. His albums spent 696 weeks in the Norwegian Top 20 chart, making him among most popular artists in the history of Norway.
On July 31, 1964, Reeves and his business partner and manager Dean Manuel (also the pianist in Reeves' backing group) left Batesville, Arkansas en route to Nashville in a single-engine Beechcraft Debonair aircraft, with Reeves at the controls. The two had secured a deal on some property (Reeves had also unsuccessfully tried to buy property from the LaGrone family in Deadwood, Texas, north of his birthplace of Galloway).
While flying over Brentwood, Tennessee, they encountered a violent thunderstorm. A subsequent investigation showed that the small plane had become caught in the storm and Reeves suffered spatial disorientation. It was later believed he was flying the plane upside down and assumed he was increasing altitude to clear the storm. The plane faded from radar screens at around 5:00 p.m. and radio contact was lost. When the wreckage was found some 42 hours later, the plane's engine and nose were buried from the impact. The crash site was in a wooded area north-northeast of Brentwood roughly at the junction of Baxter Lane and Franklin Pike Circle, just east of US Interstate 65, and southwest of Nashville International Airport where Reeves planned to land. Coincidentally, both Reeves and Randy Hughes, the pilot of Patsy Cline's ill-fated plane, were trained by the same instructor.
On the morning of August 2, 1964, the bodies of Reeves and Manuel were found in the wreckage. At 1:00 p.m., radio stations across the United States announced Reeves' death. Thousands turned out to pay their last respects at his funeral on August 4. The coffin, draped in flowers from fans, was driven through the streets of Nashville to Reeves' resting place near Carthage, Texas.