JERRY GRAY
Biographie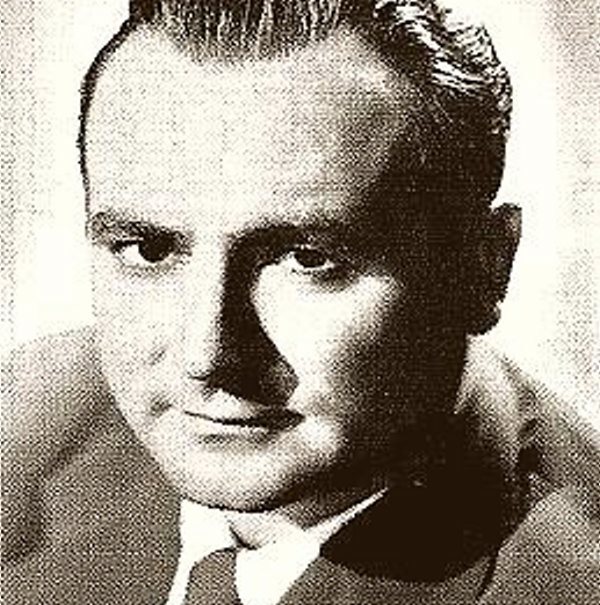 Jerry Gray was born Generoso Graziano in Boston, Massachusetts. His father Albert Graziano was a music teacher who began training his son on the violin at age seven. As a teenager he studied with Emanuel Ondricek and was a soloist with the Boston Junior Symphony. By age eighteen he had already formed his own jazz band and was performing in Boston-area clubs.
In 1936 Jerry Gray joined Artie Shaw, who was calling himself Art Shaw, and his "New Music" orchestra as lead violinist. He studied musical arrangement under Shaw and became a staff arranger a year later. During the next two years he penned some of the band's most popular arrangements, including "Carioca", "Softly, As in a Morning Sunrise", "Any Old Time", and the classic "Begin the Beguine." Many of his up-tempo arrangements show early evidence of the style that would eventually become his trademark: a melody broken into two- to four-measure phrases, usually carried by brass section, repeated with increasing intensity until the climax.
In November 1939, Shaw suddenly broke up his band and moved to Mexico. The next day, Glenn Miller called Jerry Gray and offered him a job arranging for his band. It was initially a difficult move because Shaw had generally allowed his arrangers great musical latitude, while Miller's commercial orientation often led him to second-guess his staff. Gray gradually found himself more in line with Miller's less–mercurial personality and was allowed more of the freedom that he appreciated. As Gray later told author George T. Simon, "To me, Glenn's band didn't swing like Artie's. … But after I made up my mind to accept things as they were, things started to click. … He was a businessman who appreciated music. … I may have been happier musically with Artie, but I was happier personally with Glenn."
Jerry Gray was again without a job when Miller broke up his band in September, 1942 to enter the Army Air Forces. The now-Captain Miller used his connections to have Gray posted in his unit; and in early 1943, Gray rejoined his old boss. Entrenched military bureaucracy halted Miller's initial plans to establish a group of service bands with Gray as coordinator of the arranging staffs. Instead, Gray became chief arranger for the Miller's "Band of the Training Command", better known today as the Glenn Miller Army Air Forces Orchestra. Gray's training as both a violinist and swing arranger served him well in the massive AAF orchestra composed of an enlarged dance band and a 21–member string section.
He created new arrangements of several of Miller's civilian–band hits, added strings to the version of "Begin the Beguine" that he had written for Artie Shaw, and wrote somewhat looser jazz pieces such as "Enlisted Men's Mess". He also co-wrote the famous march version of "St. Louis Blues" along with Perry Burgett and Ray McKinley. Two arrangements in particular show the breadth of styles that he was able to contribute: a lush, string-heavy treatment of Fred Fisher's "Blue is the Night" gave that relatively obscure tune a semi–classical cast, while his punching brass arrangement of "Everybody Loves My Baby" was perhaps the culmination of the repetitive short-phrasing style he developed with the Shaw band.
Jerry Gray was also the full orchestra's assistant conductor, while Ray McKinley and George Ockner served as seconds-in-command for the dance band and string section, respectively. It fell to Gray to conduct the orchestra's first concert in Paris after Miller's airplane disappeared over the English Channel. When the men returned to the U.S. in 1945 and McKinley left following his discharge, Gray assumed full leadership of the AAF Orchestra until its final performance on November 17 of that year.
Jerry Gray was passed over for the job of leading the postwar "ghost" Glenn Miller Orchestra, reportedly because the Miller Estate felt he did not have the pop-star qualities they wanted in a new leader. Instead they approached Ray McKinley, who was not interested, and finally hired Tex Beneke whose talents as vocalist and lead tenor sax player in Miller's civilian band provided a much more colorful front for the band. In 1945, Grey was an arranger for the Tex Beneke-Glenn Miller Orchestra Grey when Henry Mancini was the pianist. In 1947, Grey served as Mancini's best man at his wedding.
For a while Jerry Gray, did radio and studio work in the Los Angeles area, including leading the band on a radio show called Club 15 that featured Dick Haymes. He expressed frustration with musicians who were cashing in on the Miller name even though their connections were tenuous (Ray Anthony) or non-existent (Ralph Flanagan), so in 1949 he accepted a request from Decca Records to lead his own Miller-esque orchestra. The result was what he called "Jerry Gray and the Band of Today", an orchestra featuring his old Miller hits along with new compositions.
For a number of years the Gray and Beneke bands co-existed, each staffed by many former Miller musicians plus other well-known performers. The Gray band included Al Klink, Trigger Alpert, Zeke Zarchy, Jimmy Priddy, Ernie Caceres, Bernie Privin, and John Best from the Miller dance bands plus George Ockner, David Sackson, and Harry Katzman from the AAF string section. Most importantly Jerry Gray hired clarinetist Wilbur Schwartz whose unusual broad tone had been crucial to the civilian band's reed blend. Hits included the obligatory recreations of Miller classics, new compositions in the Miller style such as "Restringing the Pearls", and other distinctive tunes such as "Sound Off".
Listening to the Gray and Beneke orchestras provides an interesting contrast. Gray was arguably closer in spirit to the Miller legacy but never quite achieved the same level of popularity because he was less of a showman and Decca was no match for RCA's marketing machinery. Beneke benefited from greater name recognition and stage presence but was hampered by restrictions placed on him by the Miller Estate both before and after his split with RCA.
Jerry Gray continued to tour with his band in various forms through the 1950s. In 1953 he and Henry Mancini worked together on the biopic The Glenn Miller Story, starring James Stewart and June Allyson. In addition to leading his dance band he wrote and arranged for singers such as Vic Damone and released a very non-Miller-oriented LP featuring a full chorus and many of his own compositions.
By the 1960s he had settled in Dallas where he conducted the house band at the Fairmont Hotel. This later band generally featured more modern compositions by Gray and other contemporaries such as Sammy Nestico and Billy Byers. In 1968 he briefly returned to the Miller sound with swing arrangements of contemporary songs for Billy Vaughan's orchestra, including "Spanish Eyes", "A Walk in the Black Forest", and an AAF-like treatment of "One of Those Songs".
He continued to lead the Fairmont Hotel band into the 1970s before dying of a heart attack at the age of 61