JANE FROMAN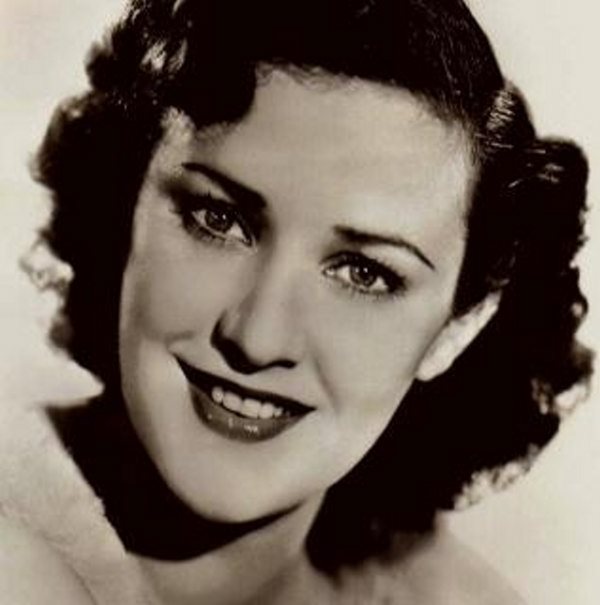 Biography
Jane Froman (November 10, 1907 – April 22, 1980) was an American singer and actress. During her thirty-year career, Froman performed on stage, radio and television despite chronic injuries that she sustained from a 1943 plane crash. The 1952 film, With a Song in My Heart, is based on her life.
Jane Froman was born in University City, Missouri, the daughter of Elmer Ellsworth Froman and Anna T. Barcafer. Her childhood and adolescence was spent in the small Missouri town of Clinton. She attended Columbia College (Missouri) in the city of Columbia, which she considered her hometown. Her father left her mother when Jane was about 5 years old. She developed a stutter around this time, which plagued her all of her life, except when she sang.
Although she had classical voice training, early in her career she was drawn to the songs of the era's songwriters, George and Ira Gershwin, Cole Porter, and Irving Berlin, who were inspiring a resurgence in popular music. She met vaudeville performer Don Ross when they auditioned for the same job at WLW radio station in Cincinnati. There, she joined Henry Thies' orchestra and was featured vocal on a number of Thies' Victor recordings. Convinced she was star material, Ross became her unofficial manager and persuaded her to move to Chicago where he worked for NBC radio. In 1933 Froman moved to New York City where she appeared on Chesterfield's "Music that Satisfies" radio program with Bing Crosby. She married Don Ross in September 1933. She joined the Ziegfeld Follies the same year where she befriended Fannie Brice. In 1934, at age 27, she became the top-polled "girl singer." The famous composer and producer, Billy Rose, when asked to name the top ten female singers, is reported to have replied, "Jane Froman and nine others."
She is credited with three movies, Kissing Time (1933), Stars Over Broadway (1935) and Radio City Revels (1938). From 1952 to 1955, she hosted her own TV show The Jane Froman Show – initially called USA Canteen – on the CBS network. The show was 15 minutes long and initially alternated with The Perry Como Show. The very first hit song to be introduced on television, I Believe, was written for Froman by the show's musicians, Ervin Drake, Irvin Graham, Jimmy Shirl, and Al Stillman and earned her a gold record in 1953.
She was severely injured by an aircraft crash on February 22, 1943, when a USO plane, a Boeing 314 named Yankee Clipper (tail number NC18603) was carrying Jane Froman and 38 others. When Yankee Clipper was banking into a turn for approach, a wingtip caught a wave, whereupon she crashed into the Tagus River in Lisbon, Portugal. One of fifteen survivors, Froman sustained severe injuries: a cut below the left knee nearly severing her leg, multiple fractures of her right arm, and a compound fracture of her right leg that doctors threatened to amputate. Froman had given her seat to another passenger, Tamara Drasin, who was killed in the crash, an action which her biographer Ilene Stone said "bothered her her whole life."
The co-pilot, John Curtis Burn, who broke his back in the crash, fashioned a makeshift raft from portions of the wrecked plane to help keep himself and Jane Froman afloat. After being rescued, they were sent to the same convalescent home, where they battled their long recoveries together. After she divorced Don Ross in February 1948, Jane Froman and John Burn were married, only to be divorced eight years later (March 12, 1948 – 1956).
Froman underwent 39 operations over the years. She fought amputation and wore a leg brace the remainder of her life. However, she returned to Europe and entertained American troops in 1945. Despite having to walk with crutches, she gave 95 shows throughout Europe. During the late 40s Froman became addicted to painkillers and, when they didn't ease the pain, supplemented them with alcohol. However, she successfully overcame both problems subsequently.
Froman's life story was the subject of the movie With a Song in My Heart (1952), starring Susan Hayward as Froman. Froman was deeply involved in the film's production: she supplied Hayward's singing voice and served as the film's technical advisor. The Capitol album of songs from the movie was the number one best-selling album of 1952 and remained in the catalogue for many years. DRG recently re-issued the album on a compact disc along with the 1952 revival cast album of Pal Joey, in which Froman sang the role made famous by Vivienne Segal, Vera Simpson.
A Choice CD called Jane Froman on Capitol is a collection of her Capitol Records singles and tracks from albums. From 1952-1955 Jane starred on CBS-TV. Her first program, USA Canteen, had servicemen in the audience. The program was renamed The Jane Froman Show and the format was changed to a twice weekly 15 minute program on Tuesdays and Thursdays. After the show was canceled in 1956, Froman appeared on various programs for the next few years. She also appeared on stage in Las Vegas.
Jane Froman retired to her home town of Columbia in 1961 where she married an old college friend, Rowland Hawes Smith (June 22, 1962 – April 22, 1980). She continued the volunteer work for which she was known throughout her career. In 1980, she died of cardiac arrest caused by chronic heart and lung disease in Columbia. She is buried at the Columbia Cemetery.