IRVING BERLIN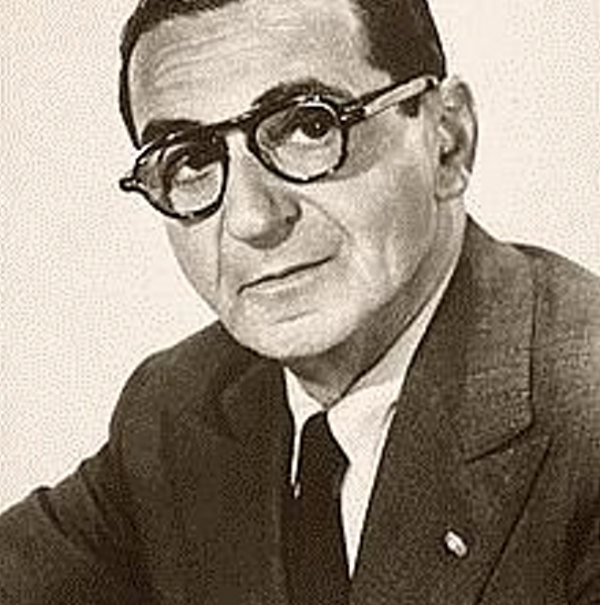 Biography
Irving Berlin
was born under the name Israel Isidore Baline on May 11, 1888 in Mogilyov, Russia. He came to America with his family at age five to escape the pogroms in Russia. The family settled in New York City, where Israel and his brothers sold cheap newspapers on the street to support their family after the death of his father. Not long after, he became a singing waiter, which started him off in the singing business. Israel began composing songs. He couldn't read music, but taught himself to play piano enough so he could write his own music.
Irving Berlin earned thirty-seven cents for his first published song, "Marie of Sunny Italy," in 1907, but by 1911, he had his first big international hit- "Alexander's Ragtime Band". Soon, he started writing shows with songs, skits and dances called revues. It was then he decided his work would sell better if he "Americanized" his name. He changed it from Israel Baline to Irving Berlin.
He wrote many famous musicals as well, including "Annie Get Your Gun" and "Call Me Madam". He wrote "God Bless America", the song we sing at every baseball game nowadays. During the twenties he wrote music for Tin Pan Alley and Broadway, and after the rise of the film musical he also wrote for Hollywood. In 1910, he even started making Vaudeville appearances.
Irving's work greatly influenced society today. You can say that without Thomas Edison, the light bulb would have never been invented. But somebody would have found a source of electronically run light sooner or later. Irving Berlin's work is something that is worth more than something physical. He wrote songs that bring pleasure to those that hear them. "God Bless America" is a perfect example. We can definitely live without that song, but it has slowly become a big part of the American culture and it makes people feel patriotic when they either sing or hear it. It is now a symbol representing patriotism for our country.
Irving Berlin loved music and dedicated his life to it. But it wasn't always just the love of music that brought him to it. In the beginning, he depended on music to bring food to his table. He sang famous songs on the street to earn money for his family. When he became richer and more famous, he started to really enjoy it. Irving once said, "A patriotic song is an emotion…", and for a very good reason. He wrote patriotic songs, where the words came from the heart.
Irving Berlin received many awards for his great composing. In 1942, he won the Academy Award for best song for his "White Christmas", also winning the Mabel Mercer Award in 1988. On February 18th, 1955, President Eisenhower presented Berlin a gold medal for recognition of his services in composing patriotic songs for the country.
For the last decade of his life, Berlin kept to himself and made no public appearances. An exception was made, however, on his 100th birthday at Carnegie Hall, which was a rather big event. He passed away one year later at age 101 from natural causes.
Although Berlin is gone from us now, his patriotic songs will stay with us forever more. He lived a good life, making thousands of people happy with his kindness and talent in song-writing.