HANK SNOW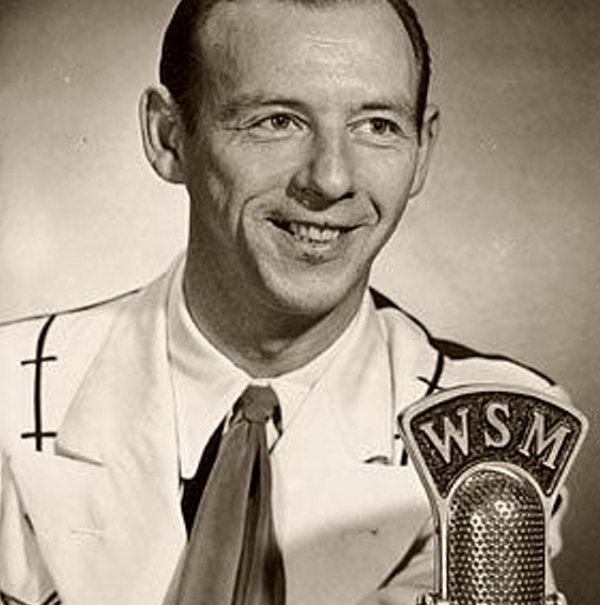 Biography
Hank Snow, Clarence Eugene Snow (May 9, 1914 – December 20, 1999) was a Canadian-American country music artist. He charted more than 70 singles on the Billboard country charts from 1950 until 1980. This total includes the number 1 hits "I'm Moving On", "The Golden Rocket", "I Don't Hurt Anymore", "Let Me Go, Lover!", "I've Been Everywhere", and "Hello Love" as well as other top ten hits. He is a member of both the Canadian Country Music Hall of Fame and the Music Hall of Fame.
Hank Snow was born in Brooklyn, Queens County, Nova Scotia, Canada. He ran away from home to escape a brutal stepfather when he was 12 years old and joined a fishing boat as a cabin boy. When he was 14, he ordered his first guitar from an Eaton's department store catalogue for $5.95, and played his first show in a church basement in Bridgewater, Nova Scotia at age 16. He then sang in local clubs in and around Halifax. He married Minnie Blanche Aalders in 1935 and had one son, Rev. Jimmy Rodgers Snow.
A successful appearance on Halifax radio station CHNS led to Snow's audition with the Canadian division of RCA Victor in Montreal, Quebec. In 1936, he signed with the label, staying for more than 45 years. A weekly CBC radio show brought him national recognition and, using the name,Hank Snow, The Yodeling Ranger, and he began touring Canada until the late 1940s when American country music stations began playing his records.
Hank Snow moved to Nashville, Tennessee in 1945, and "Hank Snow, the Singing Ranger" (modified from his earlier nickname, the Yodeling Ranger), was invited to play at the Grand Ole Opry in 1950. That same year he released his hit, "I'm Moving On." The first of seven number 1 hits on the country charts, "I'm Moving On" stayed at the top for 21 weeks, setting the all-time record for most weeks at number 1.
That same year " "The Golden Rocket" and "The Rhumba Boogie" both hit number one with the latter remaining No. 1 for eight weeks.
Along with these hits, his other "signature song" was "I've Been Everywhere," in which he portrayed himself as a hitchhiker bragging about all the towns he'd been through. This song was originally written and performed in Australia by Geoff Mack, and its re-write incorporated North American place names. Rattling off a well-rhymed series of city names at an auctioneer's pace has long made the song a challenge for any singer.
While performing in Renfro Valley, Hank Snow worked with a young Hank Williams.
In the February 7th 1953 edition, Billboard Magazine reported that Snow's then seventeen year old son, Jimmy Rodgers Snow, had "signed with Victor" (RCA Victor Records). Billboard reported that the younger Snow would "record duets with his father", as well as cover his own (presumably ghost-written) material.
A regular at the Grand Ole Opry, in 1954 Snow persuaded the directors to allow a young Elvis Presley to appear on stage. Snow used Presley as his opening act and introduced him to Colonel Tom Parker. In August 1955, Snow and Parker formed the management team, Hank Snow Attractions. This partnership signed a management contract with Presley but before long, Snow was out and Parker had full control over the rock singer's career. Forty years after leaving Parker, Snow stated, "I have worked with several managers over the years and have had respect for them all except one. Tom Parker (he refuses to recognise the title Colonel) was the most egotistical, obnoxious human being I've ever had dealings with."
Performing in lavish and colourful sequin-studded suits, Snow had a career covering six decades during which he sold more than 80 million albums. Although he became an American naturalized citizen in 1958, he still maintained friendships in Canada and remembered his roots with the 1968 album, My Nova Scotia Home. That same year he performed at campaign stops on behalf of U.S. presidential candidate George Wallace.
Despite his lack of schooling, Snow was a gifted songwriter and in 1978 was elected to Nashville Songwriters Hall of Fame. In Canada, he was ten times voted that country's top country music performer. In 1979, he was elected to the Country Music Hall of Fame, the Canadian Music Hall of Fame and the Nova Scotia Music Hall of Fame. He was also inducted into the Canadian Country Music Hall of Fame in 1985.
His autobiography, The Hank Snow Story, was published in 1994, and later The Hank Snow Country Music Centre opened near his ancestral home in Liverpool, Nova Scotia. A victim of child abuse, he established the Hank Snow International Foundation For Prevention Of Child Abuse.
In 1996, Hank Snow experienced respiratory problems and at 12:30am on December 20, 1999, he died from heart failure at his Rainbow Ranch in Madison, Tennessee and was interred in the Spring Hill Cemetery in Nashville. Minnie died on May 12, 2003 in Madison, Tennessee