GLENN MILLER
Biographie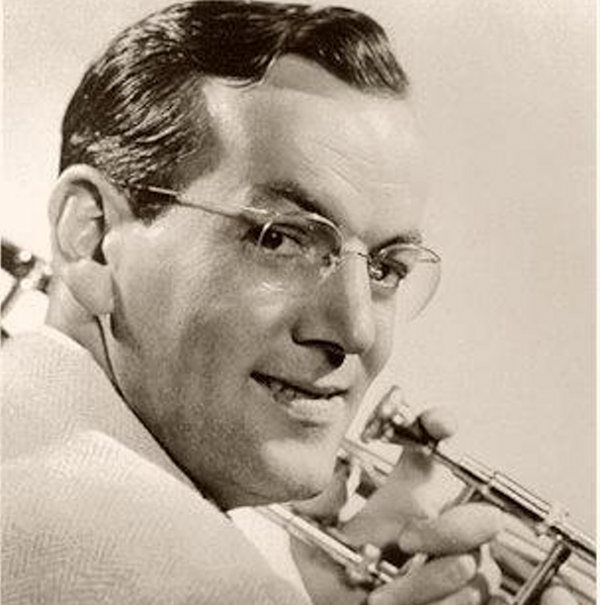 Glenn Miller (March 1, 1904 – December 15, 1944)
Glenn Miller's reign as the most popular bandleader in the U.S. came relatively late in his career and was relatively brief, lasting only about three and a half years, from the spring of 1939 to the fall of 1942. But during that period he utterly dominated popular music, and over time he has proven the most enduring figure of the swing era, with reissues of his recordings achieving gold record status 40 years after his death.
Glenn Miller developed a distinctive sound in which a high-pitched clarinet carried the melody, doubled by a saxophone section playing an octave lower, and he used that sound to produce a series of hits that remain definitive examples of swing music. Miller's approach is not much appreciated by jazz fans, who prefer bands that allow for greater improvisation than was found in his highly disciplined, rigorously rehearsed unit. But he brought the swing style of popular music to a level of sophistication and commercial acceptance it had not previously achieved and would not see again after his untimely passing.
Glenn Miller was the son of Lewis Elmer and Mattie Lou Cavender Miller. He lived in various locations in the Midwest while he was growing up. He first took up the mandolin, then switched to a horn. In Grant City, MO, where his family moved in 1915, he joined the town band and began playing trombone. By 1918, the family had moved to Fort Morgan, CO, where he played in the high school band and graduated in May 1921. He immediately joined the Boyd Senter band, but quit to start college at the University of Colorado in January 1923.
After a year, however, he left college and moved to Los Angeles, where he joined Ben Pollack's band. In the summer of 1928, he left Pollack and settled in New York, where he worked as a session musician and arranger. When in the spring of 1934 Tommy and Jimmy Dorsey formed the Dorsey Brothers Orchestra, he signed on as trombonist and arranger, remaining with the band almost a year. He left to organize an American band for British bandleader Ray Noble that made its debut at the Rainbow Room in New York's Rockefeller Center. Meanwhile, he was studying theory and composition with Joseph Schillinger.
Glenn Miller began recording under his own name for Columbia Records on April 25, 1935, using a pickup band containing members of the Noble orchestra. His instrumental "Solo Hop" reached the Top Ten in the summer of 1935. But he did not organize a permanent touring band of his own until 1937, when he signed to Brunswick Records. The group was not a success, and he disbanded it in early 1938, then reorganized a couple of months later and signed to the discount-priced Bluebird subsidiary of RCA Victor Records. Still without any great success, he managed to maintain this orchestra for the next year until he got his big break with an engagement at the Glen Island Casino in New Rochelle, NY, in the summer of 1939.
Glen Island was a major swing venue with a radio wire, giving the band extensive exposure. Already, Miller had hit the charts with the Top Ten hit "Sunrise Serenade"; soon, its flipside, "Moonlight Serenade," would become an even bigger hit. "Wishing (Will Make It So)" (vocal by Ray Eberle) hit number one in June. Ultimately, Miller scored 17 Top Ten hits in 1939, including the subsequent chart-toppers "Stairway to the Stars," "Moon Love," "Over the Rainbow," and "Blue Orchids" (all vocals by Ray Eberle), as well as "The Man With the Mandolin" (vocal by Marion Hutton).
Miller's recording success led to other opportunities. He became the star of the three-times-a-week radio series Chesterfield Supper Club in December 1939 and began the first of several extended engagements at the Café Rouge in the Hotel Pennsylvania in New York in January 1940, also appearing occasionally at the Paramount Theatre. He scored 31 Top Ten hits in 1940, more than three times as many as the second most successful recording artist of the year, Tommy Dorsey, hitting number one with "Careless," "When You Wish Upon a Star," "Imagination," "Fools Rush In (Where Angels Fear to Tread)," and "Blueberry Hill" (all vocals by Ray Eberle); "The Woodpecker Song" (vocal by Marion Hutton); and the instrumentals "In the Mood" and "Tuxedo Junction" (both of which were later inducted into the Grammy Hall of Fame).
Glenn Miller scored another 11 Top Ten hits in 1941, which was enough to make him the top recording artist for the second year in a row. His number one hits included "Song of the Volga Boatmen," "You and I" (vocal by Ray Eberle), "Chattanooga Choo Choo," from his first film, Sun Valley Serenade (vocals by Tex Beneke and the Modernaires with Paula Kelly), and "Elmer's Tune" (vocals by Ray Eberle and the Modernaires). The story was much the same on the recording front in 1942, 11 Top Ten hits and a third straight ranking as the year's top recording artist, the chart-toppers including "A String of Pearls," "Moonlight Cocktail" (vocals by Ray Eberle and the Modernaires), "Don't Sit Under the Apple Tree (With Anyone Else but Me)," and "(I've Got a Gal In) Kalamazoo" (vocals on the last two by Tex Beneke, Marion Hutton, and the Modernaires). "Kalamazoo" came from Miller's second film, Orchestra Wives.
Yet 1942, the first full year of American participation in World War II, marked the end of Miller's dominance of popular music, since, after months of negotiations, he arranged to receive an officer's commission in the army air force on September 10 and, 17 days later, played his final date with his band, which he then broke up. He organized a service band and began performing at military camps and war-bond rallies while hosting a weekly radio series, Sustain the Wings. Nevertheless, he scored two more Top Ten hits in 1943, including the number one "That Old Black Magic" (vocals by Skip Nelson and the Modernaires). He took his band to Great Britain in June 1944 and continued to perform for the troops and do radio broadcasts. He was preparing to go on to Paris when the plane on which he was traveling disappeared over the English Channel and he died at age 40.
Glenn Miller, an album of 78 rpm records, topped the newly instituted album charts in May 1945 and became the most successful album of the year. The Glenn Miller Orchestra was reconstituted as a ghost band after the war under the direction of Tex Beneke. In October 1947, Glenn Miller Masterpieces, Vol. 2 topped the album charts. Miller was the subject of a partly fictionalized film biography, The Glenn Miller Story, starring James Stewart, in February 1954; a soundtrack album of re-recordings not featuring Miller, released by Decca Records, hit number one in March. RCA Victor countered with the 10″ LP Selections from the Glenn Miller Story, which hit number one in May. (The album was reissued as a 12″ LP with a modified track selection in 1956 and was certified gold in 1961. In 1962, RCA Victor released Glenn Miller Plays Selections from the Glenn Miller Story and Other Hits, which had an identical track listing to the 1956 Selections from the Glenn Miller Story LP. It went gold in 1968.) The Miller estate, having parted ways with Tex Beneke, hired Ray McKinley, a former member of the Miller band, to organize a new ghost band in 1956, and this Glenn Miller Orchestra continued to record and perform under various leaders from then on.
In 1959, RCA Victor released a triple LP of previously unissued performances, For the First Time …, which earned a Grammy nomination for Best Performance by a Dance Band. Reissues of Miller's original recordings sold well perennially. The double-LP A Memorial 1944-1969, released in October 1969, went gold in 1986; Pure Gold, released in March 1975, went gold in 1984. In 1989, Jive Bunny and the Mastermixers sampled Miller's recording of "In the Mood" on their gold single "Swing the Mood." While RCA Victor remains the primary repository of Miller recordings and continues to reissue them in various configurations, other labels have also come up with airchecks and other stray recordings, making for a large and constantly growing catalog. William Ruhlmann, Rovi