GIUSEPPE DI STEFANO
Biographie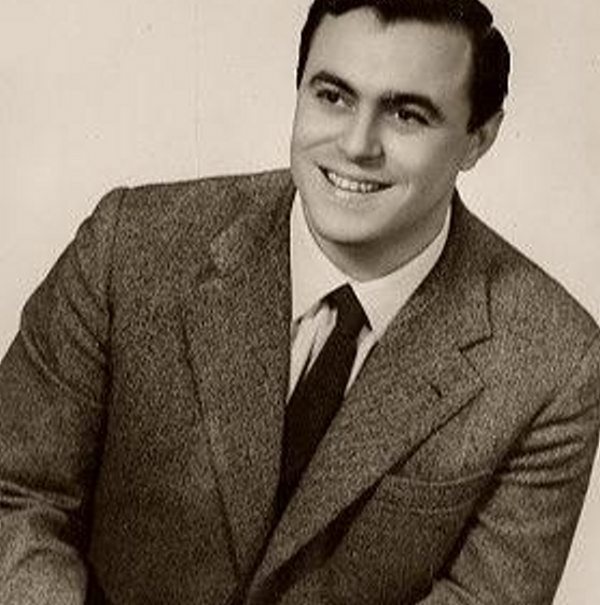 Giuseppe Di Stefano (24 July 1921 – 3 March 2008) was an Italian operatic tenor who sang professionally from the late 1940s until the early 1990s. He was known as the "Golden voice" or "The most beautiful voice", as the true successor of Beniamino Gigli. He was also known for his long-term performance and recording association and brief romantic episode with the soprano Maria Callas.
Giuseppe di Stefano was born in Motta Sant'Anastasia, a village near Catania, Sicily. He was the only son of a carabiniere turned cobbler and his dressmaker wife. Di Stefano was educated at a Jesuit seminary and briefly contemplated entering the priesthood.
After serving in the Italian military (and briefly taking lessons from the Swiss tenor Hugues Cuénod), di Stefano made his operatic debut in 1946 in Reggio Emilia as Des Grieux in Massenet's Manon, the role in which he made his La Scala debut the following year. The great beauty of his lyric tenor voice quickly won him international attention and he was duly engaged by the Metropolitan Opera in New York.
He made his New York debut in 1948 as the Duke of Mantua in Verdi's Rigoletto after singing the role in Riccione with Hjördis Schymberg that summer. He went on to perform regularly in New York for many years. In 1957, di Stefano made his British debut at the Edinburgh Festival as Nemorino in L'elisir d'amore and his Royal Opera House, Covent Garden, debut in 1961, as Cavaradossi in Tosca.
As a singer, Giuseppe Di Stefano was admired for his excellent diction, unique timbre, passionate delivery and, in particular, for the sweetness of his soft singing. In his Metropolitan Opera radio broadcast debut in Faust, he attacked the high C forte and then softened to a pianissimo. Sir Rudolf Bing said in his memoirs that this was the most beautiful sound he had heard come out of a human throat during his many years as general manager of the Metropolitan Opera.
During his years of international celebrity, di Stefano won a gold Orfeo, an Italian musical award.
In 1953 Walter Legge, leader of EMI's classical wing, wanted a tenor to record all the popular Italian operas with Maria Callas and chose Giuseppe di Stefano. Among their recording achievements was the famous 1953 studio recording of Tosca under de Sabata, considered by many as the finest opera recording ever made. The two also performed together on stage frequently, from 1951 in South America to the end of 1957 in Un ballo in maschera at La Scala, the last time the two collaborated in an opera. He sang Alfredo to Callas in the famous Visconti production of "La traviata" in 1955 at La Scala, as well as Edgardo to her Lucia under Herbert von Karajan at La Scala, Berlin and Vienna.
In 1973, Giuseppe Di Stefano accompanied Maria Callas on her final recital tour that ended in 1974: critics remarked that both were losing their voices, but the public reaction was enthusiastic everywhere. It was during this period the two had a brief romantic relationship. Di Stefano's final operatic role was as the aged Emperor in Turandot, in July 1992.
In a documentary aired on PBS entitled Pavarotti and the Italian Tenor, a critic remarked that "di Stefano's [singing] technique was not good", due to the fact that he apparently misused the passagio of his voice. Luciano Pavarotti said he modeled himself after di Stefano, a fact that gained much attention after Pavarotti's death in September 2007.
He was also the tenor who most inspired José Carreras. However, on the 1992 PBS television program "Pavarotti and the Italian Tenor", Leone Magiera explained that di Stefano's technique was fundamentally flawed because, contrary to traditional vocal methods, he sang too openly in and above the passaggio.
Incidentally Giuseppe Di Stefano , for all his vocal merits, could not read musical notation fluently. Nonetheless, di Stefano still managed to enjoy a significant operatic career, despite facing stiff competition during the 1950s and '60s from such outstanding fellow tenors as Mario del Monaco, Franco Corelli, Carlo Bergonzi, Nicolai Gedda, Jon Vickers, Richard Tucker and, prior to 1960, the short-lived Jussi Björling.