GEORGE GERSHWIN
Biographie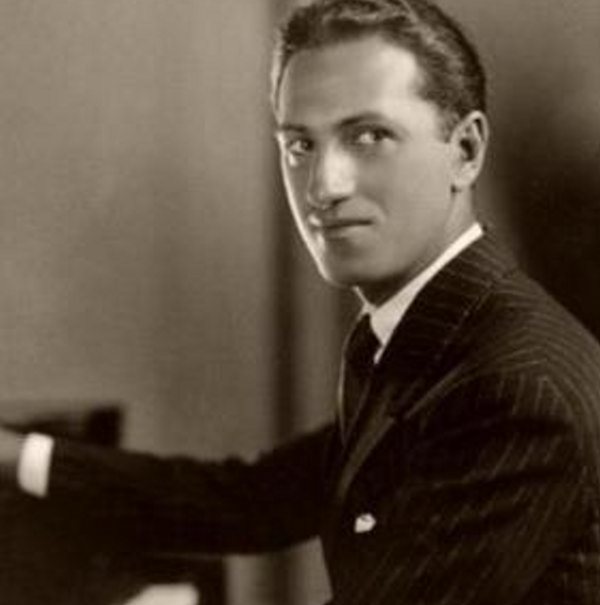 George Gershwin
was born Jacob Gershowitz. His parents emigrated from Russia to the U.S.A in 1891. He first discovered music at age 10 at a friend's violin recital in a school auditorium in the lower East Side of Manhattan. George's early interests were not in music, but sports. When a piano was brought into the Gershowitz home for brother Ira, George (age 12) was the one whose interest was sparked. After playing from memory a song he had heard on a neighbor's player piano, George's parents invested in lessons.
By age 15 George Gershwin had quit school and landed a job as pianist and "song plugger" for a Tin Pan Alley music-publishing firm, Jerome H. Remick & Company, at a salary of $15 a week.
To increase his income, Gershwin recorded piano rolls under various pen names. For his efforts he received $35 for six rolls. He was interested in both 'serious' and popular music, and composed in both styles. He was one of the first composers to combine jazz and classical music styles.
George Gershwin was a great admirer of the comedian Ed Wynn and it is at this time, in honor of him, that Gershwin changed the end of his last name. He studied with the American composers Rubin Goldmark, Henry Cowell, and Wallingford Riegger and with the Russian-born composer and theorist Joseph Schillinger.
George Gershwin wrote his first major successful musical work in 1924, Rhapsody in Blue. Asked by Paul Whiteman to write the work for a special concert of modern music to be presented at Aeolian Hall in New York, Gershwin finished his composition in less than three weeks. The speed of writing was due in part to George having forgotten about the commission. It was when Ira read in the newspaper of the upcoming concert that George's remembered his musical commitment.
Much of his inspiration for the work came during a train ride to Boston. According to Gershwin, "with its steely rhythms, its rattlety-bang . . . I suddenly heard – and even saw on paper – the complete construction of the rhapsody from beginning to end. I heard it as a sort of musical kaleidoscope of America – of our vast melting pot, of our unduplicated national pep, of our blues, our metropolitan madness." The score was completed in a week upon his return to New York. The original setting was not for a large orchestra, but for a much smaller jazz ensemble. Gershwin himself performed at the piano at the world premiere.
The American composer Ferde Grofé, then a pianist and orchestrator for Paul Whiteman's Orchestra orchestrated Rhapsody in Blue. The success of Rhapsody in Blue led Gershwin to write more pieces for piano and orchestra including the Concerto in F, commissioned by famed conductor, Walter Damrosch.
George Gershwin
followed this brilliant success with his 1928 tone poem An American in Paris, which takes the listener to the streets of Paris in the 1920s and calls for four traffic car horns in concert. To add authentic color to this work Gershwin visited Parisian garages and purchased used taxi horns that he incorporated into the score. Although he composed sketches of the work in Paris, it was completed on a farm in Connecticut. The piece premiered at Carnegie Hall December 13, 1928 and almost immediately transferred from the concert hall to the musical stage as it was incorporated into Show Girl as the ballet scene.
George Gershwin had traveled to Paris in the hopes of studying with famed teacher Nadia Boulanger, but she refused him saying he was fine the way he was. Gershwin also sought to study with Igor Stravinsky. When he approached the composer at a party Stravinsky surprised him with the question "How much money do you make a year?" Upon hearing the answer Stravinsky replied, "Perhaps I should study with you, Mr. Gershwin."
The lyrics for nearly all of George Gershwin's songs were written by his older brother, Ira. The song "Swanee," introduced by Al Jolson in Sinbad, became the greatest hit of Gershwin's entire career. George and Ira followed this success with a constant flow of bright, up-tempo tunes and heartfelt ballads to became the dominant Broadway songwriters of the 1920's.
This extraordinary collaboration led to a succession of 22 musical comedies. The Gershwin brothers' musical Of Thee I Sing was the first musical to be awarded a Pulitzer Prize.
Gershwin's greatest musical undertaking, Porgy and Bess, which was the first American opera, met with very little success when it initially opened.
It was set in the south and dealt with the poor of the ghettos and their daily lives. Gershwin, fascinated by the DuBose Heyward novel Porgy, recognised it as a perfect vehicle for opera using jazz and blues rhythms and idioms.
What he called a "folk opera," Porgy and Bess (co-written with DuBose and Dorothy Heyward and Ira Gershwin) was the Gershwin brothers' most ambitious endeavor – the songs, orchestrations and drama all being of equal importance. Porgy and Bess was premiered on September 30, 1935 in Boston, and opened on Broadway on October 10. In addition to its 1942 and 1953 revivals and subsequent world tours, it was made into a major motion picture in 1959.
Cuban Overture (first titled Rumba) was George Gershwin's last attempt at a major serious orchestral success. He vacationed in Havana in 1932 and became very interested in the Cuban music, particularly the percussion. Gershwin always ahead of his time, premiered his overture well ahead of Xavier Cugat, who popularized music with Cuban rhythms.
Over the years, Gershwin songs have also been used in numerous films and musicals, including My One and Only (1983) and Crazy For You (1992). Crazy For You is loosely based on Girl Crazy, with a new libretto by Ken Ludwig and features several George and Ira songs, including two previously unpublished numbers. Gershwin's music has been featured in movies such as When Harry Met Sally and Mr. Holland's Opus, and in the opening of the 1988 Olympics.
George Gershwin rarely made grand statements about his music. He described himself as a "modern romantic" and was quoted as saying, "true music … must reflect the thought and aspirations of the people and time. My people are Americans. My time is today."