GEORGE BARNES
Biographie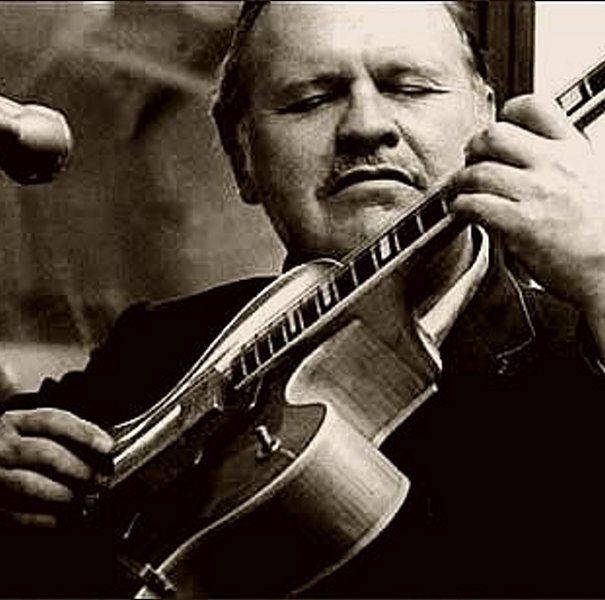 George Barnes (July 17, 1921 – September 5, 1977) was a world-renowned swing jazz guitarist, who claimed he played the first electric guitar in 1931, preceding Charlie Christian by six years. George Barnes made the first recording of an electric guitar in 1938 in sessions with Big Bill Broonzy.
George Barnes was born in South Chicago Heights, Illinois. He started his career accompanying blues vocalists such as Big Bill Broonzy. In the mid-1930s, Barnes toured throughout the Midwest. By 1938, he was working as a musician on the staff of NBC studios. After a stint in the Army, Barnes recorded with his octet and worked as a studio musician for Decca.
In 1940, Barnes released his first recording under his own name on Okeh Records, "I'm Forever Blowing Bubbles" backed with "I Can't Believe That You're In Love With Me".
He did not receive national acclaim until he recorded an album called Two Guitars with Carl Kress. After the death of Kress, George Barnes recorded several albums with Bucky Pizzarelli. Their partnership lasted through the early 1970s. He also worked as a session musician for The Jodimars in the late 1950s. Before his death, Barnes also made well-received albums with Joe Venuti. He also contributed an album entitled Guitars a'plenty, under the name The George Barnes Guitar Choir, for Mercury Records in 1962. It was part of a series of recordings known as "Super Stereo Sound" as technical "state of the art" techniques.
George Barnes formative guitar years preceded the be-bop era therefore his playing style was more swing. His lines were usually short, very melodic, bluesy and "inside" (i.e. diatonic) as compared to the chromaticism and long lines of be-bop era guitarists (such as Pat Martino). His improvisation employed "call and answer" extensively — e.g. playing a line in one octave (call) and repeating the exact or similar line in another octave (answer). His lines swung, were well articulated and often cleverly posed. Barnes' tone was brighter than most jazz guitarists (such as Joe Pass or Jim Hall) and reflected his "happy" approach.
George Barnes died in Concord, California in 1977. Not long before his death he recorded two live albums at a San Francisco club. The albums are good examples of his swinging, happy and often mischievous technique. The albums also include his banter with the audience, introduction of tunes and his band, giving you a brief look into his sense of humor.
In a review of the album Don't Get Around Much Anymore (material from a 1977 Concord, California concert that was recorded a little more than a month before Barnes' sudden death at the age of 56), Jim Ferguson wrote: "Often overlooked in a sea of more modern-sounding, bebop-oriented guitarists, George Barnes could swing like mad and spin out intricate, frequently bluesy phrases with awesome precision and musicality…. From start to finish, this well-recorded performance demonstrates the qualities that qualify Barnes for a position among the most elite players in the annals of jazz guitar."
George Barnes wrote the instructional manuals George Barnes' Living Guitar Method; The Easy Way to Learn All the Chords and Rhythms and How to Arrange for Solo Guitar.