GENE KRUPA
Biographie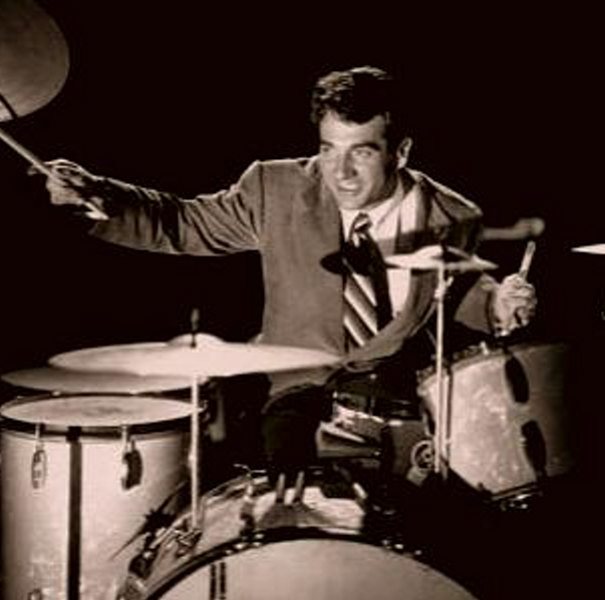 Gene Krupa, Eugene Bertram "Gene" Krupa (January 15, 1909 – October 16, 1973) was an American jazz and big band drummer and composer, known for his highly energetic and flamboyant style.
Gene Krupa was born in Chicago, the youngest of Anna (Oslowski) and Bartłomiej Krupa's nine children. Krupa's father, Bartłomiej, was an immigrant from Poland, and his mother, Anna, was born in Shamokin, Pennsylvania. His parents were very religious and had groomed Gene for the priesthood. He spent his grammar school days at various parochial schools and upon graduation, attended St Joseph's College for a year, but later decided it was not his vocation. He studied with Sanford A. Moeller and began playing professionally in the mid 1920s with bands in Wisconsin.
He broke into the Chicago scene in 1927, when he was picked by MCA to become a member of "Thelma Terry and Her Playboys," the first notable American Jazz band (outside of all-girl bands) to be led by a female musician. The Playboys were the house band at The Golden Pumpkin nightclub in Chicago and also toured extensively throughout the eastern and central United States.
He made his first recordings in 1927, with a band under the leadership of banjoist Eddie Condon and Red McKenzie: along with other recordings beginning in 1924 by musicians known in the "Chicago" scene such as Bix Beiderbecke, these sides are examples of "Chicago Style" jazz. The numbers recorded at that session were: "China Boy", "Sugar", "Nobody's Sweetheart" and "Liza". The McKenzie – Condon sides are also notable for being some of the early examples of the use of a full drum kit on recordings. Krupa's big influences during this time were Tubby Hall and Zutty Singleton. The drummer who probably had the greatest influence on Gene in this period was Baby Dodds, whose use of press rolls was highly reflected in Gene's playing.
Gene Krupa also appeared on six recordings made by the Thelma Terry band in 1928 In 1934 he joined Benny Goodman's band, where his featured drum work made him a national celebrity. His tom-tom interludes on their hit "Sing, Sing, Sing" were the first extended drum solos to be recorded commercially. In 1939, Gene Krupa and his Orchestra appeared in the Paramount movie Some Like It Hot, which starred Bob Hope and Shirley Ross, performing the songs "Blue Rhythm Fantasy" and "The Lady's in Love with You". He made a cameo appearance in the 1941 film, Ball of Fire, in which he and his band performed an extended version of the hit "Drum Boogie", sung by Barbara Stanwyck, which he had composed with trumpeter Roy Eldridge. In 1943, Krupa was arrested for possession of two marijuana cigarettes and was given a three-month jail sentence.
As the 1940s closed, large orchestras fell by the wayside: Count Basie closed his large band and Woody Herman reduced his to an octet. Krupa gradually cut down the size of the band in the late 1940s, and from 1951 on led a trio or quartet, often featuring the multi-instrumentalist Eddie Shu on tenor sax, clarinet and harmonica. He appeared regularly with the Jazz At the Philharmonic shows. Along with Ball of Fire, he made a cameo appearance in the 1946 screen classic The Best Years Of Our Lives. His athletic drumming style, timing methods and cymbal technique evolved during this decade to fit in with changed fashions and tastes, but he never quite adjusted to the Be-Bop period.
In 1954, Gene Krupa returned to Hollywood, to appear in such films as The Glenn Miller Story and The Benny Goodman Story. In 1959, the movie biography, The Gene Krupa Story, was released; Sal Mineo portrayed Krupa, and the film had a cameo appearance by Red Nichols. Dave Frishberg, a pianist who played with Krupa, was particularly struck by the accuracy of one key moment in the film. "The scene where the Krupa character drops his sticks during the big solo, and the audience realizes that he's "back on the stuff." I remember at least a couple of occasions in real life when Gene dropped a stick, and people in the audience began whispering among themselves and pointing at Gene."
He continued to perform in famous clubs in the 1960s like the Metropole, near Times Square in New York City, often playing duets with drummer Cozy Cole. Increasingly troubled by back pain, he retired in the late 1960s and opened a music school. One of his pupils was KISS drummer Peter Criss, whilst Jerry Nolan from The New York Dolls was another, as evidenced by the drumming similarities between KISS's Black Diamond and The New York Dolls' Jet Boy.
He occasionally played in public in the early 1970s until shortly before his death. Krupa married Ethel Maguire twice: the first marriage lasted from 1934–1942; the second one dates from 1946 to her death in 1955. Their relationship was dramatized in the biopic about him. Krupa remarried in 1959 (to Patty Bowler).
Gene Krupa died of leukemia and heart failure in Yonkers, New York, aged 64. He was buried in Holy Cross Cemetery in Calumet City, Illinois.