FRED ASTAIRE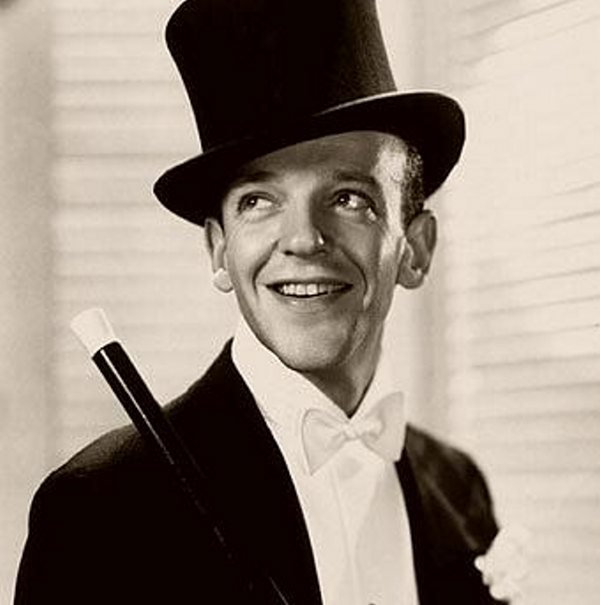 Biography
Fred Astaire was born Frederick Austerlitz on May 10, 1899, in Omaha, Nebraska. His parents, Frederic E. and Ann Gelius Austerlitz, enrolled him in dancing school at age four to join his older sister Adele. The two Austerlitz children proved extraordinarily talented and the family moved to New York, where the children continued their training in singing, dancing, and acting. In 1905 Fred and Adele began performing in vaudeville. By 1917 they had changed their last name to Astaire and began performing in musicals. They appeared in successful productions on Broadway and in London, England, including the musical comedies Lady, Be Good in 1924, Funny Face in 1927, and a revue titled The Band Wagon in 1931.
When Adele retired from show business in 1932 to marry, Astaire sought to reshape his career. He took the featured role in the musical Gay Divorce. This show proved Astaire could succeed without his sister and helped establish the pattern of most of his film musicals: it was a light comedy, built around a love story for Astaire and his partner that was amusing, but basically serious—and featuring some great dancing, including routines Astaire was beginning to develop himself.
In 1933 Astaire married Phyllis Livingston Potter and shortly afterward went to Hollywood. He had a featured part in Flying Down to Rio (1933). The film was a hit, and it was obvious that Astaire was a major factor in the success. The Gay Divorcee (1934), a film version of Gay Divorce, was the first of Astaire's major pictures with Ginger Rogers (1911–1995) and an even bigger hit. With seven more films in the 1930s (the most popular of which was Top Hat in 1935), Astaire and Rogers became one of the legendary partnerships in the history of dance, featuring high spirits, bubbling comedy, and romantic chemistry. By the end of the 1930s the profits from the Astaire-Rogers films were beginning to decline. Over the next few years Astaire made nine films at four different studios and continued to create splendid dances, appearing with a variety of partners.
In 1946 Astaire retired from motion pictures to create a chain of successful dancing schools. In 1947 he returned to movies to make the highly profitable Easter Parade at Metro Goldwyn Mayer (MGM). Nine more musicals followed. Astaire's success was marred in 1954, however, when his beloved wife died from cancer.
By the mid-1950s the era of the Hollywood musical was coming to an end, and Astaire moved into other fields. On television he produced four award-winning musical specials with Barrie Chase as his partner. He also tried his hand at straight acting roles with considerable success in eight films between 1959 and 1982. Over the years he played a number of characters on television in dramatic specials and series. In 1980, as he entered his eighties, Astaire married Robyn Smith, a successful jockey in her mid-thirties. He died seven years later.
Ginger Rogers, Astaire's longtime dance partner, passed away in 1995. Rogers is often quoted as having said, "I did everything Fred did, only backwards and in high heels." Their partnership lasted sixteen years, from 1933 to 1949.
Fred Astaire appeared in 212 musical numbers, of which 133 contain fully developed dance routines, many of which are of great artistic value. And, because he worked mainly in film, the vast majority of Astaire's works are preserved in their original form.
Astaire's dances are a blend of tap and ballroom dancing with bits from other dance forms thrown in. What holds everything together is Astaire's class, wit, and apparent ease of execution.
Fred Astaire spent weeks working out his choreography. He also created an approach to filming dance that was often copied in Hollywood musicals: both camerawork and editing are used to support the flow of the dancing, not to overshadow it. Although his shyness and self-doubt could make him difficult to work with, Astaire was an efficient planner and worker. His courtesy, professionalism, and struggle for improvement earned him the admiration of his coworkers.
In January 1997, with Robyn Astaire's blessing, Astaire's image returned to television through special effects editing—Dirt Devil inserted its vacuum cleaners into dance scenes from Astaire's films for three of its commercials. The press criticized the commercials. The general feeling was that replacing Ginger Rogers with a vacuum cleaner was in poor taste.