FRANKIE YANKOVIC
Biographie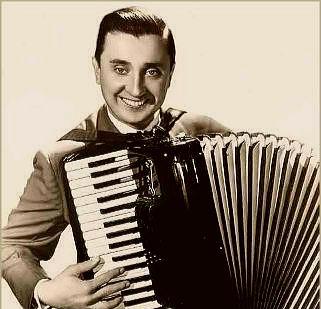 Frankie Yankovic (July 28, 1915, Davis, West Virginia – October 14, 1998, New Port Richey, Florida) was a Grammy Award-winning polka musician. Known as "America's Polka King," Yankovic was the premier artist to play in the Slovenian style during a long and successful career.
Of Slovene descent, he was raised in South Euclid, Ohio. Frankie Yankovic released over 200 recordings in his career. In 1986 he was awarded the first ever Grammy in the Best Polka Recording category. He rarely strayed from the Slovenian-style polka, but did record with country guitarist Chet Atkins, pop singer Don Everly, and a version of the "Too Fat Polka" with comedian Drew Carey.
Frankie Yankovic was the son of immigrant parents. His father was a blacksmith, and his mother a cook. They met in a lumber camp in West Virginia where they both worked. At an early age the family moved to Cleveland. Young Yankovic was enthralled by the brass bands that played at the Slovenian social functions. His mother took on boarders to help with the family finances, and this included a man named Max Zelodec, who performed Slovenian tunes on a button box. Yankovic acquired an accordion at age 9, but never took lessons. By the late 1920s, in his early teenage years, he was a working musician, playing for community events.
He formed a business relationship with Joe Trolli, and began making radio appearances in the 1930s, including stations WJAY and WGAR. As his reputation spread, he wanted to make phonograph records, but the major labels turned him down. Therefore, his first records were made for Yankee and Joliet, labels operated by Fred Wolf.
Frankie Yankovic enlisted in the armed forces in 1943, and cut numerous records while on leave, prior to his departure for Europe. He fought in the Battle of the Bulge, where a severe case of frostbite nearly resulted in the amputation of his hands and feet; fortunately, he was able to beat the gangrene before that became necessary, and was awarded a Purple Heart. The doctors urged him to have his fingers amputated, but he refused, since that would mean he would not be able to play the accordion.
Frankie Yankovic hit the national scene when he earned two platinum singles for Just Because (1947) and Blue Skirt Waltz (1949). Yankovic obtained the title of America's Polka King after beating Louis Bashell, Romy Gosz, Harold Loeffelmacher and the Six Fat Dutchmen, Whoopee John Wilfahrt, and Lawrence Duchow in a battle of the bands in Milwaukee at the Milwaukee Arena on June 9, 1948.
Frankie Yankovic also hosted the television series Polka Time for Buffalo, New York-based WKBW-TV for 26 weeks in 1962. He commuted from Cleveland to host each episode, which aired live. He also hosted a similar show at WGN-TV Chicago at about the same time. He won a Grammy Award in 1986 for his album 70 Years of Hits. He was the first winner in the Polka category. The NARAS (Grammy) organization dropped the category in 2008.
He was not related to musical comedian and fellow accordionist "Weird Al" Yankovic, who also performs polka music among many other styles. However, Weird Al has jokingly hypothesized that he was given accordion lessons as a child because his parents thought that "there should be at least one more accordion-playing Yankovic in the world." Al performed accordion on "Who Stole the Kishka?" on one of Frankie's final records, Songs of the Polka King, Vol. 1. A portion of Frankie's "The Tick Tock Polka" is included in the song "Polka Face" on Weird Al's Alpocalypse; it was used as a lead-in for "Tik Tok" by Ke$ha.
Frankie Yankovic died on October 14, 1998, in New Port Richey, Florida, from heart failure, at the age of 83. He was buried in Cleveland's Calvary Cemetery. Hundreds of friends, family, his loyal fans and fellow musicians showed up to send him off. At his peak, Yankovic was performing on the road in 325 shows a year. During his lifetime, Yankovic had sold 30 million records.