FRANKIE CARLE
Biographie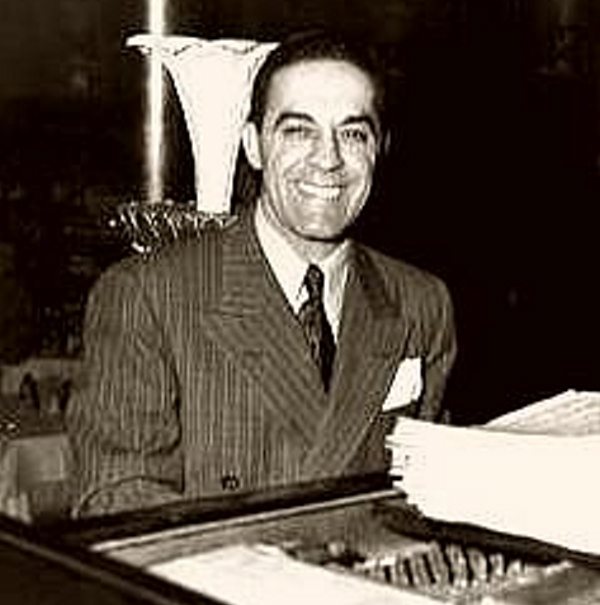 Frankie Carle (March 25, 1903 – March 7, 2001), born Francis Nunzio Carlone, was an American pianist and bandleader. As a very popular bandleader in the 1940s and 1950s, Carle was nicknamed "The Wizard of the Keyboard"."Sunrise Serenade," however, was Carle's best-known composition, rising to No. 1 in the nation in 1938 and selling more than one million copies.
Frankie Carle was born in Providence, Rhode Island on March 25, 1903. Born the son of a factory worker who could not afford a piano, he practiced on a dummy keyboard devised by his uncle, pianist Nicholas Colangelo, until he found a broken-down instrument in a dance hall. In 1916, a teenage Carle began working with his uncle's band as well as a number of local bands in the Rhode Island area. To gain further popularity in an America which still held prejudices against many Italian Americans, Carle did what many singers, like Dean Martin and Jerry Vale did during this time period; he changed his name from Carlone to Carle.
Frankie Carle started out working with a number of mainstream dance bands. He received attention when he joined the band: Horace Heidt and His Musical Knights in 1939. He later becoming co-leader of the band. The popularity he attained while with Heidt's band allowed him to leave the band in 1944 and form his own band, named, The Frankie Carle Orchestra. His band disbanded after 1955 and he performed mainly as a soloist thereafter. From the 1950s until the 1980s, Carle performed as a single artist and maintained a close following of loyal fans.
Carle's music was known for being light because of his buoyant touch; this resulted in romantic, danceable melodies which were very popular. His major compositions included "Sunrise Serenade", "Falling Leaves", "Roses in the Rain", "Lover's Lullaby", "Swing and a Miss", "Syncopated Doll", "This Day", "Travelin' Mood", "When Your Lips Met Mine", "Why Oh Why", "You Are There", "You and the Stars and Me", "Carle Boogie", "Sunrise Boogie", "Sunrise in Napoli", "Georgianna", "Blue Fantasy", "I Didn't Know", "The Golden Touch" and "The Apple Valley Waltz".
In 1989, Frankie Carle was Inducted into the Big Band and Jazz Hall of Fame alongside such other greats as Glenn Miller and Benny Goodman. Carle died of natural causes in Mesa, Arizona in 2001, a few weeks shy of his 98th birthday. Catholic, Carle had a mass of Christian burial at the Holy Cross Church in Mesa, Arizona. He is survived by his daughter, Marjorie Hughes, granddaughter, Susan Douce, and great-granddaughter, Veronica.