FRANK SINATRA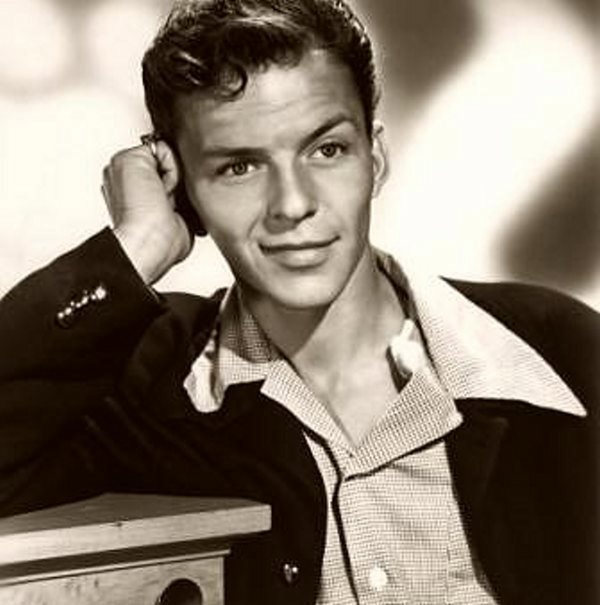 Biography
Frank Sinatra
Born in Hoboken, New Jersey, on December 12, 1915, rose to fame singing big band numbers. In the '40s and '50s, he had a dazzling array of hit songs and albums and went on to appear in dozens of films, winning an Oscar for From Here to Eternity. He left behind a massive catalog of work that includes iconic tunes like "Love and Marriage" and "New York, New York."
Francis Albert "Frank" Sinatra was born December 12, 1915, in Hoboken, New Jersey. The only child of Sicilian immigrants, a teenaged Sinatra decided to become a singer after watching Bing Crosby perform. He dropped out of high school, where he was a member of the glee club, and began to sing at local nightclubs. Radio exposure brought him to the attention of bandleader Harry James, with whom Sinatra made his first recordings, including "All or Nothing at All." In 1940, Tommy Dorsey invited Sinatra to join his band. After two years of chart-topping success with Dorsey, Sinatra decided to strike out on his own.
Between 1943 and 1946, Sinatra's solo career blossomed as the singer charted 17 different Top 10 singles. The mobs of bobby-soxer fans Sinatra attracted with his dreamy baritone earned him such nicknames as "The Voice" and "The Sultan of Swoon." "It was the war years, and there was a great loneliness," recalled Sinatra, who was unfit for military service due to a punctured eardrum. "I was the boy in every corner drugstore who'd gone off, drafted to the war. That was all."
Frank Sinatra made his movie acting debut in 1943, in Higher and Higher. In 1945, he won a special Academy Award for The House I Live In, a 10-minute short made to promote racial and religious tolerance on the home front. Sinatra's popularity began to slide in the postwar years, however, leading to a loss of his recording and film contracts in the early 1950s. In 1953, he made a triumphant comeback, winning an Oscar for his portrayal of the Italian-American soldier Maggio in From Here to Eternity. Although this was his first non-singing role, Sinatra quickly found a vocal outlet when he received a new recording contract with Capitol Records in the same year. In his music, the Sinatra of the 1950s brought a more mature sound with jazzier inflections in his voice.
Having regained stardom, Frank Sinatra enjoyed continued success in both film and music for years to come. He received critical acclaim for his performance in the original film of The Manchurian Candidate (1962) and an Academy Award nomination for his work in The Man with the Golden Arm (1955). Meanwhile, he continued to chart Top 10 singles. When his record sales began to dip by the end of the 1950s, Sinatra left Capitol to establish his own record label, Reprise. In association with Warner Bros., which later bought Reprise, Sinatra also set up his own independent film production company, Artanis.
By the mid-1960s, Frank Sinatra was back on top again. He received a Grammy Lifetime Achievement Award and headlined the 1965 Newport Jazz Festival with Count Basie's Orchestra. This period also marked his Las Vegas debut, where he continued on for years as a main attraction at Caesars Palace. As a founding member of the "Rat Pack," alongside Sammy Davis Jr., Dean Martin, Peter Lawford and Joey Bishop, Sinatra came to epitomize the hard-drinking, womanizing, gambling swinger–an image constantly reinforced by the popular press and Sinatra's own albums. With his modern edge and timeless class, not to mention hits like 1968's iconic "My Way," even the radical youth had to pay Sinatra his due. As Jim Morrison of the Doors once said, "No one can touch him."
After a brief retirement in the early 1970s, Sinatra returned to the music scene with the album "Ol' Blue Eyes Is Back" (1973) and also became more politically active. Having first visited the White House in 1944 while campaigning for Franklin D. Roosevelt in his bid for a fourth term in office, Sinatra worked eagerly for John F. Kennedy's election in 1960 and later supervised JFK's inaugural gala in Washington.
The relationship between the two soured, however, after the president canceled a weekend visit to Sinatra's house due to the singer's connections to Chicago mob boss Sam Giancana. By the 1970s, Sinatra had abandoned his long-held Democratic loyalties and embraced the Republican Party, supporting first Richard Nixon and later his close friend Ronald Reagan,
Frank Sinatra married his childhood sweetheart, Nancy Barbato, in 1939. They had three children together before their marriage unraveled in the late 1940s. In 1951, Sinatra married actress Ava Gardner; after they split, Sinatra remarried a third time, to Mia Farrow in 1966. That union, too, ended in divorce, and Sinatra married for a fourth and final time in 1976 to Barbara Blakely Marx, the widow of comedian Zeppo Marx. The two remained together until Sinatra's death more than 20 years later.
In 1987, author Kitty Kelley published an unauthorized biography of Sinatra, accusing the singer of relying on mob ties to build his career. Such claims failed to diminish Sinatra's widespread popularity. In 1993, at the age of 77, Sinatra gained legions of new, younger fans with the release of Frank Sinatra Duets, a collection of 13 Sinatra standards that he rerecorded alongside the likes of Barbra Streisand, Bono, Tony Bennett and Aretha Franklin.
Frank Sinatra performed in concert for the last time in 1995 at the Palm Desert Marriott Ballroom in California. On May 14, 1998, Frank Sinatra died of a heart attack at Los Angeles' Cedars-Sinai Medical Center. He was 82 years old and had, at last, faced his final curtain. With a show business career that spanned more than 50 years, Sinatra's continued mass appeal can best be explained in the man's own words: "When I sing, I believe. I'm honest."