ETHEL WATHERS
Biographie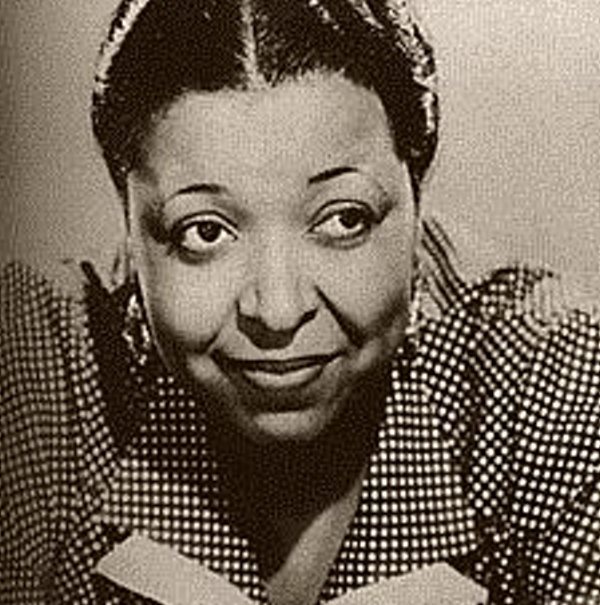 Vocalist and actress
Ethel Waters
(Born: October 31, 1896 | Died: September 2, 1977)  was a key figure in the development of African American culture between the two World Wars. She broke barrier after barrier, becoming the first black woman heard on the radio, the first black singer to perform on television, the first African American to perform in an integrated cast on Broadway, and the first black woman to perform in a lead dramatic role on Broadway.
As a singer Ethel Waters introduced over 50 songs that became hits, including standards of the magnitude of "St. Louis Blues" and "Stormy Weather." Her jazzy yet controlled vocal style
influenced a generation of vocalists, black and white, and her career, encompassing stage, song, and screen, flowered several times in comebacks after tumbling to low points.
Born October 31, 1896, in Chester, Pennsylvania, she had to overcome the squalor of her sordid childhood and early struggles. Her singing career began with amateur night performances in Philadelphia, and then slowly moved in the black theater circuit, where she was billed as "Sweet Mama Stringbean."
She began recording in 1921 for the Black Swan label, continuing with that company through 1924. When she introduced "Dinah" at the famous Plantation Club (Broadway and 50th Street) in New York City in 1925, she met with such success that she was signed by Columbia Records, for whom she was to make many of her most famous recordings during the next decade. Her career continued to escalate in such black shows as 'Africana,' 'The Blackbirds of 1928' (and 1930) and 'Rhapsody in Black.' In 1929, she made her film debut in the new talking films, singing "Am I Blue?" and "Birmingham Bertha" in 'On with the Show,' remade a few years later as 'Forty-Second Street.'
In 1933, her sensational rendition of "Stormy Weather" at the Cotton Club made her the talk of the town; when Irving Berlin heard her sing it, she was signed for his 'As Thousands Cheer.' She stopped the show with "Heat Wave" and "Suppertime" and was elevated to co-starring status. At the same time, she became the first Negro to star in a sponsored coast-to-coast radio show, accompanied by the Jimmy Dorsey orchestra.
Her Broadway career continued its spectacular ascent with the hit shows 'At Home Abroad,' 'Mamba's Daughters,' 'Cabin in the Sky,' and 'Member of the Wedding.' Later, she filmed the latter two, appearing also in 'Gift of Gab,' 'Cairo,' 'Tales of Manhattan,' 'Pinky,' and 'The Sound and the Fury.' These films and her numerous recordings remain a legacy for audiences too young to have been or heard this legendary performer at her peak.
Her last years were spent touring with the evangelist Billy Graham, still performing occasionally, until her death on September 2, 1977, in Chatsworth, California.