ERIC DELANEY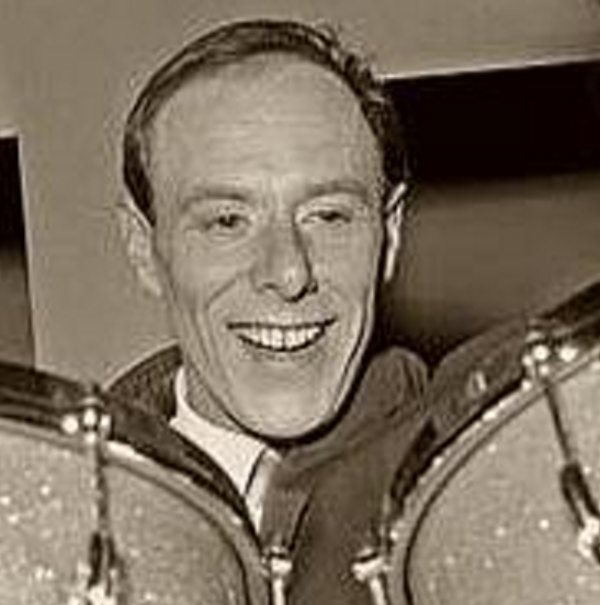 Biography
Eric Delaney (22 May 1924 – 14 July 2011) was an English drummer and bandleader, popular in the 1950s and early 1960s.
Eric Delaney
was born in Acton, London. Aged 16, he won the Best Swing Drummer award and later joined the Bert Ambrose Octet which featured George Shearing on piano. During 1947–54 he appeared with the Geraldo Orchestra and filled his time with regular session work in recording studios and on film, TV and radio. In 1954 he formed his own band and later signed with the new Pye Records label. He made three Royal Variety Show appearances, the first in 1956.
Eric Delaney specialised in up-tempo dance hall music, often carrying a rock 'n' roll label but closer in spirit to that of Geraldo and Joe Loss. As with many similar artists, the music he performed became less popular after The Beatles entered the musical scene. He remained active touring in the UK, notably in holiday resorts, nonetheless.
Eric Delaney was held in high regard by his musical peers, including top American drummer Louie Bellson who he recorded with in 1967 on an album entitled Repercussion. Originally released in high quality stereo on the Studio2Stereo label, it was re-released on the Vocalion label in 2011.
Although best known as a jazz drummer, Eric Delaney was a multi-percussionist. As well as the drums he played xylophone, glockenspiel, timpani, military side drum, tubular bells, a variety of Chinese gongs and tam tams[citation needed] and incorporated many everyday items such as brushes and whistles into his shows over the years