ELSA MAXWELL
Biographie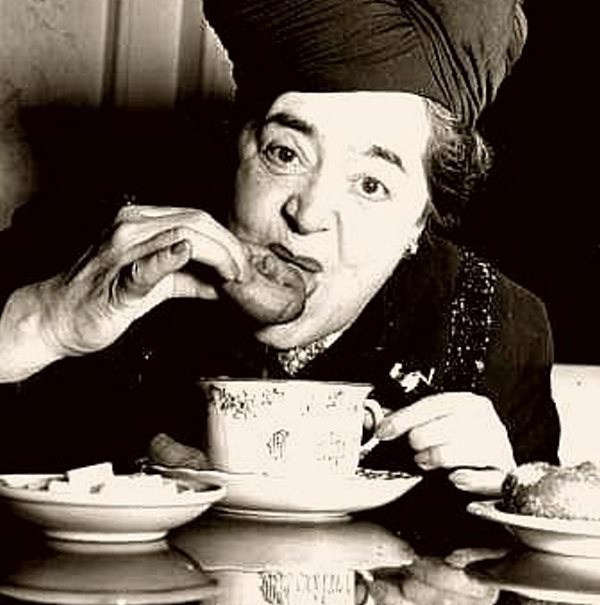 Elsa Maxwell (May 24, 1883 – November 1, 1963) was an American gossip columnist and author, songwriter, and professional hostess renowned for her parties for royalty and high society figures of her day.
Elsa Maxwell
is credited with the introduction of the scavenger hunt and treasure hunt for use as party games in the modern era. She also appeared as herself in the films Stage Door Canteen (1943) and Rhapsody in Blue (1945), as well as co-starring in the 1939 film Hotel for Women, for which she wrote the screenplay.
Elsa Maxwell was born at a theater in Keokuk, Iowa, during a performance of the opera Mignon. She subsequently was raised in San Francisco, where her father sold insurance and did freelance writing for the New York Dramatic Mirror. She developed a gift for staging games and diversions at parties for the rich, and began making a living devising treasure-hunt parties, come-as-your-opposite parties and other sorts, including a scavenger hunt in Paris in 1927 that inadvertently created disturbances all over the city. Returning to the US, Elsa Maxwell worked on movie shorts during the Depression, unsuccessfully. Following World War II, however, she gained an audience of millions as a newspaper gossip columnist.
Elsa Maxwell took credit for introducing Rita Hayworth to Prince Aly Khan in the summer of 1948. In 1953, Maxwell published a single issue of her magazine, Elsa Maxwell's Café Society, which had a portrait of Zsa Zsa Gabor on the cover. Anne Edwards' biography of Maria Callas (Callas, 2001) and Peter Evans biography of Aristotle Onassis both claim that Maxwell introduced Callas to Onassis. Edwards also claims that Elsa Maxwell was a lesbian who tried to seduce Callas, 40 years Maxwell's junior. Callas biographer Stelios Galatopoulos produced love letters from Maxwell written to Callas, who was less than receptive.
Elsa Maxwell told interviewer Mike Wallace in 1957:
I did not feel fit, to be only married. I belong to the world. I knew it instinctively when I was quite young. I belong to the world. Certainly I am the most shall we say immodestly, [among] the best-known people in the entire world today. Why, because I did not marry and I felt that I was not for marriage. It wasn't my … thing to do.
She died of heart failure in a Manhattan hospital. He longtime friend Dorothy "Dickie" Fellowes-Gordon was Maxwell's sole heir.