EDMUNDO ROS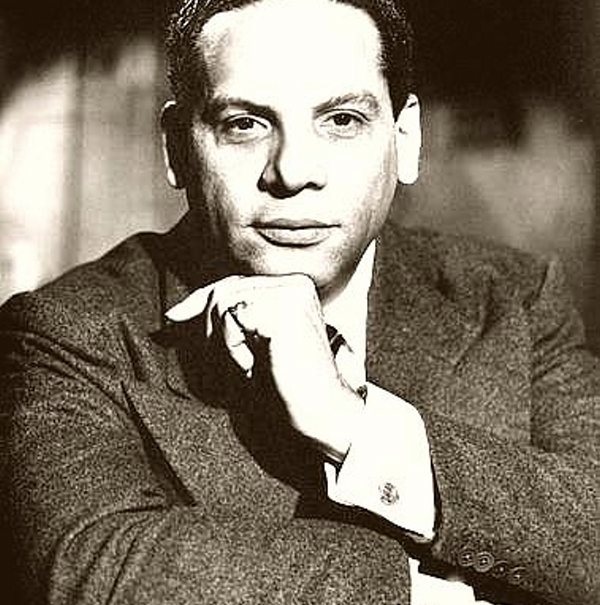 Biography
Edmundo Ros,
Edmundo William Ros OBE (7 December 1910 – 21 October 2011) was a Trinidadian musician, vocalist, arranger and bandleader who made his career in Britain. He directed a highly popular Latin American orchestra, had an extensive recording career and owned one of London's leading nightclubs.
Edmundo Ros 
was born in Port of Spain, Trinidad. His mother was an Afro-Venezuelan and his father was of Scottish descent. He was the eldest of four children, having two sisters, Ruby and Eleanor, followed by a half-brother, Hugo. His parents separated after Hugo was born, and after various false steps Edmundo was enrolled in a military academy. There he became interested in music and learned to play the euphonium. From 1927-37 his family lived in Caracas, Venezuela.
He played in the Venezuelan Military Academy Band as well as being a tympanist in the Venezuela Symphony Orchestra. Later he received a music scholarship from the government, and, from 1937–42, studied harmony, composition and orchestration at the Royal Academy of Music.
At the same time he was the vocalist and percussionist in Don Marino Baretto's band at the Embassy Club, and also recorded several sides as a sideman to Fats Waller, who was visiting London in 1938.
In the 2000 New Year's Honours List,
Edmundo Ros
(then aged 90), was appointed an Officer of the Order of the British Empire (OBE). He turned 100 on 7 December 2010.
Edmundo Ros 
was a Freeman of the City of London, having been admitted to the Freedom of the Worshipful Company of Poulters on 5 January 1965 and subsequently clothed with the Livery of the Poulters' Company on 22 June 1965. He was a Mason, a member of Sprig of Acacia Lodge No 41, Javea, Spain.
Edmundo Ros married twice: first to Britt Johansen in 1950. The first marriage produced two children, Douglas and Louisa. He designed and built a large house in Page Street, Mill Hill, London NW7, which he named Edritt House, after himself and his first wife. The house still stands, next to Copthall Girls' School. He remarried in 1971.
In August 1940, Edmundo Ros formed his own rumba band, performing as Edmundo Ros and His Rumba Band. In 1941 he cut his first tracks with Parlophone, the first number being "Los Hijos de Buda". The band played regularly at the Coconut Grove club in Regent Street, attracting members of high society. Ros's bands were always based in London nightclubs or restaurants.
The first was the Cosmo Club in Wardour Street; then followed the St Regis Hotel, Cork Street, the Coconut Grove and the Bagatelle Restaurant. At the Bagatelle a visit from Princess Elizabeth and party made his name. The future queen danced in public for the first time to Edmundo's music. In later years his orchestra was often invited to play at Buckingham Palace.By 1946 Edmundo Ros owned a club, a dance school, a record company and an artistes' agency. His band grew to 16 musicians and was renamed Edmundo Ros and His Orchestra. His number "The Wedding Samba", 1949, sold three million 78s. His album Rhythms of The South (1958) was one of the first high-quality LP stereo records: it sold a million copies. He was with Decca Records from 1944 to 1974, and altogether he made more than 800 recordings.
In 1951
Edmundo Ros 
bought the Coconut Grove on Regent Street and in 1964 renamed it Edmundo Ros's Dinner and Supper Club. The club became popular for its atmosphere and music, but it closed in 1965, when legalised casino gambling had drawn away many of its best customers. During the 1950s and 1960s the Ros orchestra appeared frequently on BBC Radio, continuing into the early 1970s on Radio Two Ballroom.In 1975, during Ros's seventh tour of Japan, his band's Musicians' Union shop steward tried to usurp Ros's authority by making arrangements with venues behind his back. Upon their return to the UK Ros organised a celebratory dinner after a BBC recording session and announced the disbanding of the orchestra. He destroyed almost all the charts (arrangement sheets), which conclusively ended the orchestra's existence.
Edmundo Ros retired and moved to Jávea, Alicante, Spain.