EDDY ARNOLD
Biographie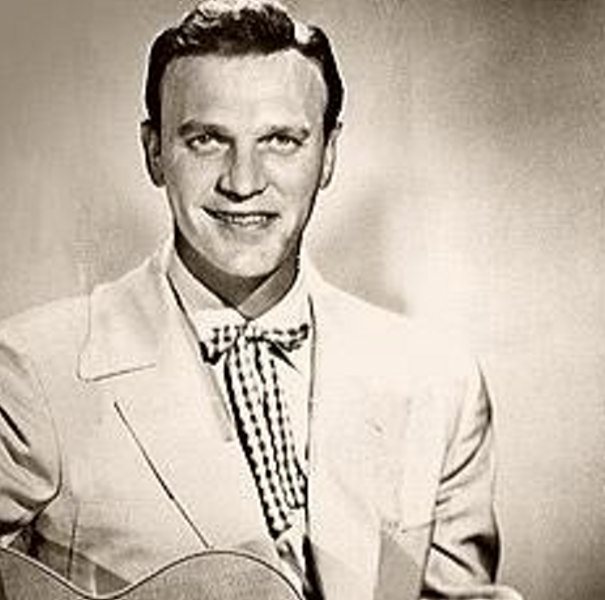 Eddy Arnold
(b. May 15, 1918, Henderson, Tn.) was born the son of a share cropper and raised in rural Tennessee. His father was a country fiddler who encouraged his son's musical talents and scraped together enough money to get his boy a guitar at age 10. His earliest public performances were in grade school. By the time he entered high school he'd become a local star. With the Great Depression in full swing, Eddy had to leave school to help out on the farm and work as a mortuary assistant. His performing was relegated to occasional local functions he'd travel to riding a mule with his guitar strung on his back.
Like other country artists of the time Eddy's ticket to stardom was the key to stardom.many country performers performing live on radio became the ticket to stardom. He debuted on a Jackson, Tennessee station in 1936 becoming regional star there, and later in St. Louis, Missouri. From 1940 to '43 he appeared on the Grand Ole Opry with Pee Wee King. Billed as The Tennessee Plowboy and his Guitar he signed with RCA Victor Records in 1944 and that was the name that appeared on his records until 1954.
Arnold's first chart record "Each Minute Seems A Million Years" hit number five to begin that string of 58 consecutive top ten hits. In 1947 Arnold scored his first three number one hits, "What Is Life Without Love," "It's a Sin" and "I'll Hold You In My Heart (Till I Can Hold You In My Arms)" with the latter staying at number one for 21 weeks. The following year Eddy hit the top with two of his signature songs, "Anytime and "Bouquet of Roses" At this point he had become the first true country to pop crossover artist.
Reaching a wider audience was something Eddy Arnold planned when he moved beyond simple country instrumentation. He said, "I had recorded with a little group of musicians for so long that there wasn't anything else for me to do from an instrumental standpoint. I had to be re-born. My songs were good lyrically and melodically, I just needed to change the background a little. I went in and did some thing with violins and Boom!"
Eddy Arnold moved into a class by himself so universally popular he became a perennial star, charting records over a span of five decades, scoring number one hits into the late '60s and top tens into the '80s. After a seven year hiatus he even returned to the studio in 1990. Along the way he added other classics like "Cattle Call," "Make The Word Go Away" and "What's He Doing In My World."
In addition to setting the standard for achievement and longevity for other artists to attempt to follow, Arnold became an example of how to manage a show business fortune. "I saved the first dollar I ever made and I've been saving and investing my money ever since," he recalled, "I never forgot how it felt to be poor," he added. He became one of the richest men in show business by investing in the only thing he felt was worth owning, "land."
Because of his huge musical contributionsand universal popularity, Eddy Arnold became true a ambassador of country music.
Fuente: http://www.sing365.com