EDDIE COCHRAN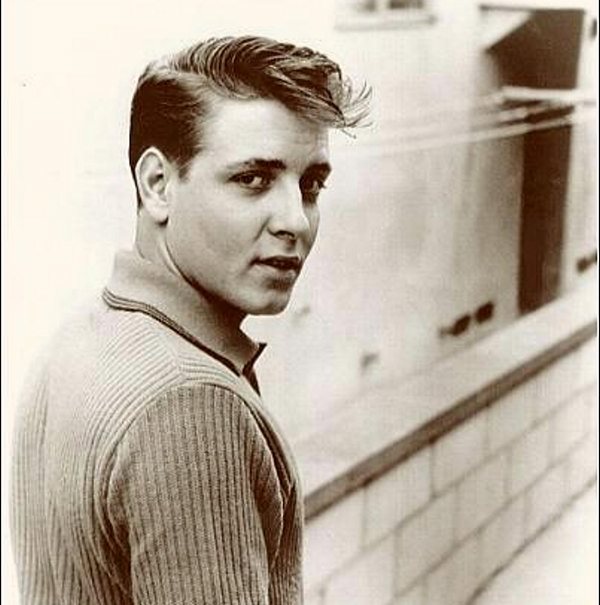 Biography
Eddie Cochran,
Raymond Edward "Eddie" Cochran (October 3, 1938 – April 17, 1960) was an American rock and roll musician and an important influence on popular music during the late 1950s, early 1960s, and beyond.
Eddie Cochran was born in Albert Lea, Minnesota, as Ray Edward Cochran. He took music lessons in school, but quit the band to play drums. Also, rather than taking piano lessons, he began learning guitar, playing the country music he heard on the radio. In 1955, Cochran's family moved to Bell Gardens, California.
As his guitar playing improved, he formed a band with two friends from his junior high school. During a show featuring many performers at an American Legion hall, he met Hank
Eddie Cochran
(later a country music songwriter). Although they were not related, they began performing together and recorded as The Cochran Brothers. Eddie Cochran also worked as a session musician, and began writing songs, making a "demo" with Jerry Capehart, his future manager.
When playing with Hank Cochran, Eddie Cochran played a Gibson electric acoustic guitar with a single florentine cutaway. This guitar featured a pair of Gibson P90 pickups, sometimes called 'dog ear' pickups due to their shape.
Later, Eddie Cochran moved to a 1956 Gretsch 6120 Chet Atkins Western model, which Eddie had modified. He replaced the neck position De Armond Dynasonic pickup with a black covered Gibson P-90 pickup. He also used acoustic guitars.
In 1956, Boris Petroff asked Eddie Cochran if he would appear in the musical comedy film The Girl Can't Help It. He agreed and sang a song called "Twenty Flight Rock" in the movie. In 1957, Cochran starred in his second film, "Untamed Youth" and also had his first hit, "Sittin' in the Balcony," one of the few songs he recorded that was written by another songwriter (John D. Loudermilk). ("Twenty Flight Rock" was written by AMI staff writer Ned (Nelda) Fairchild. AMI granted Cochran a co-writer credit, but no royalties, a common arrangement by which publishers move songs from demos to commercial recordings.
However, his most famous hit, "Summertime Blues" (co-written with Jerry Capehart), was an important influence on music in the late 1950s, both lyrically and musically. (The song, released on Liberty recording #55144, charted #8 on August 25, 1958.) Cochran's brief career included only a few more hits, such as "C'mon Everybody", "Somethin' Else", "My Way", "Weekend", "Nervous Breakdown", and his posthumous UK number one hit "Three Steps to Heaven."
On Saturday, April 16, 1960, at about 11:50 p.m., while on tour in the United Kingdom, 21-year-old Cochran died in a traffic accident in a taxi (a Ford Consul) traveling through Chippenham, Wiltshire, England on the A4. The taxi crashed into a lamp post on Rowden Hill, where a plaque now commemorates the event (no other car was involved). He was taken to St. Martin's Hospital, Bath, but died at 4:10 p.m. the following day. Songwriter Sharon Sheeley (Cochran's fiancée) and singer Gene Vincent survived the crash.
The taxi driver, George Martin, was convicted of dangerous driving, fined £50, disqualified from driving for 15 years, and sent to prison for six months.
The car and other items from the crash were impounded at the local police station until a coroners' inquest could be held. At that time, David Harman, later known as Dave Dee of the band Dave Dee, Dozy, Beaky, Mick & Tich, was a police cadet at the station. He taught himself to play guitar on Cochran's impounded Gretsch.
Eddie Cochran is interred in the Forest Lawn Memorial Park in Cypress, California. A posthumous album, My Way, was released in 1964.
Fuente: http://www.eddie-cochran.com