DORIS DAY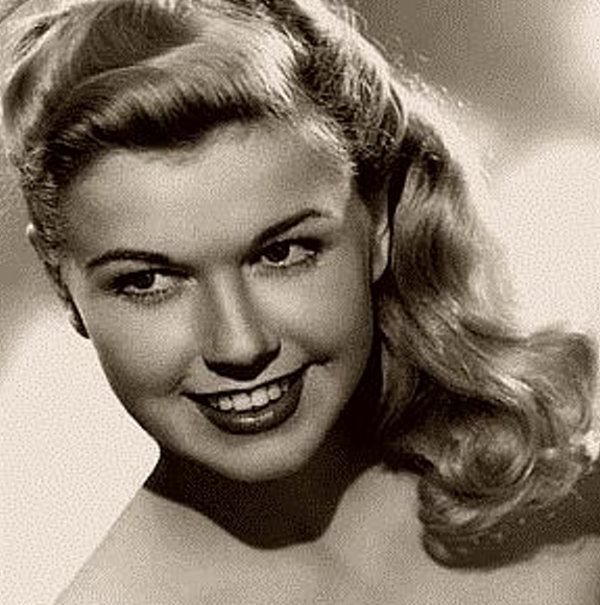 Biography
Doris Day. Born Doris Mary Ann von Kappelhoff in Ohio, 1924, she was named after the silent movie actress Doris Kenyon. Her parents divorced when she was ten years old.
From an early age, Day enjoyed singing and dancing and took part in local performances during the 1930s. She even formed a dance act at the age of 14 with her friend Jerry Doherty and they won $500 in a local talent contest. However, a car accident in 1937 damaged her legs and put to an end her dancing ambitions, at which point she decided to take singing lessons and began touring with the Les Brown band, who thought she was 18, even though she was actually only 15.
While on tour, she met her first husband, trombonist Al Jorden. They married in 1941 but after giving birth to her first child Terry in 1942, the pair divorced as Jorden was a violent and abusive husband.
In 1946, Day met and married George Weidler after spending time touring with bands and entertaining the troops with Bob Hope. This union only lasted eight months.
She made her first film 'It's Magic' with Warner Brothers in 1948 and met Martin Melcher who became her manager and, on her 29th birthday, her husband.
Doris was later known for her talent as a singer, singing with big bands and becoming famous on the radio, one of the first "pop stars" of the 1950s.
She was persuaded by Micheal Curtiz to appear in what was to be her screen debut, 'Romance On The High Seas'. Fame on the big screen came in the early 1950s, and Doris was beloved as an actress in the "girl-next-door" mould. She was a popular choice for female lead and stood out thanks to her vocal strength. She starred in such musicals as 'April In Paris', 'Lullaby Of Broadway', 'Calamity Jane' and 'Lucky Me'.
Commenting on her musical abilities, big band leader Les Brown once said: "She was every bandleader's dream, a vocalist who had natural talent, a keen regard for the lyrics and an attractive appearance."
In the mid-1950s she appeared in Alfred Hitchcock's 'The Man Who Knew Too Much', a decisive move away from musicals to dramatic film, although she did sing a song in the production. Day is rumoured to have asked Hitchcock why he never gave her any direction, to which he replied "because you are doing everything just right".
Often starring in pictures with Rock Hudson, one of her best performances was in 'The Pajama Game', in 1957. In the light comedy 'Pillow Talk', Day's performance as an interior designer, to Hudson's archetypal bachelor, won her an Oscar nomination.
During the 1960s, her power as a box office draw started to diminish. Her last feature film was 'With Six You Get Egg Roll', in 1968.
That same year, her husband of 17 years, Terry Melcher, died. Upon his death, Day discovered that her husband and his business partner Jerry Rosenthal had squandered her earnings, leaving her deeply in debt. Day sued Rosenthal and won the largest civil judgment up until that time in California, over $20 million.
After quitting the film industry, she was granted her own TV variety slot, 'The Doris Day Show', which ran from 1968-78. From this point the only acting she was involved in was in adverts. Her memoirs revealed that she was happy to retire from acting, considering her time as an actress to be a troubled one.
Her talent as a vocalist endures and her own recordings, as well as the soundtracks to her films, continue to sell well.
After retiring from acting, Day became an active animals right activist, co-founding 'Actors and Others for Animals' in 1971 before establishing her own non-profit organisation called 'The Doris Day Animal Foundation' in the mid 1970s. It is now known as 'The Doris Day Animal Academy'.
In 1975, Day released her autobiography, 'Doris Day: Her Own Story', revealing to the general public many of the painful events in her private life that belied her sunny public image. In particular, the book detailed Day's first three difficult marriages to musician Al Jorden (1941-43), George Weidler (1946-49) and Melcher.
In 1989, Doris Day received the Golden Globe's Cecil B. DeMille Award for lifetime achievement. Five years later she was awarded the Presidential Medal of Freedom, but did not attend the ceremony due to her fear of flying.
Doris Day currently lives in Carmel-by-the-Sea in California. On 23 November 2011, her 1956 single 'Que Sera Sera (Whatever Will Be Will Be) was enrolled in the USA Grammy Hall of Fame.