DIMITRI TIOMKIN
Biographie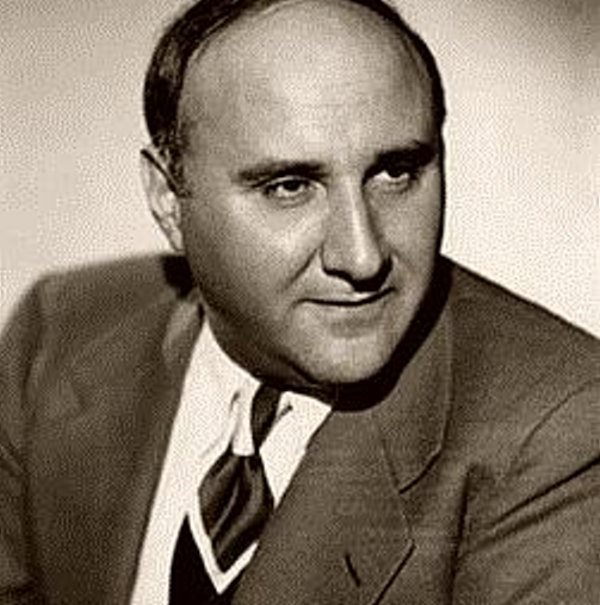 Dimitri Tiomkin. He was born Dimitri Zinovievich Tiomkin on May 10, 1894, in Kremenchug, Russia. His mother, Marie (nee Tartakovsky), was a Russian pianist and teacher. His father, Zinovi Tiomkin, was a renowned medical doctor. His uncle, rabbi Vladimir Tiomkin, was the first President of the World Zionist Union. Young Dimitri began his music studies under the tutelage of his mother. Then, at the St. Petersburg Conservatory, he studied piano under Felix Blumenfeld and Isabelle Vengerova. He also studied composition under the conservatory's director, Alexander Glazunov, who appreciated Tiomkin's talent and hired him as a piano tutor for his niece. Soon Diitri appeared on Russian stages as a child pianist prodigy and continued to develop into a virtuoso pianist.
Like other intellectuals in St. Petersburg, Tiomkin frequented the club near the Opera, called Stray Dog Café, where Russian celebrities, including directors Vsevolod Meyerhold and Nikolai Yevreinov, writers Boris Pasternak, Aleksei Tolstoy, Sergei Esenin, Anna Akhmatova, Nikolai Gumilev and Vladimir Mayakovsky, had their bohemian hangout. There Tiomlkin could be seen with his two friends, composer Sergei Prokofiev and choreographer Mikhail Fokin. At that time he also gained exposure and a keen interest in American music, including the works of Irving Berlin, ragtime, blues, and early jazz.
Tiomkin started his music career as a piano accompanist for Russian and French silent films in movie houses of St. Petersburg. When the famous comedian Max Linder toured in Russia, he hired Tiomkin to play piano improvisations for the Max Linder Show, and their collaboration was successful. He also provided classical piano accompaniment for the famous ballerina Tamara Karsavina. However, the 1917 Communist Revolution in Russia caused dramatic political and economic changes. From 1917 to 1921 Tiomkin was a Red Army staff composer, writing scores for revolutionary mass spectacles at the Palace Square involving 500 musicians and 8000 extras, such as "The Storming of the Winter Palace" staged by Vsevolod Meyerhold and Nikolai Yevreinov for the third anniversary of the Communist Revolution.
In 1921 Tiomkin emigrated from Russia and moved to Berlin to join his father, who was working with the famous German biochemist Paul Ehrlich. In Berlin Tiomkin had several study sessions with Ferruccio Busoni and his circle. By 1922 Dimitri was well known for his concert appearances in Germany, often with the Berlin Philharmonic. Among his repertoire were pieces written for him by other composers. He also concertized in France. There, in Paris, Feodor Chaliapin Sr. convinced Tiomkin to emigrate to the United States. In 1925 Tiomkin got his first gig in New York: he became the main pianist for a Broadway dance studio. There he met and soon married the principal dancer/choreographer, Albertina Rasch. He also met composers George Gershwin, Richard Rodgers and Jerome Kern. In 1928 Tiomkin made a concert tour of Europe, introducing the works of Gershwin to audiences there. He gave the French premiere of Gershwin's "Piano Concerto in F" at the famed "L'Opera de Paris."
His Hollywood debut came in 1929, when MGM offered him a contract to score music for five films. His wife got a position as an assistant choreographer for some musical films. He also scored a Universal Pictures film, performed concerts in New York City and continued composing ballet music for his wife's dance work. He also continued writing American popular music and songs. He received further Broadway exposure with the Shuberts and Florenz Ziegfeld Jr.. He produced his own play "Keeping Expenses Down," but it was a flop amidst the gloom of the Big Depression, and he once again returned to Hollywood in 1933. When he came back he was on his own. By that time Tiomkin was disillusioned with the intrigue and politics inside the Hollywood studio system. He already knew the true value of his musical talent, and chose to freelance with the studios rather than accepting a multi-picture contract. He became something of a crusader, pushing for better pay and residuals.
His independent personality was reflected in his music and business life: he was never under a long-term studio contract. Though MGM was the first to be acquainted with his services, Tiomkin next turned to Paramount for Alicia en el país de las maravillas (1933), another fine example of making music that he liked. Hollywood's most prominent independent composer, Tiomkin, thanks to his free-agent status, negotiated contractual terms to his benefit, which in turn benefited other musicians. He aggressively sought music publishing rights and formed his own ASCAP music publishing company, Volta Music Corporation, while remaining faithful to France-based performing rights organization SACEM. In Tiomkin's own words: "My fight is for dignity. Not only for composer, but for all artists responsible for picture." He also fought for employing qualified musicians regardless of their race.
As a composer classically trained at the St. Petersburg Conservatory, Tiomkin was highly skilled in orchestral arrangements with complex brass and strings, but he was also thoroughly versed in the musical subtleties of America and integrated it into traditional European forms. His interest in the musical form resulted in his next score, for the operetta Marietta, la traviesa (1935), a popular musical that teamed Jeanette MacDonald and Nelson Eddy. He also did his fair share of stock music arranging. Among his most successful partnerships was that with director Frank Capra, starting with Horizontes perdidos (1937), where Tiomkin used many innovative ideas, and received his first Academy Award nomination. The association with Capra lasted through three more famous films, culminating with Qué bello es vivir (1946).
In 1937 Tiomkin became a naturalized American citizen. The next year he made his public conducting debut with the Los Angeles Philharmonic. During the WWII years he wrote music for 12 military documentaries, earning himself a special decoration from the US Department of Defense. After the war he ventured into all styles of music for movies, ranging from mystery and horror to adventure and drama, such as his enchanting score, intricately worked around Claude Debussy's "Girl with the Flaxen Hair," for the haunting Jennie (1948) and the energetic martial themes for Cyrano de Bergerac (1950). He scored three films for Alfred Hitchcock, perhaps the most inventive being for the tension-building Extraños en un tren (1951) with its out-of-control carousel finale.
He also worked with top directors in that exclusively American genre: the western. His loudest success was the original music for Duelo al sol (1946) by King Vidor. For that film, Tiomkin wrote a lush orchestral score, trying to fulfill writer/producer David O. Selznick's request to "Make a theme for orgasm!" Tiomkin worked for several weeks, and composed a powerful theme culminating with 40 drummers. Selsnick was impressed, but commented: "This is not orgasm!" Tiomkin worked for one more month and delivered an even more powerful theme culminating with 100 voices. Selznick was impressed again, but commented: "This is not orgasm! This is not the way I f..k!" Tiomkin replied brilliantly, "Mister Selznick, you may f..k the way you want, but this is the way I f..k!" Selznick was convinced, and after that Tiomkin's music was fully accepted. In 1948 he wrote the score for one of the westerns with John Wayne, Río rojo (1948) by Howard Hawks. Wayne had Tiomkin's touch on five more movies into the 1960s.
Tiomkin was adding a song to all of his scores, starting with the obscure Trail to Mexico (1946). The result was successful, and the western score with songs became Tiomkin's signature. Horns and lush string orchestral sound are most associated with Tiomkin's style, which culminated in Los que no perdonan (1960) by John Huston, although he used the same approach in Solo ante el peligro (1952) with the famous song "Do Not Forsake Me, Oh My Darlin'" and Howard Hawks' Río de sangre (1952). Most of his big-screen songs were written for westerns and totaled some 25 themes. The most songs he composed for one movie was six for La gran prueba (1956). Tiomkin achieved dramatic effects by using his signature orchestral arrangements in such famous films as Gigante (1956), El viejo y el mar (1958) and Los cañones de Navarone (1961). He also wrote music and theme songs for several TV series, most notably for Clint Eastwood's "Cuero crudo" (1959).
In 1967 his beloved wife, Albertina Rasch, passed away, and Tiomkin was emotionally devastated. Going back from his wife's funeral to his Hancock Park home in Los Angeles, he was attacked and beaten by a street gang. The crime caused him more pain, so upon recommendation of his doctor, Tiomkin moved to Europe for the rest of his life. In the 1960s Tiomkin produced El oro de Mackenna (1969) starring Gregory Peck and Omar Sharif. He also executive-produced and orchestrated the US/Russian co-production Chaykovskiy (1970), for which he was nominated for an Academy Award for best music, and the movie was also nominated in the foreign language film category. Filming on locations in Russia allowed him to return to his homeland for the first time since 1921, which also was the last visit to his mother country.
In 1972 Dimitri Tiomkin married Olivia Cynthia Patch, a British aristocrat, and the couple settled in London. They also maintained a second home in Paris. For the rest of his life Tiomkin indulged himself in playing piano, a joy also shared by his wife. He died on November 11, 1979, in London.