CUARTETO MAYARI
Biographie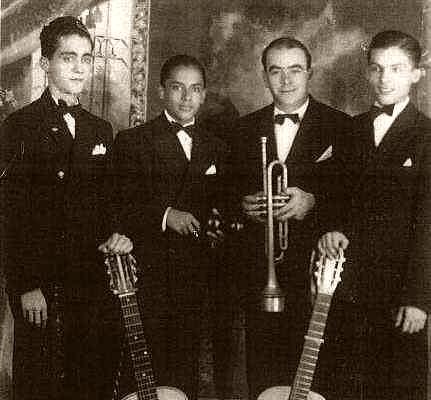 The Cuarteto Mayarí, famous for its renditions of boleros, was founded in New York City in 1938 by composer and musician (trumpet), Plácido Acevedo Sosa. Reknown primarly throughout the 1930's, the original members consisted of Acevedo as bandleader, Tito Rodriguez, Manuel Jiménez and Paquito Sanchez.
The
Cuarteto Mayarí
, along with the Conjunto Típico Ladí, led by cuatro legend, El Maestro Ladí, were arguably, the two best music groups, representative of Puerto Rican music during the 30's. The group distinguished itself by their renditions of beautiful boleros, such as "Por Seguir Tus Huellas", "Boda Gris", "Dulce Veneno" and scores of others.
The majority of these boleros were composed mostly by Acevedo who was born in Aguadilla, Puerto Rico, in 1906. Acevedo grew up with a great appreciation for music due in large measure to the influence of his father who was a music teacher.
Like many talented Puerto Rican musicians before him, Acevedo moved to New York City in the mid-20's to pursue his career as a musician. Forming the Cuarteto Mayarí came after he had established himself as a talented performer with the Cuarteto Machín, Canario y Su Grupo and several other popular bands.
The members of the quartet changed over time, with Tito Rodriguez leaving within his first year with the band, and Paquito Sanchez in 1944. Added to the band was Rafael (Fanta) Hernández, Félix Rodriguez, José Juan Garcia and Tito Henriquez. The end of the quartet came in 1948 although it was briefly resurrected for a short time about ten years later.
Despite these personnel changes, the quartet left a legacy of many recordings in addition to their performaces in New York and Puerto Rico. Many songs from these have been recompiled on currently available media, including Anorando El Pasado, Los Tres Famosos Cuartetos and Cuarteto Mayarí, 1941-1942, which included this lovely example of their work: Borinquen, Tierra de Flores.