CHRIS BARBER
Biographie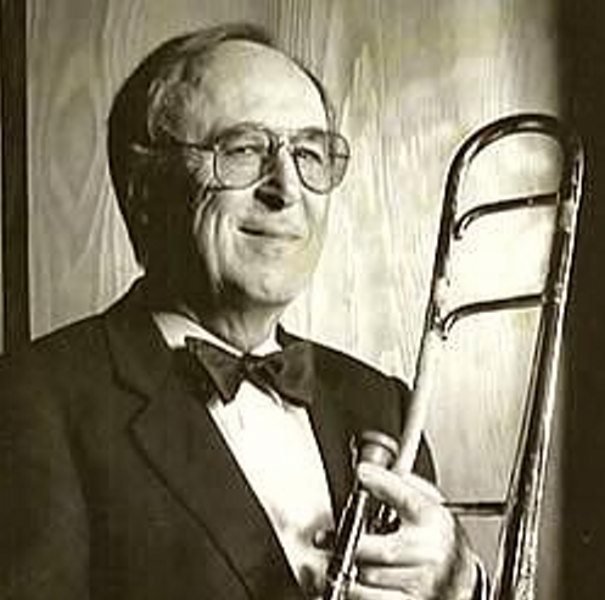 Chris Barber, Donald Christopher 'Chris' Barber (born 17 April 1930, Welwyn Garden City, Hertfordshire, England) is best known as a jazz trombonist. As well as scoring a UK top twenty trad jazz hit, he helped the careers of many musicians, notably the blues singer Ottilie Patterson, who was at one time his wife, and vocalist/banjoist Lonnie Donegan, whose appearances with Chris Barber triggered the skiffle craze of the mid 1950s and who had his first transatlantic hit, "Rock Island Line", while with Chris Barber's band. His providing an audience for Donegan and, later, Alexis Korner makes Barber a significant figure in the British rhythm and blues and "beat boom" of the 1960s.
The son of a statistician father and headmistress mother, Chris Barber was educated at Hanley Castle Grammar School, Malvern, to the age of 15, then St Paul's School in London and the Guildhall School of Music.
Chris Barber and Monty Sunshine (clarinet) formed a band in 1953, calling it Ken Colyer's Jazzmen to capitalise on their trumpeter's recent escapades in New Orleans: the group also included Donegan, Jim Bray (bass), Ron Bowden (drums) and Barber on trombone. The band played Dixieland jazz, and later ragtime, swing, blues and R&B. Pat Halcox took over on trumpet in 1954 when Colyer moved on after musical differences and the band became "The Chris Barber Band".
In April 1953 the band made its debut in Copenhagen. There Chris Albertson recorded several sides for the new Danish Storyville label, including some featuring only Sunshine, Donegan and Barber on double bass.
In 1959 the band's version of Sidney Bechet's "Petite Fleur" spent twenty-four weeks in the UK Singles Charts, making it to No. 3 and selling over one million copies, and was awarded a gold disc. After 1959 he toured the United States many times (where "Petite Fleur" charted at #5).
In the late 1950s and early 1960s Chris Barber was mainly responsible for arranging the first UK tours of blues artists Big Bill Broonzy, Sonny Terry & Brownie McGhee and Muddy Waters. This, with the encouragement of local enthusiasts such as Alexis Korner and John Mayall, sparked young musicians such as Peter Green, Eric Clapton and the Rolling Stones. British rhythm and blues powered the British invasion of the USA charts in the 1960s, yet Dixieland itself remained popular: in January 1963 the British music magazine, NME reported the biggest trad jazz event in Britain at Alexandra Palace. It included George Melly, Diz Disley, Acker Bilk, Alex Welsh, Kenny Ball, Ken Colyer, Sunshine, Bob Wallis, Bruce Turner, Mick Mulligan and Barber.
Chris Barber stunned traditionalists in 1964 by introducing blues guitarist John Slaughter into the line up who, apart from a break between April 1978 and August 1986, when Roger Hill took over the spot, played in the band until shortly before his death in 2010. Barber next added a second clarinet/saxophone and this line-up continued until 1999. Then Barber added fellow trombonist/arranger Bob Hunt and another clarinet and trumpet. This eleven-man "Big Chris Barber Band" offered a broader range of music while reserving a spot in the programme for the traditional six-man New Orleans line-up.
A recording of the Lennon–McCartney composition "Catswalk" can be heard, retitled "Cat Call", on The Songs Lennon and McCartney Gave Away. Written by Paul McCartney the song was recorded in late July 1967 and released as a single in the UK on 20 October 1967.