CHAVELA VARGAS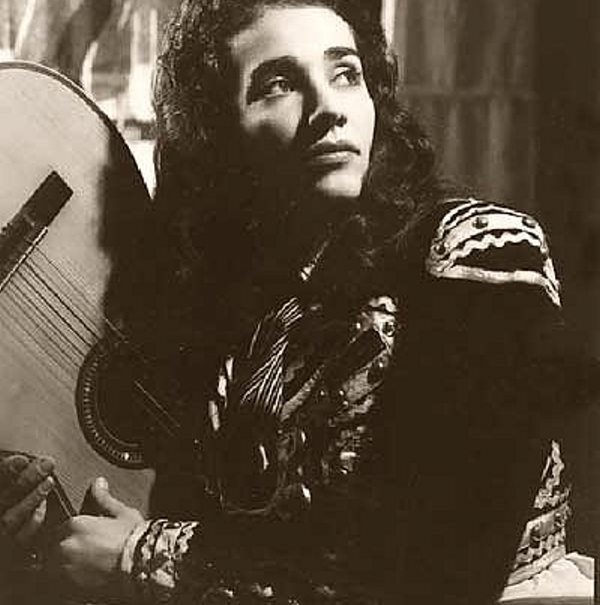 Biography
Chavela Vargas, Isabel Vargas Lizano (April 17, 1919 – August 5, 2012), better known as Chavela Vargas, was a Costa Rican-born Mexican singer. She was especially known for her rendition of Mexican rancheras, but she is also recognized for her contribution to other genres of popular Latin American music. She has been an influential interpreter in the Americas and Europe, muse to figures such as Pedro Almodóvar, hailed for her haunting performances, and called "la voz áspera de la ternura", the rough voice of tenderness. The Latin Academy of Recording Arts & Sciences, presented her with a Latin GRAMMY Statuette in 2007 after receiving a Lifetime Achievement Award on behalf of that organization.
Chavela Vargas was born in San Joaquín de Flores, Costa Rica, on April 17, 1919. She went by Chavela, which is a pet name for Isabel. At 14, she abandoned her native country due to lack of musical career opportunities, seeking refuge in Mexico, where an entertainment industry was burgeoning. For many years she sang on the streets but in her thirties she became a professional singer. In her youth, she dressed as a man, smoked cigars, drank heavily, carried a gun and was known for her characteristic red jorongo, which she donned in performances until old. She sang in the streets as a teenager until she ventured into a professional career in the 1930s.
Her first album, Noche de Bohemia (Bohemian Night), was released in 1961 with the professional support of José Alfredo Jiménez, one of the foremost singer/songwriters of Mexican ranchera music. Chavela Vargas recorded over eighty albums since then. She was hugely successful during the 1950s, 1960s and the first half of the 70s, touring in Mexico, the United States, France and Spain and was close to many prominent artists and intellectuals of the time, including Juan Rulfo, Agustín Lara, Frida Kahlo, Diego Rivera, Dolores Olmedo and José Alfredo Jiménez. She partly retired in the late 1970s due to a 15 year-long battle with alcoholism, which she has described in her autobiography (Y si quieres saber de mi pasado [And if you want to know about my past], published in 2002) as "my 15 years in hell" At 81 years old, she publicly declared that she was a lesbian.
Vargas returned to the stage in 1991, performing at the venue "El Hábito" in Coyoacán, Mexico City. She debuted at Carnegie Hall in 2003 at the age of 83 at the behest and promotion of Spanish director Pedro Almodóvar, a long-time admirer and personal friend of Vargas.
She is featured in many Almodóvar's films, including La Flor de mi Secreto in both song and video. She has said, however, that acting is not her ambition, although she had previously participated in films such as 1967's La Soldadera. Chavela Vargas appeared in the 2002 Julie Taymor film Frida, singing "La Llorona" (The Weeping Woman). Her classic "Paloma Negra" (Black Dove) was also included in the soundtrack of the film. Vargas herself, as a young woman, was alleged to have had an affair with Frida Kahlo, during Kahlo's marriage to muralist Diego Rivera. She also appeared in Alejandro González Iñárritu's Babel, singing "Tú me acostumbraste" (You Got Me Used To), a bolero of Frank Domínguez.
Joaquín Sabina's song "Por el Boulevar de los Sueños Rotos" ("Down the Boulevard of Broken Dreams") is dedicated to Vargas.. Sergio Ramírez Mercado, a Nicaraguan writer, published in 2011 the novel "La Fugitiva," a fictionalized account of the life of Costa Rican writer Yolanda Oreamuno. In Ramírez' work, Oreamuno's life is told by three women who pressumably met her. According to many critics, one of the female characters telling Oreamuno's history is a singer that resembles Chavela Vargas. The character talks about her own life, and its non reciprocated lesbian love for Yolanda Oreamuno.
Chavela Vargas died on August 5, 2012, in Cuernavaca, Morelos, Mexico, after she was admitted to a hospital for heart and respiratory problems.