CHARLES AZNAVOUR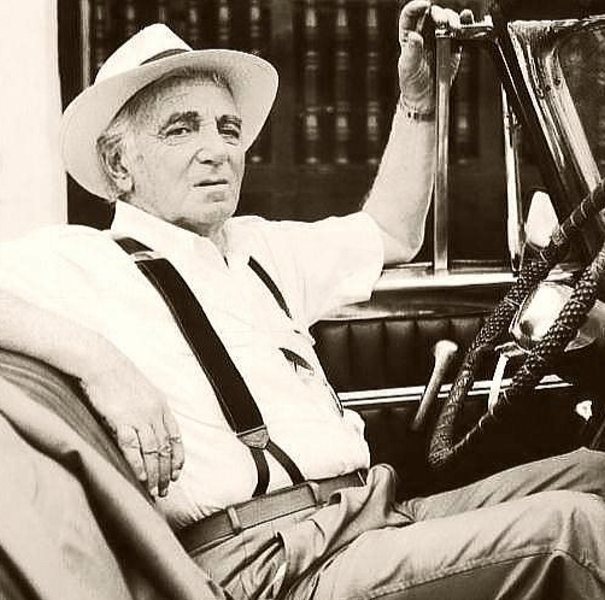 Biography
Charles Aznavour 
Born in Paris of Armenian parents, he made his stage debut, dancing and acting, at age nine, and except for a period during World War II when he hawked newspapers on Paris' boulevards he has never been offstage since.
His first song "J'ai bu" won the Record of the Year Award. His songs continue, success upon success, and many of the world's greatest singers have recorded and performed his music, including Edith Piaf, Maurice Chevalier, Bing Crosby, Ray Charles,
Shirley Bassey, Fred Astaire, Liza Minnelli, and many other stars.
His first screen role in "La Tête contre les murs" won the Crystal
Star Award, a French equivalent of the "Oscars", and preceded sixty other roles in films.
Although his triumphs are now legendary, stardom evaded Charles Aznavour until he was thirty years old.
Unlike many other songwriters, he insists upon many of his lyrics being translated into the language of the country in which he is performing. He sings with a voice which the French describe as "Après l'Amour".
In 1988, following the devastating earthquake in Armenia, he founded with Lévon Sayan, his Personal Manager, the movement "Aznavour for Armenia" and 89 artists joined him to record "For you Armenia" to raise relief funds.
In 1997, Jacques Chirac, the French President, awarded the "Legion of Honour" to Charles
Aznavour who was admitted with the rank of Officer.
Alongside his singing career, he will start in 1955, a rich actor's career. He played in over 60 films; the last one has been released in 2005.
After more than 60 years of performing, Charles Aznavour is universally loved, and is always at the top, professing the discipline of work.
Singing in five languages, he has sold over 200 millions records worldwide. The man to the thousand songs is undoubtedly the most famous French singer throughout the world.
In 2009 he was awarded for "Lifetime Achievement" at the MIDEM trade show for music professionals.
Mr. Aznavour is an Officer of the Order of Canada since 2009.
In 2009 he was appointed by the President of the Republic of Armenia, Serge SARKISSIAN:
-"Ambassador of the Republic of Armenia in Switzerland"
-"Ambassador of the Republic of Armenia to the United Nations"
-"Ambassador to UNESCO in France"
Charles Aznavour was also promoted by the French President, Jacques Chirac, to the rank of "Commander of the Legion of Honour" and "Commander of the National Order of Merit". These two distinctions are the highest ones in France.