BING CROSBY
Biographie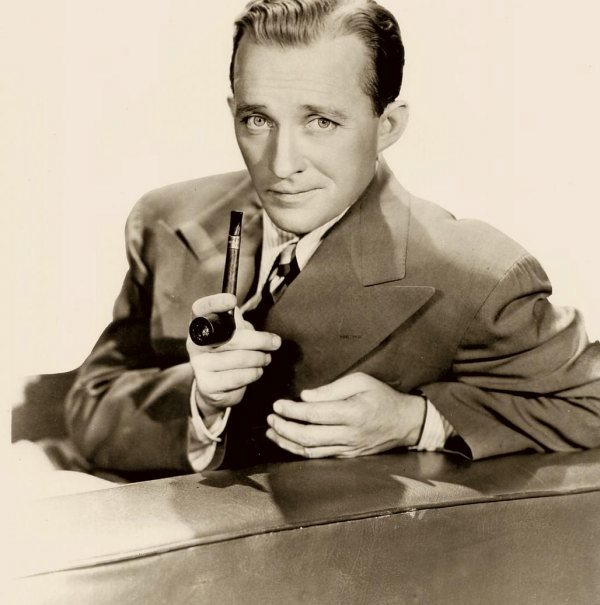 Bing Crosby: Born: Harry Lillis Crosby in Tacoma, Washington, May 3, 1903.There has always been some dispute over his actual birth date and even his mother at one time said it was May 2, 1904. This is the date quoted in his official biography and shown on his gravestone at Holy Cross Cemetery in Los Angeles. His correct date of birth has been confirmed to be May 3, 1903, from his baptismal certificate.
Bing Crosby was the fourth of seven children born to Harry Lincoln (sometimes Lowe) Crosby and his wife Catherine Helen (nee Harrigan) Crosby at 1112 North Jay Street, Tacoma. Bing's mother was of Irish descent and his father was descended from a maritime family. In all, there were seven Crosby children: Laurence (born 1895), Everett (born 1896), Edward (born 1900), Bing (born 1903), Catherine (born 1904), Mary Rose (born 1906), and George Robert (born 1913). The family moved to Spokane in 1906 where Bing grew up and attended Gonzaga High School and Gonzaga University until he left home to seek his fame and fortune in California with friend Al Rinker in 1925.
He was known as
Bing Crosby
 from a young age, when he got the nickname from the comic The Bingville Bugle.Other nicknames included The Old Groaner, El Bingo, Le Bing and Der Bingle.
Hobbies: Bing's hobbies included golf, fishing, hunting, and horse racing.Marriages :
Dixie Lee, 1930 – 1952 (born 1911, died 1952);
Kathryn Grant, 1957 – 1977 (born 1933).
Died:
October 14, 1977, on La Moraleja Golf Course near Madrid, Spain. He had just completed a successful round of golf when he collapsed as the result of a massive heart attack. He had been playing with Spanish golfers Manuel Pinero, Valentine Barrios, and club president Cesar de Zulueta. Bing's last words were reportedly, That was a great game of golf fellas. Let's go have a Coca-Cola.
Bing Crosby made recordings in every year of his career which spanned fifty-one years, and he recorded some 2000 titles. He was the most successful recording artist of the twentieth century, with well over 300 hits to his name and twenty-two official Gold Records. Bing recorded with many stars including the Andrews Sisters, Patti Andrews, Louis Armstrong, Fred Astaire, Connee Boswell, the Boswell Sisters, Rosemary Clooney, Dixie Lee Crosby, Gary Crosby, Trudy Erwin, Judy Garland, Bob Hope, Al Jolson, Danny Kaye, Grace Kelly, Frances Langford, Peggy Lee, Mary Martin, Johnny Mercer, the Mills Brothers, Donald O'Connor, Debbie Reynolds, Carol Richards, Frank Sinatra, Mel Torme, and Jane Wyman among others.
First recording: "I've Got the Girl", a duet with Al Rinker and Don Clark and his Los Angeles Biltmore Hotel Orchestra, recorded October 18, 1926.
Last recording "Once in a While" with Gordon Rose and his Orchestra recorded for the BBC, October 11, 1977, in London.
Bing's voice was at its peak in the thirties and early forties and throughout this period he had no equal. During his career, he sang every imaginable kind of song including romantic ballads, country and western, patriotic, religious, Irish and Hawaiian favorites as well as light opera and jazz classics. No singer has ever matched
Bing Crosby
 when it comes to Christmas; his Yuletide offerings remain preeminent throughout the world. Some 1500 of Bing's recordings (both commercial and radio) are currently available on compact disc and more are released all over the world on a regular basis. Over 300 Crosby CDs have been issued since the advent of the compact disc as confirmation that twenty-four years after his death Bing remains ever popular.
Bing Crosby
 originally developed his skills on the vaudeville and theater stage and enjoyed a record run of over twenty weeks at the Paramount theaters in New York and Brooklyn in 1931–32. Appearances at numerous theaters across the U.S.A. followed before Bing went into films. His heavy commitment in films and radio virtually ended his concert work until World War II when he became a prolific entertainer at military camps and at bond rallies. Thereafter he made very few live performances until 1976 when, to everyone's surprise, he returned to the concert stage with a vengeance.
Bing Crosby starred in concerts in New York, Las Vegas, Los Angeles, San Francisco, Miami Beach, New Orleans, Pasadena, San Jose, Preston (England), Dublin (Ireland), Edinburgh (Scotland), Manchester (England), and Oslo (Norway) as well as headlining two sell-out seasons at the London Palladium in 1976 and 1977. His marvelous performances endeared him to all that saw them. Bing's last public engagement was at Brighton, England, on October 10, 1977.