BILLIE HOLIDAY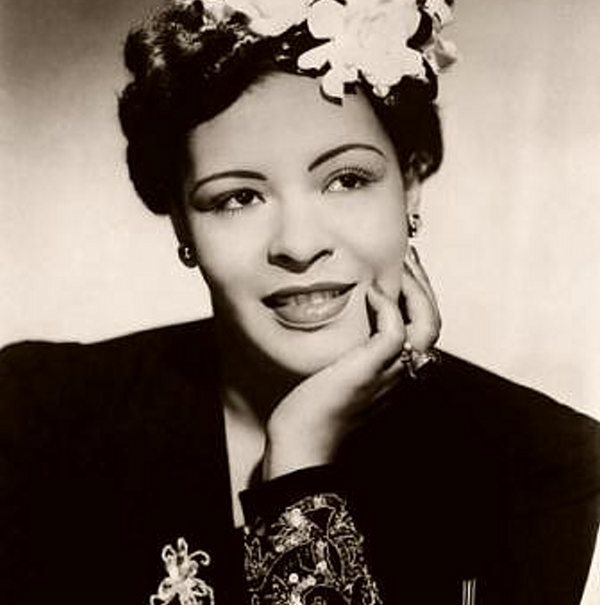 Biography
Billie Holiday was born Eleanora Fagan on April 7, 1915, in Baltimore, Maryland. (She borrowed the name "Billie" from one of her favorite movie actresses, Billie Dove.) Born to an unwed teenage mother, Sadie Fagan, Holiday's childhood was one of poverty. Her father, Clarence Holiday (later a jazz guitarist) married Sadie three years later. He never lived with the family, choosing his musical career over them. As a child Billie started working very young, running errands and cleaning a house of prostitution's (a place where sexual acts are traded for money) marble stoop. It was here that she first heard Louis Armstrong (1900–1971) and Bessie Smith (1894–1937) records through the open windows.
In 1928 Billie Holiday moved to New York City with her mother, who began work as a housemaid, but the 1929 depression (time of low economic conditions with high rates of unemployment) soon left her mother without work. In 1932 Holiday auditioned for a singing job and was hired. For the next few years she sang in Harlem clubs, then her career took off when Benny Goodman (1901–1986) used her on a record. But it was through a series of recordings made between 1935 and 1939 that her international reputation was established. During the late 1930s she was also a big band vocalist, first with Count Basie (1904–1984) in 1937 and then with Artie Shaw (1910–) in 1938.
Holiday's relationship with Basie's star tenor saxophonist Lester Young (1909–1959) is the stuff of legend. They were great musical coworkers and great friends for life. Young named her "Lady Day" (or simply "Lady"), and that title became her jazz world name from the mid-1930s on. She in turn labeled him "Pres" (the "President of Tenor Saxophonists").
Many successful tunes were recorded, interweaving Young's tenor saxophone with Holiday's voice. After the late 1930s they rarely recorded together, but to the end they remained soul mates. Holiday's career reached its peak in the late 1930s. In 1938 she worked a long engagement at Cafe Society. The following year she joined Benny Goodman on a radio broadcast.
Two songs of the period are noteworthy. The first, "Strange Fruit," is a detailed description of a lynching (an unjust killing because of race). Columbia record company considered it too inflammatory (exciting to the senses) and refused to issue it. A small record company, Commodore, finally released it in 1939. It became a big money-maker because of the tune on the record's other side, "Fine and Mellow," a blues song written by Billie Holiday. Another tune always associated with her is "Gloomy Sunday," which spoke of such deep despair (misery) that it was kept off the airwaves for a time.
By the mid-1940s Holiday had been arrested many times for illegal drug use. After one arrest, at her own request, she was placed in a federal rehabilitation (having to do with recovery from drug or alcohol abuse) center at Alderson, West Virginia, for a year and a day. Just ten days after being released she gave a concert at Carnegie Hall in New York City.
Neither Holiday's first husband, Joe Guy, a jazz guitarist who she divorced, or Louis McKay, who survived her, seemed able to save Billie Holiday from herself. By the 1950s alcohol and marijuana had strained her voice, so that it was unnaturally deep and grainy and occasionally cracked during performances. Nevertheless, her singing was sustained by her highly individual style, the familiarity she projected, and her special way with the words of a song.
Billie Holiday made her final public appearance in a concert at the Phoenix Theatre in New York City on May 25, 1959. She died in Metropolitan Hospital in New York City on July 17, 1959, of "congestion of the lungs complicated by heart failure." At the time of her death she had been under arrest in her hospital bed for illegal possession of drugs.
Holiday's early small-group recordings have been rereleased in several boxed sets under the general title Billie Holiday: The Golden Years. Her best later work is to be found in The First Verve Sessions, recorded in 1952 and 1954.
On March 6, 2000, Holiday was inducted into the Rock and Roll Hall of Fame in the Early Influences category. That category includes artists whose music predates rock and roll, but who inspired and had a strong effect on rock and roll music.