BERNARD HERRMANN
Biographie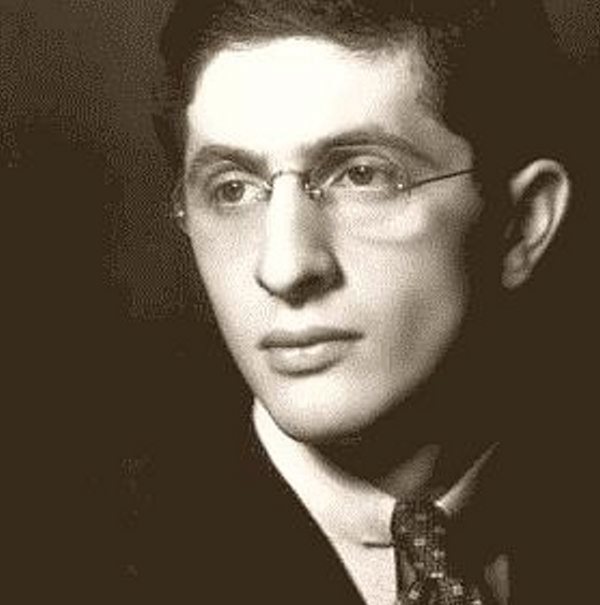 Bernard Herrmann was born in New York City on 29 June, 1911, the son of Russian Jewish immigrants. His father Abraham, a practising optometrist (the profession eventually taken up by Louis, Benny's younger brother), would encourage the future composer's interest in the arts, taking both his sons to the opera, the symphony, and giving each a musical instrument to play at a very early age (in Benny's case, a violin).
Bernard Herrmann, while a student in the New York Public School system, was a voracious reader who enjoyed the works of individualist, iconoclastic writers like D. H. Lawrence, Eugene O'Neill and James McNeill Whistler, the latter of whose essays The Gentle Art of Making Enemies would provide inspiration for him on a more volatile scale, and insure the foundation for his idiosyncratic personality, which colleague and whit Oscar Levant once described "…as an apprenticeship in insolence." Bernard Herrmannalso studied the scores of the great symphonists, played his father's gramophone recordings and attended Carnegie Hall concerts. By the age of thirteen he discovered Hector Berlioz's Treatise on Orchestration, the book Herrmann later claimed would decide the course of his future career.
Herrmann's formal music education began in 1927 at DeWitt Clinton High School, where one of his classmates was the composer Jerome Moross. From Gustav Heine, his first composition teacher, Herrmann would learn all the basics of his craft — and, perhaps, inspite of him, acquired a taste for the singular and uncommon in music, discovering the works of America's most unique composers, Charles Ives and Carl Ruggles, both of whom he would later champion as conductor of the CBS Symphony.
Herrmann's desire to learn more about the work of other American composers resulted in friendships with Copland, Thomson, Harris, Gershwin, Gould and Piston. He audited composition classes taught: by Ruben Goldmark and Bernard Wagenaar at NYU and Juilliard. By the beginning of the American Depression in 1929 Herrmann had enrolled at NYU, where he studied composition with Philip James and conducting with Albert Stoessel, who when he departed for Julliard in 1930 encouraged Herrmann to continued his studies there. He joined the Young Composers Group, headed by Aaron Copland, and whose members included, among others, Henry Brandt, Wallingford Riegger, Robert Russell Bennett, Arthur Berger, and Vivian Fine. In the autumn of 1932 Herrmann returned briefly to NYU, where he attended lectures on composition and orchestration given by the expatriate Australian composer- musicologist Percy Grainger, whose encyclopaedic knowledge of the world's music, coupled with his eccentric style and unorthodox syllabus, would cement Herrmann's lifelong interest in unjustly neglected scores by composers long since forgotten.
By 1933 Bernard Herrmann had conducted the New Chamber Orchestra in performances of his own works as well as those by Bax, Bennett, Milhaud and Ives. He was consequently hired the following year by CBS Radio's music director Johnny Green as his assistant. There Herrmann, who programmed and conducted music of his choosing, introducing his listeners to new and unusual works, many heard for the first time anywhere. In 1937 he was chosen to compose and conduct for the "Columbia Workshop", a CBS radio series featuring the talents of several great writers and directors. This followed in 1938 with similar work for their drama series "The Mercury Theatre on the Air", whose brilliant founder-director was a twenty-three year old Orson Welles and whose Holloween Eve production of H. G. Wells's The War of the Worlds would for each achieve a notoriety neither had anticipated.
In 1941, Bernard Herrmann was invited by Welles to Hollywood to compose and conduct the music for his first film Citizen Kane (1941). For each, again, their place in the contemporary art form known as the cinema was assured. Although Herrmann composed the music for Welles' next film, The Magnificent Ambersons, his music was badly chopped by the studio. There the Welles-Herrmann collaboration ended. Herrmann, who had already composed several concert works among them Aubade (1933), Sinfonietta for Strings (1935), Moby Dick (1938), Symphony (1941), The Fantasticks (1942), returned to the CBS Symphony, where he remained until it was disbanded in 1951.
Herrmann's film music career, which overlapped his tenure at CBS Radio, was further established through his work at 20th Century-Fox, where the studio's music director Alfred Newman hired him to score Jane Eyre (1943), Hangover Square (1945), Anna and fire King of Siam (1946), The Ghost and Mrs. Muir (1947), and The Day the Earth Stood Still (1951). During the 1950′s — the final decade of Hollywood's "Golden Age" — he would compose some of his finest scores, establish a breathe partnership with Alfred Hitchcock, one which includes such unqualified masterworks as The Trouble with Harry (1955), Vertigo (1958), North by Northwest (1959) and, perhaps, most famous of all, Psycho (1960). Following the demise of the studio system Herrmann relocated to England, where his formidable talents were rediscovered by a new generation of directors — François Truffaut, Brian DePalma, Larry Cohen and Martin Scorsese.
Bernard Herrmann, who died in his sleep on December 24, 1975, one day after the final Taxi Driver recording sessions, leaves behind a legacy of major film scores, unique in all the cinema; recordings which he conducted for English Decca, Fifth Continent, Lyrita and Unicorn-Kanchana, concert works which are only now being rediscovered by the public on digital recordings and in the concert hall. His fascinating career — and "one-off" personality — have, likewise, been captured in Music for the Movies: Bernard Herrmann, a first-class TV documentary released in 1992.
In many respects Herrmann remains the most influential of all composers writing for film (note that I do not say "film composers", a term Herrmann disparaged; "many great composers of whatever nationality — Auric, Bliss, Copland, Frankel, Prokofiev, Rota, Shostakovich, Walton — composed for the cinema," he once reminded me, "but one aspect of their creative output."). His legacy lives on: in our memories — and, for those of us priviledged enough to have known him, in our hearts.