BACHICHA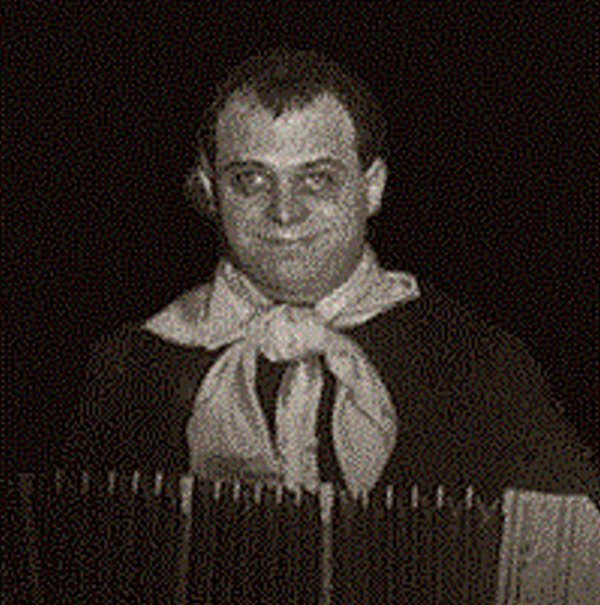 Biography
Bachicha: Bandoneonist, composer and leader
(2 March 1890 – 28 November 1963)
True name: Juan Bautista DeambroggioHe was born in the city of La Plata, capital of the province of Buenos Aires,
Argentina
. He was one of the young Argentine musicians that brought tango to Paris, along with Manuel Pizarro, Eduardo Bianco and Genaro Espósito. Later there were others, but they were the pioneers.
When a teenager, he was soon attracted to bandoneon playing and music and, after an elementary training he furthered his studies with Alfredo Bevilacqua. But at the same time he had to work and his jobs were tough. At age thirteen he was working at a forge in the "Vasena" foundry. He became friend of one of his fellow workers who was another music lover, Roberto Firpo, six years his senior. And according to Enrique Cadícamo, it was Deambroggio who introduced him to his teacher so that the two would study together.In 1914 Firpo made his debut with his orchestra and
Bachicha
was his bandoneon player. Previously, in 1911 they made their first almost professional appearances. They were at the Café Centenario on Avenida de Mayo, widely known as "Taka Taka", and later at the "La Castellana" on the same avenue. Thereafter they were billed at the "Armenonville", the "Palais de Glace" and other cabarets. They used to appear as a duo.There was a gig in Montevideo in 1916 and then Tito Roccatagliata and Agesilao Ferrazzano were added. For some scholars it was when at the Café La Giralda, on 18 de Julio and Andes, he premiered "La Cumparsita".
Bachicha
, leading his own orchestra known as Orquesta Royal's, was associated for some time to some theatrical appearances.
As a player he possessed a considerable technical proficiency for that time. He had a strong, brilliant sound, a fluid fingering and a correct legato phrasing. These abilities were more evident in his European recordings because of his logical evolution and experience and due to better technical conditions for recording.
He and Firpo accompanied the Gardel-Razzano duo, with the guitar strummer José Ricardo, on a tour of cities of the interior to appear in movie theaters of the Max Glücksmann company. It was in Punta Alta when Ricardo told them about a bandoneonist that was playing there and had attracted his attention. After hearing him they included him in the group and so a quartet was formed. The bandoneonist was Pedro Maffia.
They appeared onstage in two theater plays that became hits due to the tangos they introduced. One was "Los dientes del perro" at the Teatro Buenos Aires on 1053 Cangallo Street. They accompanied Manolita Poli when she sang "Mi noche triste" and despite it was not a premiere that was the point of departure of its amazing and endless success. It took place on April 16, 1918.
The other was on May 12, 1920 at the old Teatro Ópera on 860 Corrientes Street. When at the sainete (one-act farce) "Delikatessen House" written by Samuel Linnig and Alberto Weisbach, the actress María Esther Podestá premiered "Milonguita". The orchestra had been enlarged with the addition of Leopoldo Thompson (double bass), Juan Carlos Bazán (clarinet) and Adolfo Muzzi (second violin).
It's worthwhile mentioning that in the first rendering of "La cumparsita" recorded by Firpo, besides the bandleader, Deambroggio, Ferrazzano, Roccatagliata and the flutist Alejandro Michetti played.
They split up in 1921 and then his European period came. Firstly, with the outfit "Los de la raza", a group of actors and singers which included the female singer Emilia García Alba and the accompaniment of a music group lined up by Horacio Pettorossi, Bachicha, Mario Melfi, Bartolomé Chapella (author of the tango "Fosforerita") and others. They made tours of Spain for about a year until they decided to return but some of them remained in the Old World.
Deambroggio was summoned to Paris by Eduardo Bianco who also included Pettorossi and Melfi that had had bandoneon lessons by their buddy so that they would have better job chances. Bianco suggested him teaming up and so the "Bianco-Bachicha" Orchestra was born. They appeared to great acclaim in the best Parisian venues and recorded for the Odeon label. They were together until 1928. Later each one followed his own way. Bachicha-Ferrazzano was the new aggregation but its tenure was short. Finally he put together the "Orchestre Argentin Bachicha" that appeared in the French capital city and on tours throughout Europe, part of Africa and the Middle East. Something unusual for the time. He made recordings in many countries, always for Odeon, but also for other labels: Cristal, Riviera, Typic.
In the 50s he returned shortly to our country but came back to Paris where he died in 1963. His widow was the one who had been his female singer, Emilia García. They had several children and one of them, Tito, who was pianist, took over the group. But the times were not like before.
Throughout his career there were several vocalists, most them musicians appointed for the occasion. Those who recorded were Juan Raggi, Pettorossi, Melfi, Bianco, César Alberú, the leader himself and his wife Emilia. He was composer of over thirty numbers but the only one with a great acclaim, according to Cadícamo, was the one composed by Pettorossi who had forced him to accept it as a payment for a loan. The piece at issue is "Bandoneón arrabalero". Cadícamo added that Pettorossi used to do that when he was in need of money.