ARTIE SHAW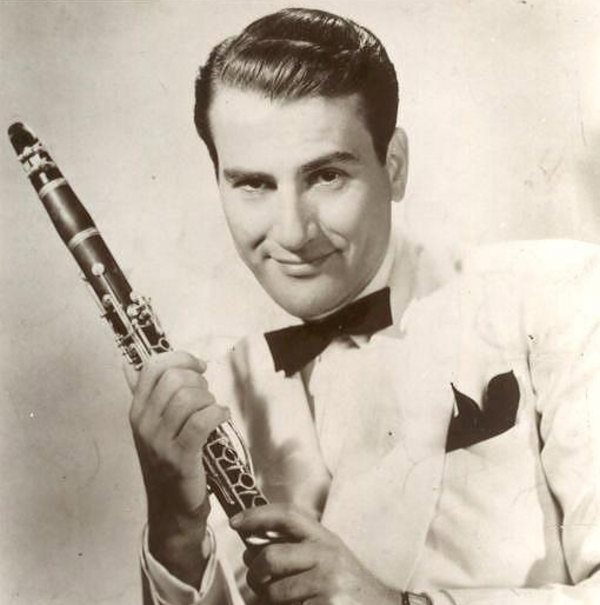 Biography
Artie Shaw (May 23, 1910, in New York, USA ,  NY; died December 30)
Artie Shaw born Arthur Jacob Arshawsky, May 23, 1910, in New York, NY; died December 30, 2004, at his home in Newbury Park, CA. Clarinetist and bandleader. Artie Shaw's "innovations, musical depth, and swinging style placed him firmly in the pantheon of 20th century big band and jazz musicians," according to Claudia Luther in the Los Angeles Times.
He was a brilliant clarinetist and one of the famous bandleaders of the World War II era. Quite an experimental musician, he eventually quit the jazz scene when he realized he would have to play music other people's way if he wanted to remain popular. He took up writing and spent the rest of his life as an author, although he never gained the fame writing that he did as a musician.
Artie Shaw was born Arthur Jacob Arshawsky on May 23, 1910, to two dressmakers. His mother was originally from Austria, and his father was originally from Russia. He was born in New York City and lived there, in a predominately Jewish neighborhood, until the age of seven when his family moved to New Haven, Connecticut.
He took to music early, playing the ukulele before he was introduced to the saxophone at age 13. He worked at a deli to earn the money to buy the instrument. His first band was the Peter Pan Novelty Orchestra, which Shaw put together in high school. The band played at local events and eventually auditioned with a dance band led by Johnny Cavallaro. Cavallaro was impressed with Shaw's skills, but did not hire him because he did not know how to sight read music.
Disappointed, Shaw went away, learned how to sight read, and was back in a month; he was hired on the spot at the age of 15. Shaw soon quit school to play in the band full time—it was at this point that he changed his name to Art Shaw. It was Cavallaro who started Shaw on the clarinet, and he liked it so much that he eventually gave up the saxophone. Shaw traveled around a lot during this time and it was while he was doing so that he met Billie Holiday, who would later sing with Shaw's band. Shaw was considered by many to be the first white bandleader to break the color barrier and hire a black singer.
Artie Shaw was hired on as a staff musician at CBS, and because he was finally a bit stable monetarily, Shaw began educating himself. He liked it so much that he had thoughts of quitting music and becoming a writer instead. He even bought a house in Pennsylvania where he spent a year trying to write a book about a jazz musician. He eventually gave it up and went back to music, although he would never forget the dream to write.
After he moved back to New York City he formed a band to play between performances at the Imperial Theatre. He had been studying classical music, so he put together a rather odd assortment of musicians for jazz music—a string quartet, a rhythm section, and himself on clarinet. Then he composed a number, "Interlude in B-Flat," for the band to perform. It was an instant success, with the crowd clamoring for an encore. Shaw, completely stunned by the crowd's reaction, had not prepared anything else for the band to play, so they played the Interlude again. Because of this success Shaw put together his first orchestra, which opened at the Lexington Hotel in 1935. Despite the reaction of the first audience, this orchestra did not fare so well, as the fashion at the time was for jazz music.
Artie Shaw formed a new band—this one more traditionally arranged—and named it Artie Shaw and His Orchestra. The band's first hit was in 1938 with Cole Porter's "Begin the Beguine." It was recorded as a B-side to "Indian Love Call," which was expected to be Shaw's first big hit. Instead, "Begin the Beguine" was the song that rocketed Shaw into the land of celebrity.
According to the Los Angeles Times ' Luther, "Shaw never seemed to enjoy his fame. At one point, he was making $30,000 a week and getting tens of thousands of fan letters. But he was also what he called 'catnip for all those mobs of overexcited girls.'" He became openly disdainful of his fans, even going so far as to call them jitterbugging morons in an interview with the New York Post, according to Luther. He quit all of it in 1939 and declared that he was retiring and moving to Mexico. His retirement, however, did not last long. While he was in Mexico he heard a piece of music that he immediately recorded when he went back to the United States. It was called "Frenesi" and became his second huge hit.
In 1941 Shaw enlisted in the Navy and went overseas to fight in World War II. He served on a minesweeper before forming another band. He was hospitalized in 1944 for exhaustion and was soon after honorably discharged. By the time he was back in America the big band era was ending and Shaw, after a few relatively unsuccessful stints at forming new bands, finally gave it all up.
In 1954 Shaw quit the music scene, disgusted with the desire for only popular songs and nothing that might stretch and challenge the current scene. When asked why he had done such a thing, Shaw was quoted in the Los Angeles Times as having said, "It was like having a gangrenous arm—I had to cut it off to survive."
Artie Shaw was an avid reader and spent more than half his life after he quit playing music professionally writing, although critics often complained that he quit a career that he was amazing at to do something at which he was mediocre—his writing was never very successful. He published his autobiography, The Trouble With Cinderella in 1952, and later published two books of novellas. He spent a long time working on a novel, but had not finished it by the time he died.