ARSENIO RODRÍGUEZ
Biographie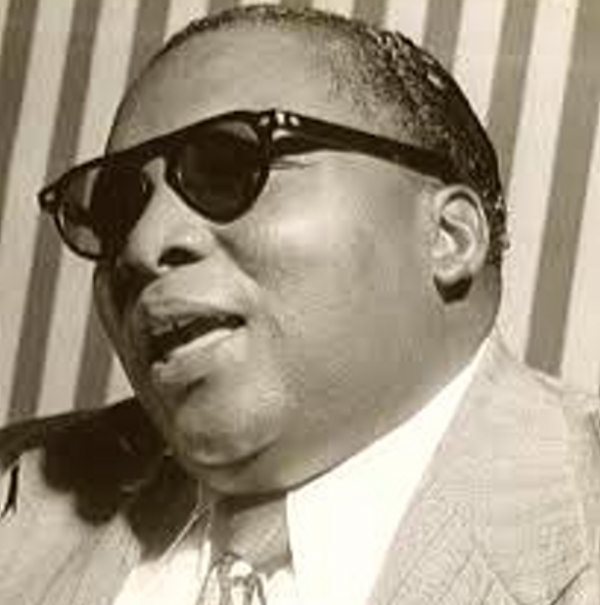 Arsenio Rodríguez (born Ignacio Arsenio Travieso Scull, Güira de Macurije, 31 August 1911, Cuba – Los Angeles, 31 December 1970)
Arsenio Rodríguez was a Cuban musician, composer and bandleader.
He played the tres (Cuban string instrument) in son-based music and tumbadora, or conga, in folkloric rumba. In the 1940s and 50s Rodríguez reorganized the son conjunto ('son group') and developed the son montuno, the basic template of modern-day salsa.
He claimed to be the true creator of the mambo and was an important as well as a prolific composer who wrote nearly two hundred song lyrics.
Arsenio Rodríguez was  born  in Güira de  Macurije  in Bolondrón, Matanzas Province as the third of fifteen children, fourteen boys and one girl. As a young child, Rodríguez was blinded when a horse (or a mule) kicked him in the head.
Later, Rodríguez became a musician, and eventually became one of the most renowned bandleaders on the island earning him the nickname El Ciego Maravilloso (the Marvellous Blind Man). His music emphasized Afro-Cuban rhythm as well as the melodic lead of the tres, which he played. In 1936 he played his own compositions with the Sexteto Boston, led by his cousin Jacinto Scull. The group disbanded in 1937, and he joined the Septeto Bellamar of cornetist José Interián in 1938. In 1939, he recorded with Orquesta Casino de la Playa, the esteemed sonero Miguelito Valdés on lead vocals, the tune "Se va el caramelero", taking an incredible solo on the tres. This was his first recording. From 1940 to 1947 he led one of the most important bands in Cuba, Arsenio Rodríguez y Su Conjunto Todos Estrellas.
Arsenio Rodríguez then went to New York where he hoped to get cured of his blindness but was told that his optic nerves had been completely destroyed. This experience led him to compose the bolero La Vida es un Sueño (Life is a dream). He went on to play with percussionist/composer Luciano "Chano" Pozo and other great musical artists of what inaccurately became known as Latin Jazz, artists such as Machito, Dizzy Gillespie and Mario Bauzá.
At the end of the 1960s the mambo craze petered out, and Rodríguez continued to play in his typical style, although he did record some boogaloo numbers, without much success. As times changed, the popularity of his group declined. He tried a new start in Los Angeles. He invited Joseph to fly out to Los Angeles with him but died only a week later. Arsenio died in 1970 and his body was returned for burial to New York. There is much speculation about his financial status during his last years, but Mario Bauzá denied that he died in poverty, arguing that Rodríguez had a modest income from royalties.
Rodríguez brought the African-based words and phrases from Abakuá, Lucumí, and Palo Monte into his music.
On Palo Congo by Sabú Martínez (1957) Rodríguez sings and plays a traditional palo song and rhythm, a Lucumí song for Elegguá, and a rumba and a conga de comparsa accompanied by tres. Rodríguez's 1973 landmark album Quindembo features an abakuá, a Columbia, and several band adaptations of traditional palo songs, accompanied by the bona fide rhythms.
Arsenio Rodríguezwas an authentic rumbero; he both played the tumbadora and composed songs within the rumba genre. Rodríguez recorded folkloric rumbas and also fused rumba with son montuno. His "Timbilla" (1945) and "Anabacoa" (1950) are examples of the guaguancó rhythm used by a son conjunto. On "Timbilla," the bongós fulfill the role of the quinto (rumba lead dThe album Primitivo, from the same period of time (with Monguito el Único and Baby González alternating on lead vocals), is an evocation of the music played in the solares. rum). In "Yambú en serenata" (1964) a yambú using a quinto drum is augmented by a tres, bass, and horns.
In 1956, Rodríguez released the folkloric rumbas "Con flores del matadero" and "Adios Roncona" in Havana. The tracks consist of voice and percussion only. One of the last recordings Rodríguez performed on was the rumba album Patato y Totico by the conguero Carlos Valdés "Patato" and vocalist Eugenio Arango "Totico" (1967). The tracks are purely folkloric, except for the unconventional addition of Rodríguez on tres and the great Israel López "Cachao" on bass. Additional personnel included Papaíto and Virgilio Martí. The album Primitivo, released on Tico Records in 1968 (with Monguito el Único and Baby González alternating on lead vocals), is an evocation of the music played in the solares.
There have been a number of tributes to in 1972, was a Larry Harlow LP Tribute to Arsenio Rodríguez, Fania 404. On this, five of the numbers had been recorded earlier by Rodriguez' conjunto. Later, in 1994, The Cuban band Sierra Maestra recorded a CD Sierra Maestra: Dundunbanza!, World Circuit WCD 041. This had four Rodríguez numbers at full length.
Arsenio Rodriguez is mentioned in a national television production called La época, about the Palladium-era in New York, and Afro-Cuban music. The film discusses Arsenio's contributions, and features some of the musicians he recorded with. Others interviewed in the movie include the daughter of legendary Cuban percussionist Mongo Santamaría – Ileana Santamaria, bongocero Luis Mangual and others.
Rodríguez's close friend and bassist for eight years Alfonso "El Panameño" Joseph, as well as other members of Rodríguez's band, such as Julian Lianos, who performed with Rodríguez at the Palladium Ballroom in New York during the 1960s, have had their legacies documented in a national television production called La Epoca, released in theaters in the US in September 2008, and in Latin America in 2009. He had much success in the US and migrated there in 1952 one of the reasons being the better pay of musicians.
Starting in the late 1990s, jazz guitarist Marc Ribot recorded two albums mostly of Rodríguez' compositions or songs in his repertoire:Marc Ribot y los Cubanos Postizos (or Marc Ribot and the Prosthetic/Fake Cubans) and Muy Divertido!.